HARTFORD, Conn.—Offering profound insights and astute observations are all in a day's work for Deborah and Lansing Burns, a brand strategist and former English teacher, respectively, and the couple's review of Shen Yun Performing Arts during Hartford, Connecticut's opening performance on Feb. 8, 2020, was no exception.
"[Shen Yun] was phenomenal," Lansing began, "It exceeded my expectations. The colorful costumes, the beautiful, well, the detail in all the costumes. The backdrops, the sets were magnificent, the way they interacted. The computer graphics and the dance, and I just, the storytelling. I learned more about Chinese culture than I think I'd ever learned just by watching this show." The couple attended Shen Yun at The Bushnell at The William H. Mortensen Hall.
New York-based Shen Yun indeed holds many aspects of performing arts and stagecraft that audience members around the world applaud and appreciate. The Burnses commented on almost all of them: couture costumes; a patented, digital backdrop that lets the dancers' characters defy gravity; and storytelling dances told through the highly-expressive, technically challenging, and ancient art form known as classical Chinese dance.
Shen Yun also employs a unique orchestra comprised of Western and Eastern instruments and combines all of these elements to carry out its mission of reviving traditional Chinese culture that was once almost lost, and sharing it with the world.
"Outstanding," Deborah began. "I was extremely impressed. [Shen Yun] was beautifully and expertly choreographed. I learned an enormous amount as well about the culture. And I was very happy to see so much pride. I think there's a tremendous amount of camaraderie and pride, and people were very, very happy and ecstatic, actually, I could tell in some of the dances, they were ecstatic to be part of this. And I think particularly since this is an expression of Chinese culture, I think it's, the more we can spread the word and really understand the nature of Chinese culture, the better. I think we all need to understand each other better in general."
Shen Yun's artists draw on Chinese culture's most essential element—it's spirituality—as inspiration for their art, including for the legends they portray on stage, and even for their everyday lives.
For millennia, Chinese people have revered the divine and passed down a legend that the Creator will one day return to earth for all mankind. Shen Yun depicts this legend in its performance as well as other divine beings and ancient legends. But it doesn't leave out modern times. A few of Shen Yun's roughly 20 vignettes show scenes of real events taking place in China today, namely, a persecution against spiritual believers by the Chinese Communist Party, which is part of a violent, decades-long campaign to wipe out traditional Chinese culture.
Understanding True Chinese Culture
Deborah said that Shen Yun gave her insight into true Chinese culture.
"Not only the interpretations of what they were dancing to, but I think also, as Lansing said, the backdrop really put it in perspective. So we really understood what really was going on, and why, and how these dancers and these performers actually chose to work to change that and to bring us an understanding and an insight on [the] culture we may never have had before," she said.
Shen Yun's storytelling dances about persecution depict the inspiring way that many spiritual followers overcome the CCP's brutality with compassion, perseverance, and faith. Followers of Falun Dafa are among the most targeted in the persecution. Falun Dafa is an ancient meditation practice that teaches truthfulness, compassion, and tolerance as well as meditation and is a method of spiritual development that Shen Yun's artists themselves follow.
For Lansing, these stories resonated with him and inspired hope.
"I found it impressive that the stories of how modern culture has eradicated some of the old traditions, by the influence of government and politics of today, trying to suppress not only certain ethnic groups but the history that's going behind all these stories. I thought that that was pretty courageous in spite of, you know, the current political situation that's happening in China right now. I think that there is a resurgence of looking towards the past and as well as a brighter future, less government control, you know if I could be so bold as to say that. And more freedom of expression, and that's always a good thing," he said.
He added that he feels that Shen Yun "is a great way of exposing Chinese culture to Americans. We need to understand each other better." Deborah agreed.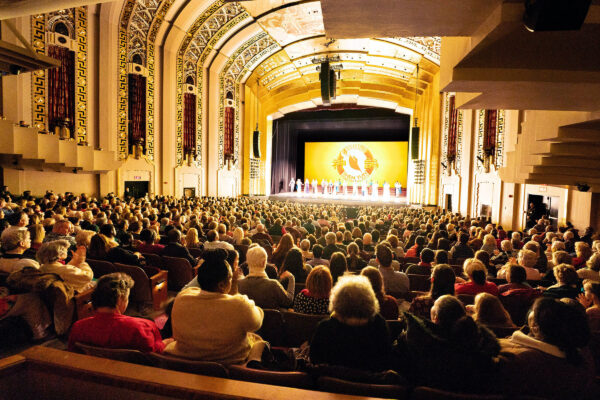 'Honoring the Divine'
The divinely-inspired culture in the performance elicited deep observations from the couple.
"[Shen Yun's divine culture] is the relationship between the divine and the secular on Earth. I think it's, we can always benefit from broadening our spiritual life," Lansing said.
"Absolutely, I totally agree with Lansing in that I noticed that there was such an honor and admiration of the divine, and that we were also, throughout this performance, honoring the divine within each other. And I think that's something that really can be showcased throughout not only Chinese culture but all cultures across the globe. If we really honor and recognize each other's divinity, the more productive, creative, supportive and loving we can be as a people in general," Deborah said.
Deborah added that she thinks Shen Yun artists' pursuit of Falun Dafa's three principles is "beautiful, that's absolutely awesome."
"And we absolutely support whatever expression you're from in terms of your nature, your history or your heritage. I think spirituality is universal," she said.
The business consultant also had words of gratitude to share with Shen Yun's local organizers and the artists themselves.
"All the best and I wish you continued success. This is really, really impressive. … So, thank you very much. It was a wonderful experience, really enjoyed it immensely."
With reporting by NTD Television and Brett Featherstone.
The Epoch Times considers Shen Yun Performing Arts the significant cultural event of our time and has covered audience reactions since the company's inception in 2006.