I absolutely love coconut curry. Those flavors have already inspired a soup and grilled steak bowls for this column, and so many more recipes on my personal site. 
But not one of these recipes is a straightforward Thai coconut curry. Rather, they pull out the flavors that I love from a traditional curry dish, and spin them into entirely new things.
Recently, I realized that a large part of what I love about coconut curry is the creamy coconut flavor. For me, a silver lining of the current state of affairs has been that as a recipe developer, I've been pushed creatively to use what's already in my pantry, versus venturing out to the grocery store for one or two ingredients. So about a month ago, when I eyed a can of coconut milk and a can of chickpeas, but had zero curry paste or powder in the house, my creative juices started to flow.
I have loved miso and coconut milk for as long as I can remember, but I had never thought to combine the two until then. Miso is a traditional Japanese ingredient made from fermenting soybeans or rice, while coconut milk is largely associated with the cuisines of Southeast Asia, and Thailand in particular. They're a perfect match, since the coconut milk tames the salty, funky, umami flavors of the miso. Together, they meld into a creamy, balanced sauce.
Which brings us to our recipe this week: coconut-miso chicken and chickpeas with ginger rice.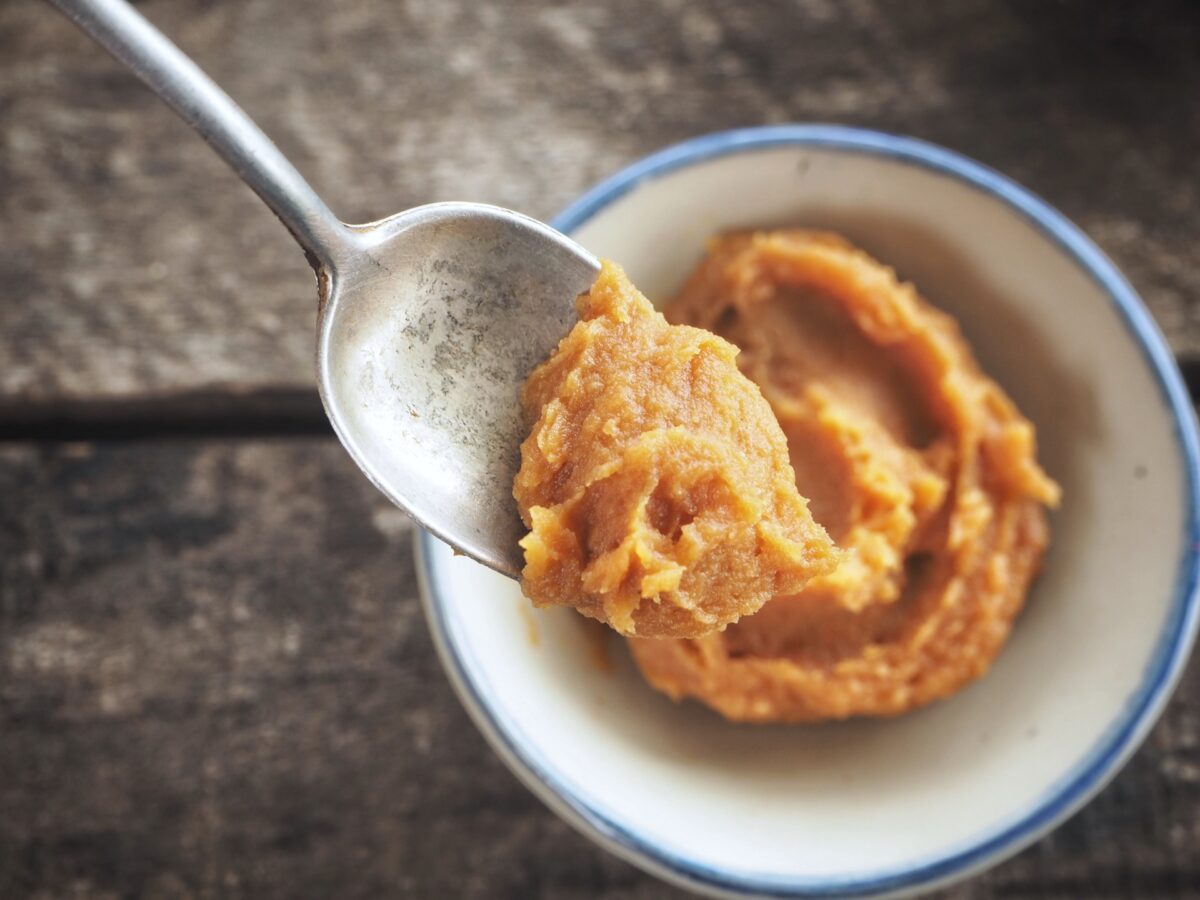 Breaking It Down
I knew that a miso and coconut milk broth was going to be the anchor of this dish, and that chickpeas would add starch and protein. The chickpeas are braised in the broth first, so they break down and start to soften, then get lightly crushed, to help them soak up all the flavors as well as release their starches to thicken the sauce. 
If you've ever eaten a chickpea straight out of the can, you know that they can be a bit bland and chalky. These chickpeas are nothing like that.
Wanting to add meat, I chose chicken tenders because they cook so quickly, and can soak up so much of the flavorful sauce as they braise. They're added in towards the end, just to quickly cook through. 
The dish is served over an incredibly simple but flavorful ginger-infused rice. If you don't have any rice, or just want a quicker option, try serving the chicken with store-bought naan instead, heated up in a skillet with a bit of butter.
Finally, everything gets topped off with crispy shallots and garlic, an addition that came around the second time I made this recipe in one week. 
This finishing touch is actually how the recipe starts: You'll begin by frying sliced garlic and shallots in a couple inches of oil for a couple minutes. Then, you'll set them on a paper towel to drain, pour off all but a tablespoon of that garlicky, shallot-y infused oil (but be sure to save it!), and use the oil remaining in the pan to start cooking your chicken and chickpeas in the same skillet. I am all about minimizing clean-up right now, and this is a great way to do it.
At the end, the crunchy topping adds the perfect bit of textural complexity, to contrast with the soft rice and tender chicken and chickpeas. 
I hope this easy, flavorful meal will nourish you and your family. I know it has secured a spot on our repeat meal list!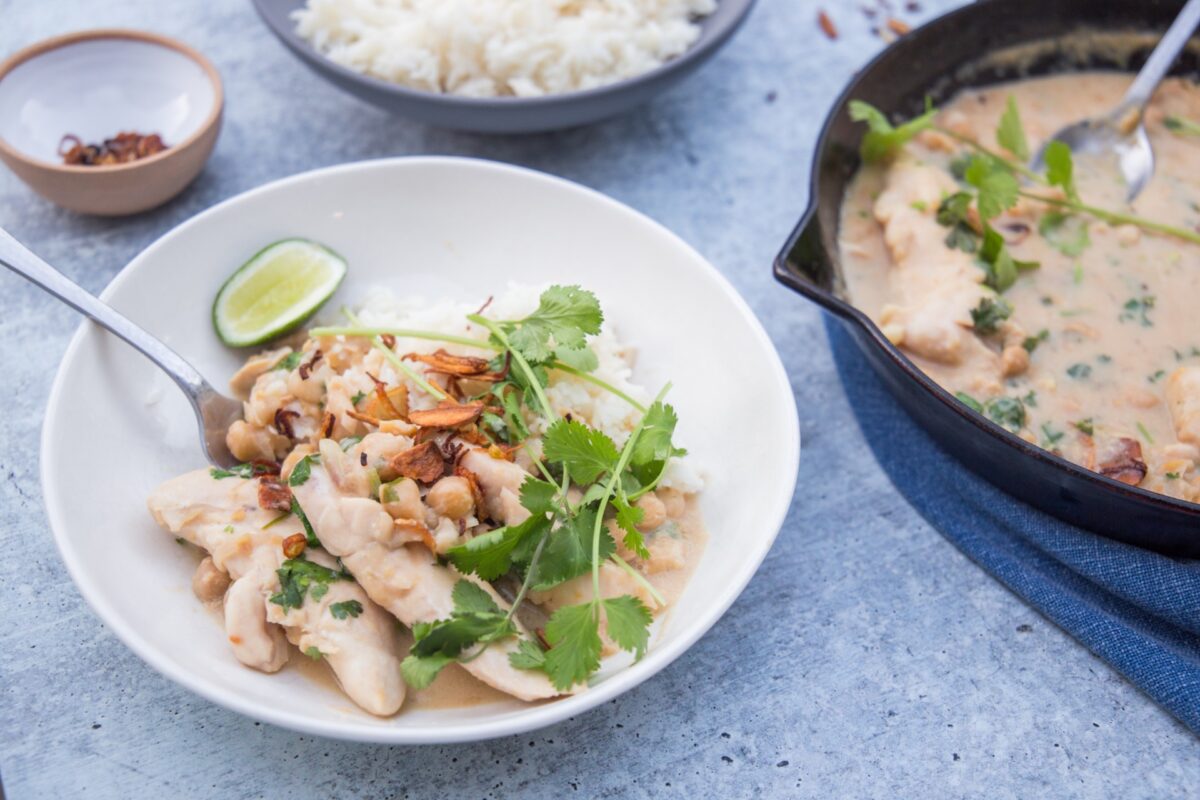 Coconut-Miso Chicken and Chickpeas With Ginger Rice
Serves 2 to 4
For the ginger rice:
1 1/2-inch piece ginger, peeled and grated
1/2 teaspoon kosher salt
1 1/2 cups jasmine rice
For the chicken and chickpeas:
3/4 cup olive oil
2 large shallots, 1 thinly sliced, 1 minced
6 garlic cloves, 3 thinly sliced, 3 minced
1-inch piece ginger, peeled and grated
1 (14-ounce) can full-fat coconut milk
1 (14-ounce) can chickpeas, drained and rinsed
3 tablespoons water
2 tablespoons white miso
1 1/2 pounds boneless skinless chicken tenders (or breasts, cut into 4 long pieces)
Salt and freshly ground black pepper
3 tablespoons chopped cilantro, plus more for garnish
Juice of 1 lime (about 2 tablespoons)
First, start cooking the rice! 
Stovetop rice method: Bring 2 1/2 cups water to a boil in a medium saucepan. Add ginger, salt, and rice and stir to combine. Reduce heat to low, cover, and cook for until the water is absorbed and the rice is tender, 16 to 18 minutes. 
Remove from heat and keep the pot covered for another 5 to 10 minutes to allow it to keep steaming and get fluffy and delicious. Fluff rice gently with a fork. 
Instant Pot rice method: Add all ingredients plus 1 1/2 cups water to the Instant Pot and stir to combine. Cook on High pressure for 10 minutes, then allow the pressure to naturally release for 10 minutes. Fluff rice and cover until ready to eat.
Meanwhile, cook the coconut-miso chicken and chickpeas. Let's start by frying up those shallots and garlic. 
Add the olive oil and the sliced (not minced) shallot to a 10-inch cast iron skillet over medium heat. Cook for 6 to 8 minutes, stirring frequently, until just beginning to brown. Add the sliced (not minced) garlic and continue cooking until the shallots and garlic are deep golden brown. Turn off the heat and transfer shallots and garlic to a paper towel. Pour all but 1 tablespoon of the shallot oil into a jar and reserve for another use (ideas below!). 
Return skillet to medium heat and add the minced shallot, garlic, and ginger. Cook, stirring constantly, for 30 to 45 seconds, until very fragrant and beginning to soften but not brown. 
Stir in the coconut milk, chickpeas, and water and stir until the coconut cream melts into a liquid. Cook over medium heat for 5 minutes to reduce slightly. 
Stir in the miso and smash about half of the chickpeas with the back of a spoon. Season the chicken with salt and pepper and add to the skillet. Cook for 4 minutes on the first side, then flip and cook for an additional 3 minutes on the second side. Stir in the cilantro and lime juice. 
Serve over ginger rice, with crispy shallots and garlic and more cilantro on top. 
Recipe Notes
How to use that shallot oil: Make salad dressing! Fry eggs in it! Use it to marinate meat! Drizzle it over avocado toast!
Ingredient substitutions: 
Shallots and garlic: If you can't find shallots for the topping, just make crispy garlic. I'm not sure that a regular onion would crisp up as easily. Don't have garlic either? No worries, they're not necessary! You can omit the minced shallots from the miso-coconut broth, too. For the minced garlic in the broth, try 1/4 teaspoon garlic powder instead.
Ginger: Swap in 1/4 teaspoon ground ginger each in the rice and broth, or go for a different flavor and add 1/4 teaspoon ground turmeric. Or, add a stalk of smashed lemongrass!
Miso: 1 tablespoon of fish sauce or soy sauce will give you similar salty, umami vibes. A tablespoon or two of your favorite curry paste will make it more of a traditional Thai coconut curry! 
Chicken tenders: You can always buy chicken breasts and cut into 1-inch thick strips (making your own tenders), or leave them whole and cook for 8 minutes per side. Or, cut a pork tenderloin in half so that the pieces will fit side by side in the skillet, and cook it for 4 minutes each on three sides. Salmon would also work, cooked for 3 to 4 minutes per side, until it flakes easily with a fork. Shrimp would be delicious and so easy; cook for 1 1/2 to 2 minutes per side. 
Cilantro: Basil would also be fab; it was a toss up on which one to use. 
Lime juice: First choice: rice wine vinegar. Second choice: lemon juice. Third choice: any other light-colored vinegar.
Jasmine rice: Whatever rice you've got! Just cook it according to package instructions, not mine. Soba or ramen noodles would also be so good.
Caroline Chambers is a recipe developer, food writer, and author of "Just Married: A Cookbook for Newlyweds." She currently lives in Carmel Valley, Calif., with her husband, George, and son, Mattis. Follow her on Instagram for cooking tips and snippets from her life in Northern Calif. @carochambers