Every home cook has an arsenal of favorite recipes that they return to over and over again. Growing up, my family ate tuna noodle casserole, taquitos, stuffed baked potatoes, and spaghetti carbonara on a weekly rotation.
At the time, my siblings and I were convinced that they were the only things my mom knew how to cook, but now that I'm feeding a kid of my own, I get it, Mom!
These were simple, hearty meals that relied heavily on pantry items—meaning my parents didn't have to squeeze in a trip to the grocery store on top of everything else they were juggling while raising three kids. And not only were they able to quickly get these meals onto the dinner table, but they also knew that all three of us would actually eat them. 
Fast forward 20 or so years, and my husband George and I have just celebrated our seven-year anniversary, and are making our own mealtime traditions. 
Milestone Meals
In seven years, we've gone through a lot of "favorite recipe" phases. When we lived in Coronado, California, while George was in the Navy, we had a teeny tiny outdoor space—a fitting accompaniment to our even tinier indoor space—and with it came my very first grill. 
It also feels important to mention that we signed the lease on said tiny home without actually seeing it in person, and it didn't have an oven. We cooked absolutely everything on the grill during our two years in Coronado, including enough grilled pizza to feed the entire Navy.
From Coronado, we moved north to Palo Alto, California. I was working full-time at a culinary consulting firm in San Francisco, meaning at least a two-hour commute every single day. For the first time in our marriage, George was met with the daunting task of putting dinner on the table every night.
George is a lot of things, but "chef" is not one of them, so I would call him every single night as I left the office and walk him through how to prepare dinner. Sometimes, I'd stay on speakerphone throughout the entire drive, walking into our apartment just as he was pulling dinner out of the oven. George's specialty during this phase of our lives was roasted chicken and veggies—throw it all on a sheet pan, season it however you're feelin' that night, roast it, gobble it up.
Our second year in the South Bay was the Year of the Cookbook. I was writing my cookbook, "Just Married," so our kitchen was exploding with delicious food. We'd eat the same meal over and over again as I tweaked it until it was perfect, and then I'd move on and we'd never eat it again. 
It's impossible to point to one go-to meal from that time period, but one of George's highlights was definitely when I was working on the desserts chapter. We essentially only ate sweets for an entire month. 
And now, life in Carmel. We moved down here in 2017, after George graduated from business school. Since then, we've already moved twice, I've published my cookbook, and we had our first baby in January. To say it's been a whirlwind couple of years would be an understatement. 
We've found ourselves cooking together more than ever, since we're each too busy to pull off getting a meal on the table by ourselves. But a beautiful meal, eaten together, is really important to us, so we find the time for it almost every night of the week, even if that means we have to tag-team the cooking between the baby's bath time, dinnertime, playtime, milk time, and all of the other "times" involved in raising a child. 
When we're busy, which we seem to always be these days, our tried and true family favorite is a big bowl of curry. 
A Summery Take
We like our curries every which way: Chicken, beef, tofu, or shrimp, with any combination of vegetables. Sometimes over rice, sometimes over noodles, as they do in northern Thailand.
I saw a can of coconut milk in the pantry when I was hunting for something the other day, and realized that we hadn't made a curry in months, not since the weather heated up. I instantly got a craving, but knew I didn't actually want to sit down to a piping hot bowl of curry on a hot summer night, nor did I want to heat up my kitchen by cooking it. 
I created this dish as a way to get my curry fix in the summertime. Flank steak is tossed in a coconut curry marinade, which is then reduced to create a creamy, delectable sauce to pour over the grilled steak, crisp romaine, and slippery rice noodles. I love the cool, crisp base of romaine and rice noodles, but if you're in the mood for something heartier, make a rice bowl instead. 
The bowl is topped off with chunks of fresh mango for a sweet contrast to the spicy sauce. It's a delightful way to enjoy curry in the summertime.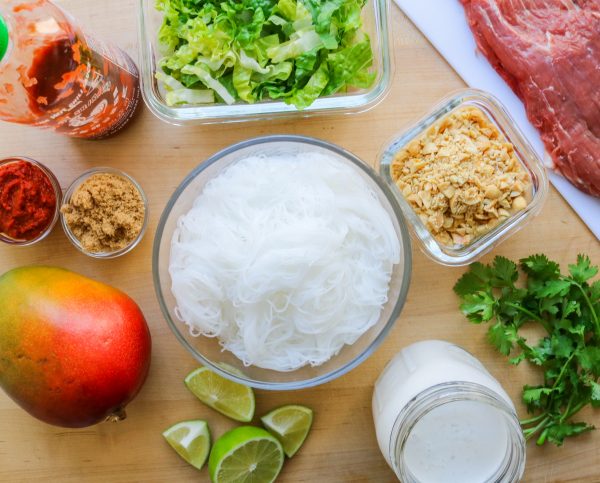 Grilled Coconut Curry Steak and Mango Bowls
Serves 2
1 (15-ounce) can coconut milk
Juice of 2 limes
3 tablespoons red curry paste
2 tablespoons brown sugar
1 tablespoon sriracha
1 tablespoon fish sauce
3/4 teaspoon kosher salt (use 2 teaspoons if not using the fish sauce)
1 pound skirt or flank steak (you may have to buy a 2 pound steak, cut it in half, and freeze one half)
4 ounces rice vermicelli noodles (sometimes called thin rice noodles or rice sticks), cooked
1 1/2 cups finely chopped romaine lettuce 
1 mango, chopped
Optional: lime wedges, cilantro, and peanuts, for garnish
Nestle a gallon-sized Ziploc bag into a medium bowl and open it to allow you to easily pour the marinade in. Pour coconut milk, lime juice, curry paste, brown sugar, sriracha, fish sauce, and salt into the bag. Zip the bag closed and use your hands to thoroughly combine the marinade. Add steak, remove all air from the bag, and zip closed. If you're cooking right away, allow the steak to marinate at room temperature for at least 30 minutes. Preferably, marinate the steak in the refrigerator for up to 24 hours. 
When you're ready to cook, remove the steak from the bag and transfer to a rimmed baking sheet. Pour the marinade into a small heat-proof (no plastic handles!) pot. Allow steak to come to room temperature for 15 to 30 minutes before grilling. 
Preheat grill to 425 degrees F. 
Place pot of marinade on the back of the grill. Grill meat for 4 minutes per side (for medium-rare), using a basting or pastry brush to brush the marinade onto the steak before and after you flip it. Keep the grill on so that the marinade can continue to cook and reduce into a thick sauce, an additional 7 to 10 minutes. If your grill is too small to fit the pot, you can reduce the sauce on your stovetop instead (see Tips). 
Transfer the steak to a cutting board and allow to rest for several minutes. Slice against the grain and serve with noodles, romaine, and mango, plus any additional accompaniments as desired. Carefully, being sure not to touch the handle, remove the pot of marinade from the grill and spoon it over the beef and noodles.
Tips
If you don't have a grill, cook the steak in a large cast-iron skillet over medium-high heat for 4 to 5 minutes per side. Cook the marinade on the stovetop over medium heat at the same time, until thickened, 8 to 10 minutes.
If you wish to cook for four, just double the amount of steak, noodles, and romaine. The marinade doesn't need to be doubled. 
Want to add more veggies? Try adding steamed broccoli, thinly sliced red bell peppers, or cucumbers to your bowls. 
Not into beef? Try boneless, skinless chicken thighs or breasts instead.
Caroline Chambers is a recipe developer, food writer, and author of "Just Married: A Cookbook for Newlyweds." She currently lives in Carmel, Calif., with her husband, George, and baby boy, Mattis. Follow her on Instagram for cooking tips and snippets from her life in Northern Calif. @carochambers.