It's late February, a universally gloomy and glum time of year no matter where in the United States you might be reading this. 
Living in Monterey County, California, I can brag to my East Coast family and friends about my superior weather just about any time of the year, but February is an absolute exception. Admittedly, last Saturday, it was 75 degrees and sunny and my husband George and I took our son to the pool all day … but it's freezing and drizzly as I write this!
And when it's freezing and drizzly, that means only one thing in my kitchen: it's soup season. 
Until very recently, I thought that I had coined this term. It turns out that food bloggers across the interwebs have also adopted it, even causing the hashtag "#soupszn" to trend on Instagram. I'm clearly not alone in my soup adoration. 
"Soup season" encapsulates this cold, dark-at-5 p.m., severely depressing time of year, when a piping hot bowl of soup is the only salve for a case of the winter blues. Pack your soup with vegetables, as I do in this recipe for a Thai-inspired coconut curry and winter veggies number, and you'll also be slurping up so many vitamins and nutrients essential for fighting the icky winter viruses floating around right about now. 
Plus, not only is soup the ultimate one-pot wonder, but it's also an easy way to meal prep. It's just as easy to make six servings of soup as it is to make two, so might as well make a bigger batch and freeze half, as I always do, or just eat it all week long! 
Breaking It Down
Traditional Thai ingredients make up the foundational flavors of this soup, combining beautifully with sweet, earthy, root vegetables. Creamy coconut milk is pureed with the veggies and broth to help it become extra smooth and velvety; fish sauce adds that special funk that is beloved in a good curry; and just a couple tablespoons of store-bought curry paste bring in heat and so much dynamic flavor. Finally, lime juice brightens everything up with its irresistible tang. 
Some of these ingredients might be unfamiliar, but they can all be found at most standard grocery stores. Yes, your grocery store sells fish sauce and curry paste! (And once you have them in your pantry, you can easily make my coconut curry steak bowls from a previous column, and so many other fabulous recipes.) 
Different types of curry paste have different heat levels, with red typically being the spiciest, then yellow, then green the mildest. I use red curry paste here, but if your store doesn't carry it, feel free to use whatever kind you can find; just taste as you go, adding more or less to suit your preferred spice level. 
Many soups start with a mirepoix, a combination of chopped carrots, celery, and onion, as their base. To keep things simple, I usually pare it down to just a small chopped onion, but if you're at the store and you see pre-chopped mirepoix in the refrigerator aisle, you can use 1 1/2 cups of that instead of the onion to save yourself the chopping.
Use whatever root vegetables you want or already have. I love making this soup with a sweet winter squash like butternut, acorn, or kabocha. I also love the earthiness that comes into the mix when I throw in a pound of parsnips with a pound of carrots or sweet potatoes. You truly can't go wrong. 
I've provided both stovetop and Instant Pot directions, but if you own the latter, this is a great time to use it! If I'm really strapped for time, I skip the sautéing step and simply throw all of the ingredients in the pot to pressure cook. The flavors don't develop quite as much, but it is still absolutely delicious. 
Divide and Conquer
Some nights in the kitchen are made for romance, and others are made for efficiency. Soup night is all about efficiency, so that you can cuddle up under a blanket on the couch and enjoy it as soon as possible. 
If we're having soup as our main course, I like to serve it with fresh bread from one of my favorite local bakeries. I'll have George slice and toast the bread while I dish up the soup. 
The best part of making this soup for dinner? There are four more servings for later. Happy soup season!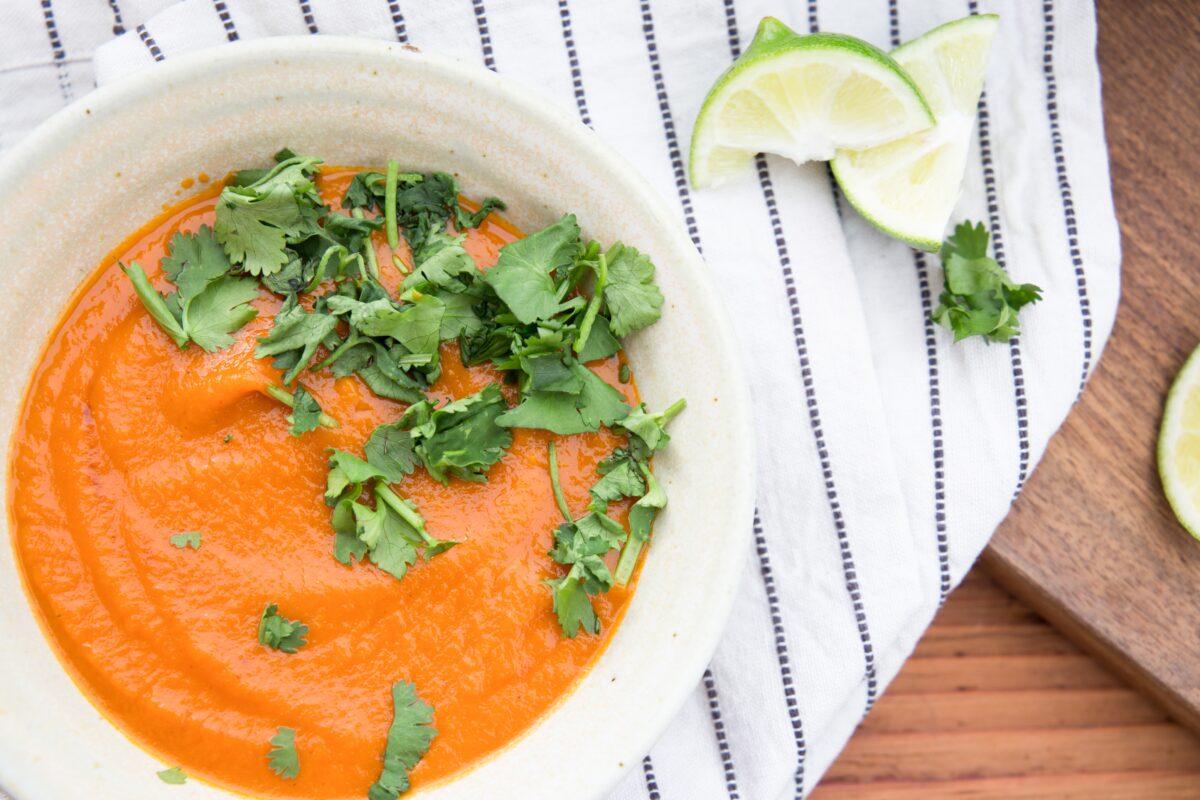 Coconut Curry Winter Vegetable Soup
Makes 6 servings
1 tablespoon coconut or olive oil

1 small yellow onion, diced

4 garlic cloves, roughly chopped

2 heaping tablespoons red curry paste 

2 1/2 pounds root vegetables, roughly chopped (butternut, acorn, or kabocha squash; carrots; parsnips; sweet potatoes; etc.)

1 quart chicken or vegetable stock

1 tablespoon soy sauce

1 tablespoon sriracha or 1/4 teaspoon red pepper flakes

1 tablespoon fish sauce

1 teaspoon ground cumin

1 (15-ounce) can coconut milk

Juice of 1 lime

Optional: cilantro, for garnish
To cook on the stovetop:
Warm oil in a large heavy-bottomed pot over medium heat. Add onion and cook until softened, 2–3 minutes. Add garlic and curry paste and continue cooking for 30 more seconds.
Add vegetables, stock, soy sauce, sriracha or red pepper flakes, fish sauce, and cumin, stirring to scrape up any bits that are stuck to the bottom of the pot. Raise heat to high to bring mixture to a boil, then reduce to low and cover. Cook for 20 minutes or until all vegetables are tender enough to blend. Proceed to blending step.
To cook in an Instant Pot:
Turn pot on Sauté mode and warm oil. Add onion and cook until softened, 2–3 minutes. Add garlic and curry paste and continue cooking for 30 more seconds. Turn Sauté mode off.
Add vegetables, stock, soy sauce, sriracha or red pepper flakes, fish sauce, and cumin, stirring to scrape up any bits that are stuck to the bottom of the pot. Close the lid and turn steam valve to Sealing. Pressure cook on high for 10 minutes. Quick-release the pressure by turning the steam valve to Venting. Remove lid. Proceed to blending step.
To blend:
Blend with an immersion blender, or allow the soup to cool for several minutes and transfer to a blender. Blend in coconut milk and lime juice. Taste. Veggies have varying levels of sweetness/earthiness, so you need to taste the soup and see if it needs more salt (add more soy sauce or fish sauce!), acid (lime juice!), or heat (add more red pepper flakes or even some sriracha).
Garnish with cilantro and enjoy!
Cooking Notes
Can't find red curry paste? Use whatever curry paste you can find (yellow is very common) but only add 1 tablespoon to start, then add more after you blend it and taste it. The spice level can vary widely so you don't want to add too much!
If you like a really thick soup, only add 3 cups of the broth to start. Blend, check the thickness, then add more broth if needed. 
Caroline Chambers is a recipe developer, food writer, and author of "Just Married: A Cookbook for Newlyweds." She currently lives in Carmel, Calif., with her husband, George, and son, Mattis. Follow her on Instagram for cooking tips and snippets from her life in Northern Calif. @carochambers