FAIRFAX, Va.—As a classical singer, Cynthia Elkins appreciated that Shen Yun Performing Arts has a full orchestra.
"I really enjoyed it," she said after seeing the performance at the George Mason University Center for the Arts Concert Hall in Fairfax, Virginia, on Jan. 19.
The Shen Yun Orchestra combines Western orchestral instruments and Chinese instruments. Elkins enjoyed hearing the erhu, a 4,000-year-old two-stringed instrument.
But while Elkins was expecting beautiful music and a beautiful production, she was not expecting to see a divine expression of masculinity.
"I was surprised by and intrigued by the male dancers," she said.
Elkins described some of the scenes, including the pieces "Restaurant Cheer," which showed restaurant workers finding joy in serving others well with a grumpy boss nearby, and "Mongolian Spirit," which celebrates the lifestyle of Mongolian horsemen.
"I thought there were moments of deep authenticity, and movements and energies that I have never seen before," she said.
Elkins said that many people in Western countries are familiar with the traditional Chinese dress, small steps, and the beauty and elegance of traditional Chinese women.
"But we haven't seen the energy and the divine energy the men hold," she said. "And I thought that really came out in the dancing."
"I was mesmerized with the older man and younger man in the café and the twirling of the napkins."
"I just thought that that was a dynamic that I wasn't expecting, and it was delightful," she said.
Elkins said that New York-based Shen Yun's productions accomplished many things.
"I think getting the culture to the people outside of China and preserving it for everyone is perfect. I think that it's a fun evening," she said.
She also said that children and adults alike will enjoy Shen Yun, especially with the integration of Shen Yun's animated backdrop.
"It's very intriguing and it will keep the kids' attention," she said.
Beyond the breadth of Shen Yun's appeal, she appreciated it's depth.
"I also loved the idea and purpose that these are divine souls who were performing, the getting back to what the word means of the performance—Shen Yun."
Shen Yun translates to English as "the beauty of divine beings dancing."
"So for me, it hits many aspects," she said. "It's not just a dramatic or musical evening. It's an experience."
Elkins also noted that Shen Yun performers meditate together, and practice together, and felt that that added an "extra presence" to the performance.
Elkins offered words for anyone thinking of going to see Shen Yun:
"I'd say be prepared for a really fun night, and bring your friends."
Spectacular Beauty
Besides those artists in attendance whose work is heard, there were those whose work is seen.
June Beyer teaches art and owns an art studio. Her husband, Mike Beyer, accompanied her to the performance. They both enjoyed the production.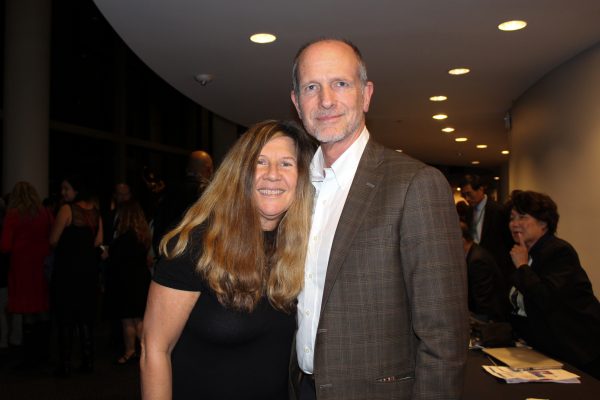 "Spectacular," said June Beyer. "The beauty and the expertise of the dance, and the stories, are like nothing I have ever seen here in Virginia. And the color. It's really magical, I loved it."
"It's very, very peaceful too. I enjoyed it very much. I'm enjoying it. It's wonderful. I can't wait to see the next part."
Mrs. Beyer grew up dancing and she reflected upon why she felt so peaceful watching Shen Yun's dancers.
"I think its because of the talent. They so gifted. To be able to see that kind of uniformity in dance and the colors, but also their personalities. There's something very deep and soulful from the dancers."
Mike Beyer also enjoyed watching Shen Yun.
"I found it very entertaining and also very athletic, watching the men especially with the gymnastics. It was very impressive, it was absolutely beautiful."
The couple also appreciated the music.
"The music is wonderful," said Mr. Beyer. "Very talented orchestra."
Mrs. Beyer said the orchestra and the dancers blend into a unified experience.
"It's really a mystical feel and very deep, very soulful," she said. "I thought it was very spiritual. And the artistry, it just seems flawless."
"The entire program was just so perfectly touching. Very touching. You feel a part of the whole experience," she said.
Shen Yun dances depict magical beings, monks, warriors, goddesses, emperors, and villains, and many more types of characters. Color is part of Shen Yun's visual storytelling. As a visual artist, Mrs. Beyer commented on the color.
"I love the colors," she said. "There something about the pinks and the greens, and then some of the darkness that comes in. You will adapt to each little section but it also feels very whole, so there's parts within the wholeness of it."
"I felt the inspired by it because of the talent," she said, recalling how the female dancers balanced porcelain vases in "Porcelain in the Balance" and the flips and tumbling of the male dancers. "It's very different to anything I've experienced. I've seen a lot of dance. I've never seen that kind of rhythm, and the synchronicity. It was excellent."
Mr Beyer added: "Unique and beautiful"
Mrs Beyer said, "I think when you do something like that with creativity, it touches the universe."
With reporting by NTD Television, Sean Lin, and Carrie Gilkison.
The Epoch Times considers Shen Yun Performing Arts the significant cultural event of our time and has covered audience reactions since the company's inception in 2006.