Classical Piano Soloist Very Impressed With Shen Yun Dancers
'Coordinated like they've been practicing since before they were born'
April 10, 2014 2:13 am Last Updated: April 14, 2014 1:34 am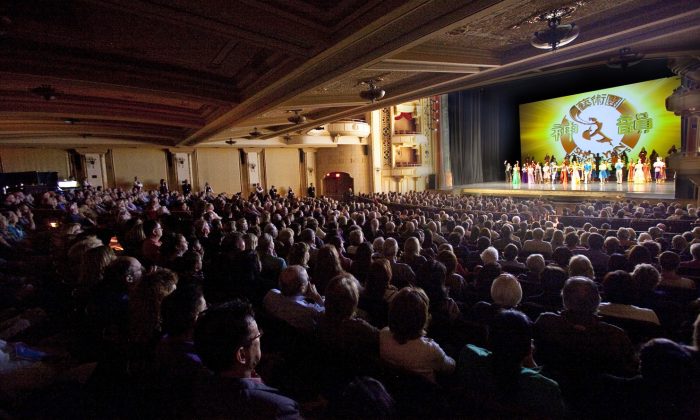 SEATTLE—"I love it. The discipline of their dancing, it's beautiful. They're perfectly matched," said Barbara Gulbran, a classical pianist, and former president of the Seattle Music Teachers and the Ladies Musical Club in Seattle, Women Who Perform. She watched Shen Yun Performing Arts with her husband at the Marion Oliver McCaw Hall, on April 6. 
Mrs. Gulbran was very impressed by "the dancing, the beautiful discipline, the grace." She said: "And the perfection of their movements! They're coordinated like they've been practicing since before they were born. It's very impressive."
"Classical Chinese dance has a long history of thousands of years … Soaking up profound wisdom from every era and dynasty, it has become a complete system of dance embodying traditional aesthetic principles with its unique dance movements, rhythms, and inner meaning," reads the company's website.
As a performing soloist, Barbara Gulbran talked about Shen Yun Orchestra from a professional standpoint.
She said: "I'm a classical pianist; I'm interested in the harmonies of Chinese music, the intervals of the thirds and fourths. Anyway, because this doesn't seem like strict Chinese, it's got a Western influence, so I am trying to understand it."
Shen Yun's website explains, "A Western philharmonic orchestra plays the foundation, while traditional Chinese instruments lead the melodies. The sound produced is uniquely pleasing to the ear. The ensemble at once expresses both the grandeur of a Western orchestra and the distinct sensibilities of China's 5,000-year-old civilization."
Presenting myths, legends and tales of literary classics, Shen Yun also introduces stories about the events happening in China today: the inhumane persecution of a spiritual discipline Falun Gong by the Chinese communist regime.
Mrs. Gulbran was very impressed by the piece The Steadfast Lotus. She said: "I also have to say I loved the incident, I guess it was the mother and the daughter, who were persecuted, and the daughter stood and she saw her mother again … It's very beautiful … so poignant."
She further elaborated:"Because it's their meditation there, I guess you can call it…, which they were practicing, and then when the army attacked them the daughter didn't stop. She kept it up. She kept her courage and her determination to practice this and rebuffed the officers who were, of course, much stronger than she. It came out beautifully in the dance, and they did it to perfection. I'd like to see it again."

Reporting by Li Mei and Nataly Teplitsky
New York-based Shen Yun Performing Arts has four touring companies that perform simultaneously around the world. For more information, visit Shen Yun Performing Arts. 
The Epoch Times considers Shen Yun Performing Arts the significant cultural event of our time. We have proudly covered audience reactions since Shen Yun's inception in 2006.