MILWAUKEE, Wis.—Watching Shen Yun Performing Arts, a display of the authentic Chinese culture portrayed by classical dance and live music, led to an amazing and unexpected healing experience for Diane Richter.
Richter was at the Marcus Performing Arts Center in Milwaukee, Wisconsin, where she experienced for the first time in 49 years the disappearance of pain and stiffness in her body.
"It was so inspiring and calming. You could tell that [the performers] were dancing from the heart," she said.
"I came in with stiffness in my body and my neck, and I don't know how to explain this but it's gone. It's like through the time of watching [Shen Yun], it actually released and it's not painful right now."
Richter's chance to see Shen Yun came when her daughter bought her tickets for Christmas.
"I've been talking about wanting to see this for years. And I never dreamed that I would be able to come see it. And I opened the present and there it was—most beautiful gift you could ask for," she said. Richter is retired but works at St. Paul's Cudahy school as a caregiver taking "care of the little angels."
Richter's tearful face expressed the emotion she felt from her experience. She explained that an accident she experienced as a teenager had left her in a lot of pain.
"And to sit in that chair and just forget any problems that I have, and watch the beautiful movements on stage was so relaxing that when I walked out of there, the pain is not there, the stiffness in the back is not there. It's just … it's amazing," she said.
"It was by the power of watching [the performers] and releasing …  daily problems," Richter said as the only way she could explain the disappearance of her pain.
Shen Yun is very educational and everyone should see it, she added.
"So I would encourage people—it's not just entertaining, it's learning watching [Shen Yun]."
"It's not just dancing. Each segment has a story to tell, which was awesome," she said.
'Drawn In'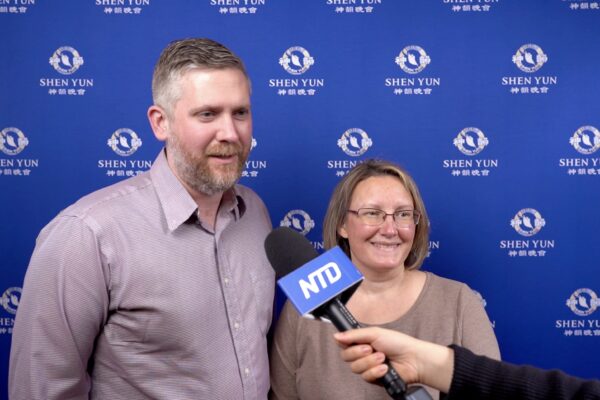 Also in the audience were Danny and Devin Carlson. Danny is the executive director of the computer company Platinum Systems.
The couple had wanted to see Shen Yun for many years and so it was a real treat to finally see it, Danny said. He learned a lot more about Chinese culture than he had expected.
I was "drawn in" and very focused on the dancing and the stories that were depicted and could feel an energy that was very light, he said.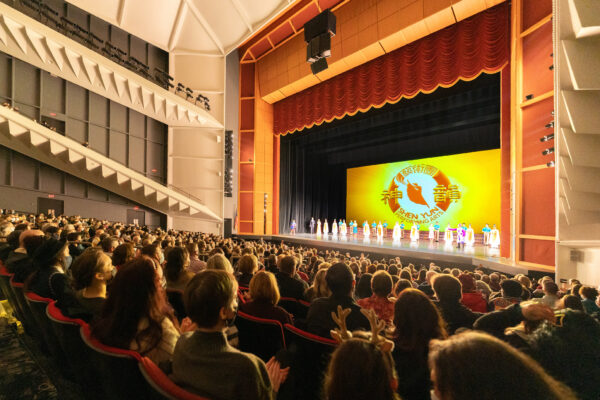 The spirituality that is the foundation of Shen Yun's performance was something Danny had not expected.
"I found some parallels to a lot of my own beliefs … I enjoyed that," he said.
Shen Yun is an international company based in New York, but has been banned by the Chinese communist regime from performing in China.
"I found [it] very sad to hear that a performance like this cannot be performed in China. So here we are, being able to experience [an] ancient culture more so than the place where the culture is actually from" Danny said.
Devin, an engineer, had received tickets to Shen Yun as a Christmas gift from her husband.
Shen Yun is very beautiful, she said, noting that the costumes were very striking, with so much color and vibrancy.
The stories about the current persecution of Falun Gong, a spiritual practice that teaches the benefits of following a virtuous path according to the principles of truthfulness, compassion, and forbearance, was sad but also an important part of China's history, she said.
"[Shen Yun is] giving us … ancient history … the folk stories and dances, but also sharing with us what is happening in modern-day [China.]"
She praised Shen Yun for its ability "in creating that emotion and connection to the Chinese culture" in the first piece, "Salvation During End Times"—the story of a "divine assemblage that has gathered to greet the mighty Creator," according to the Shen Yun program.
Reporting by Stacey Tang and Diane Cordemans.
The Epoch Times is a proud sponsor of Shen Yun Performing Arts. We have covered audience reactions since Shen Yun's inception in 2006.