TAICHUNG, Taiwan—The New York-based Shen Yun Symphony Orchestra played to another full house at Taichung City Chung Shan Hall on Sept. 25, 2019. Among the audience members from central Taiwan was Zhang Ruitai, board director of Lions Club International.
Awed by Shen Yun's soul-stirring performance, Zhang Ruitai said, "The overwhelming momentum of [Shen Yun music] is like tens of thousands of steeds galloping ahead in battlefields."
"Our body and mind will be full of peacefulness, contentment, and happiness [when listening to Shen Yun music]," he said.
"Traditional Chinese music emphasizes the expression of inner feelings—the ancients always used musical instruments to relate their states of mind. Western music, meanwhile, focuses on the overall effect of the musical ensemble—and to achieve that, arrangement and harmony are of utmost importance. Shen Yun's music combines these approaches to capture the essence of both East and West," according to the Shen Yun website.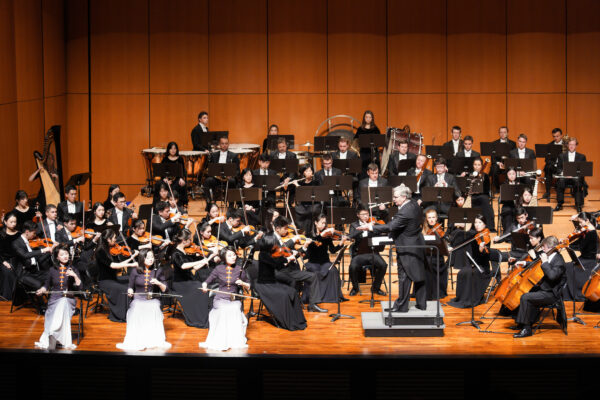 Zhang Ruitai enjoyed the perfect coordination between the East and West music in the concert so much that he urged others to appreciate a Shen Yun concert as well. "You have to watch it in person so that you could experience how the traditional Chinese instruments and Western instruments are perfectly synchronized," he praised. "It's beyond words."
Appreciating the accompaniment of gongs and drums in the symphony, Zhang Ruitai said, "I think it is wonderful, and it is something that many oriental people like to hear."
Zhang Ruitai felt that the Shen Yun concert energized him. "After watching the entire performance, I feel uplifted," he said. "I am full of positive energy."
As the performance was truly magnificent, the concert hall echoed in enthusiastic applause after each piece was completed. He was impressed with the cheers for encores at the end of the performance. "The scene of long-lasting tumultuous applause and cheers for encores is touching," he said. "Shen Yun is truly great. It's the best in the world."
"Shen Yun can bring stability, peacefulness, and happiness [to the society]," he said. "Shen Yun is so wonderful that my palms have turned red due to so much clapping."
To encourage others to attend a Shen Yun concert, Zhang Ruitai said he would, "Be sure to recommend others to watch Shen Yun Symphony Orchestra's magnificent performance."
Reporting by Chen Zhida and Billy Shyu.
New York-based Shen Yun Symphony Orchestra comprises musicians from the six Shen Yun Performing Arts touring companies. For information about the October performances, visit: ShenYun.com/Symphony
The Epoch Times considers Shen Yun Performing Arts the significant cultural event of our time and has covered audience reactions since the company's inception in 2006.