SAN JOSE, Calif.—Mike Crnkovich, finance manager for BMW, enjoyed Shen Yun Performing Arts in San Jose, California, on Dec. 26. He was impressed by the classical Chinese dance and by the traditional culture he saw in Shen Yun.
"Very beautiful," he said. "The colors … and the precision. It was fantastic."
The mission of Shen Yun, a New York-based classical Chinese dance and music company, is to bring back China's 5,000 years of ancient culture for today's audiences. Its world-class performers travel the globe with an all-new production every year.
"[The] music was awesome," said Crnkovich.
The live music in Shen Yun includes an orchestra with both Western and Chinese musical instruments, which accompanies the dancers, as well as vocal and instrumental solos. One of the solos in this year's performance is "Divine Reflection," played on an erhu, a traditional two-stringed instrument that is sometimes called the Chinese violin.
Crnkovich admired the erhu piece.
"How you can do that with just two strings is incredible," he said.
Shen Yun has performed in top venues around the world. Many of its dance pieces tell stories that portray ancient Chinese values, such as benevolence, wisdom, and respect for heaven.
However, it cannot perform in China today, since the Chinese communist regime has spent decades trying to destroy the very culture that Shen Yun aims to revive.
"Trying to bring [the culture] back is really phenomenal," said Crnkovich. "This was awesome, breathtaking."
Attorney: 'Very Powerful'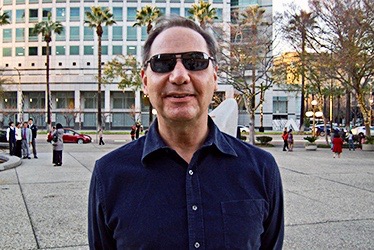 Don Lindgren, an attorney in the field of telecommunications law, enjoyed the performance with his daughter. He found Shen Yun "very emotional, very powerful, and very artistic."
He was touched by a dance piece that tells a story of courage in the face of persecution.
"[It] was very, very impressive and very moving," he said.
The dance piece "The Final Moment" takes the audience to modern China, where a popular meditation discipline called Falun Dafa is persecuted by the Chinese regime. Falun Dafa practitioners adhere to the principles of truthfulness, compassion, and tolerance, but the Chinese regime sees these traditional values as a threat to its power.
"I really wish that there were a lot more shows like this available for people to see on a regular basis," Lindgren said. "Because I was very touched, and I'm going to take this home with me. It was very good."
"It showed a higher purpose … and that community is really important, and your spiritual nature is very important," he said.
'Tugs on your heartstrings'
Brian Keszenheimer, a CIO in the field of IT, loved the spirituality he saw in Shen Yun. He said the performance "evokes a lot of emotion."
He admired the way the performers told short stories through dance, as he found it very accessible.
"I think everybody needs a little more culture in their life. I think it's fantastic," he said. "The expression and the artistic manner in which it's done just really helps you to understand the story. I mean, it tugs on your heartstrings; that's really what it does."
Classical Chinese dance has a history of thousands of years and is known for its expressiveness and athleticism.
"The dancing is beautiful," said Keszenheimer. "The coordination is incredible. … Very well done; very well executed."
He said that his friends should "go see it for themselves; it's just unbelievable."
With reporting by Mary Mann, Gary Wang, and Sally Appert
The Epoch Times considers Shen Yun Performing Arts the significant cultural event of our time and has covered audience reactions since the company's inception in 2006.