HOLLYWOOD—After much anticipation, Nichelle Bane and her fiancé Reggie "PinHi" Pinuelas fulfilled a long-held wish on the afternoon of January 23.
As a Christmas gift, Ms. Bane's mother gave them tickets to see Shen Yun Performing Arts World Company at the Dolby Theatre.
"I loved it," said Ms. Bane.
Being a dance professional gave Ms. Bane a deep understanding of Shen Yun's grace and beauty, as well as the hard work it takes to accomplish making it look effortless. Involved in ballet, contemporary, and musical theater since she was three years old, she had nothing but praise for the Shen Yun dancers.
"The staging and precision and everything was stunning," Ms. Bane said. "It was a lot of fun to watch."
Ms. Bane's impressive credentials include being an award-winning choreographer, founder, and artistic director at the Los Angeles-based Reflections Dance Company. She is currently on faculty at The Los Angeles Ballet Academy, Edge Performing Arts Center in Hollywood, and Encore Dance Center.
Mr. Pinuelas said he had been waiting for a year to see Shen Yun, and that he felt blessed to finally see the performance.
"It was just magical, because the timing and everything had to be perfect," he said. "And I think they did a wonderful, wonderful job!"
Mr. Pinuelas is multi-talented. He is a golf professional, a producer and actor, and an entrepreneur. He teaches at the Van Nuys Golf Course and is co-owner of the LeviTee Golf Gloves Co.
As a producer and actor, he made, a film based on his life story.
Mr. Pinuelas was very impressed by Shen Yun's level of beauty and excellence.
"I'm very, very fascinated with the performance," he continued. "It's a great show!"
According to Shen Yun's website, "A Shen Yun performance features the world's foremost classically trained dancers, a unique orchestra blending East and West, and dazzling animated backdrops—together creating one spectacular performance."
Two of the vignettes particularly spoke to both Ms. Bane and Mr. Pinuelas, Sleeves of Grace and Handkerchief Blossoms.
"It was beautiful. The handkerchiefs and the athleticism of the dancers too," Ms. Bane said. "I loved the style of dance where it has the acrobatics in it as well as the delicateness and everything."
"It was very entertaining," she said. "Very beautiful to watch."
"Shen Yun Performing Arts' dance style is built upon classical Chinese dance as a foundation, while also maintaining a number of ethnic and folk dances. This combination embodies Chinese people's aestheticism and ethnic character," states Shen Yun's website.
Ms. Bane said that Shen Yun's costuming was beautiful, and gave her a lot of ideas.
Established in New York in 2006 by a group of overseas leading Chinese artists, Shen Yun's mission is to revive 5,000 years of divinely inspired culture, which has been nearly all but lost under the current atheist communist regime in China.
I love the values and the traditions and the whole spirituality of the show.
"I love the values and the traditions and the whole spirituality of the show," said Mr. Pinuelas.
Mr. Pinuelas spoke of his concern for the tumultuous situations he sees the world facing today.
He said he believes the "key to that is to find a relationship with your God."
"I think they're putting out the same message," he said. "I think it is very helpful for other cultures to see the understanding that we're all in this together."
"As long as we stick together, we believe together, then it's going to make us stronger. So I like the message that they gave," he continued.
"I really enjoyed the whole journey of it. I learned a lot," Ms. Bane said.
"I think that the positive message that was portrayed in a lot of the pieces can be taken into any culture," she said.
"It was said in different ways," she added, "and whether it's God or Buddha or whoever, we all have that."
"It [Shen Yun] was a beautiful journey," she said in closing.
Shen Yun Has 'Really taken my breath away'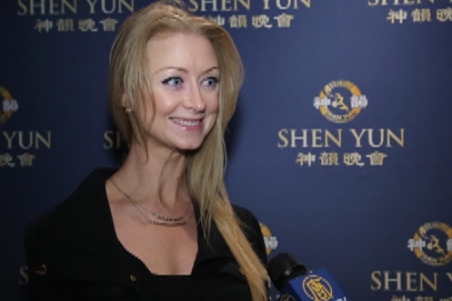 Julia, a former ballerina, found the evening to be more than she expected.
"It's inspiring," she said. "It's quite soulful. It really takes it to a different level."
Shen Yun has become a worldwide phenomenon perhaps because the depth of classical Chinese dance reaches beyond what the eyes can see.
Shen Yun's website explains that by "Soaking up profound wisdom from every era and dynasty, [classical Chinese dance] has become a complete system of dance embodying traditional aesthetic principles with its unique dance movements, rhythms, and inner meaning. Every move of the performers is practiced to full convey the intended mood, emotion, or idea."
One great aid in expressing the meaning of the dance is through the costumes.
Julia was captivated by the costumes' rich colors.
"The brightness is absolutely spectacular. Absolutely captivating on stage," she said.
Shen Yun is renowned for its hand-made costumes. According to its website, "Their objective is an authentic presentation of the attire that comes from China's divinely inspired traditional culture, and a consummate stage effect."
A major feature of Shen Yun is its live orchestra. Bringing together Eastern and Western instruments, it has a beautiful sound like none other.
[The] orchestra is incredible—so alive—makes me want to get up and dance.
Julia said, "[the] orchestra is incredible—so alive—makes me want to get up and dance."
In addition to offering a feast for the eyes and ears, Shen Yun offers food for the soul, which particularly struck Julia.
She was touched by a piece in which faithful Chinese remained compassionate despite being persecuted.
"I really was moved by that particular performance, [the one] with the message of truth, compassion, and tolerance. That I think is really special," she said.
Shen Yun's website explains how belief in the divine is an integral aspect of ancient China.
"Throughout history almost every culture looked toward the divine for inspiration. Art was meant to uplift, bringing joy to both the people who created and experienced it. It is this principle that drives Shen Yun performers and their art."
Having that deep inspiration and positive motivation behind its art is what sets Shen Yun apart and has lead to new heights of excellence in the performing arts.
Julia remarked, "It's just such a delight to be here. We got last minute tickets, and I'm so glad my partner is able to bring me, so I'm really, really happy.
She wishes Shen Yun great success.
Reporting by Zheng Qu, Thanh Le and Miles Segni

New York-based Shen Yun Performing Arts has four touring companies that perform around the world. For more information, visit ShenYunPerformingArts.org.
Epoch Times considers Shen Yun Performing Arts the significant cultural event of our time. We have proudly covered audience reaction since Shen Yun's inception in 2006.