Award Winning Botanical Illustrator Says Shen Yun Costumes Superb
April 10, 2014 1:43 am Last Updated: April 11, 2014 2:09 am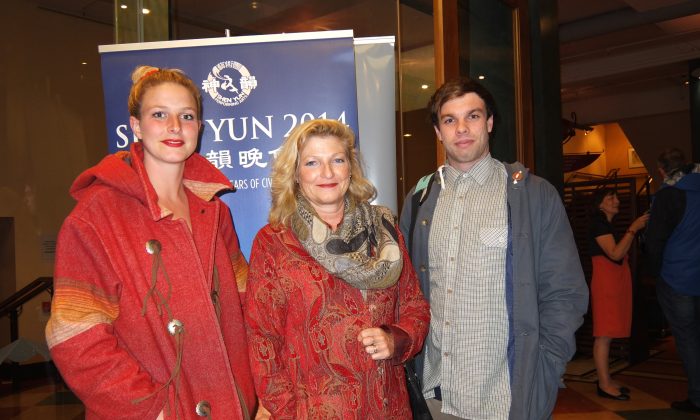 WELLINGTON, New Zealand—Sue Wickerson, a botanical illustrator, Charlotte Barikoff, an equestrian trainer and architect Marcus Duffy attended Shen Yun Performing Arts performance, on April 9, at St James Theatre.
According to the Shen Yun website, "Shen Yun's costume artists collect countless designs of traditional attire, ranging from those of emperors, ministers and generals to the everyday clothing of the common people. They use bright colours to tailor and recreate hundreds of new pieces each season."
Ms. Wickerson, a Botanical Illustrator, is a member of The Society of Botanical Artists, has worked for the Royal Botanical Gardens, Kew, United Kingdom, was awarded the Winston Churchill Fellowship, has exhibited at New Zealand House in London, Savill garden in Windsor and many others. She has illustrated books and has produced over 50 natural history stamp designs for several countries. She has one many awards for her illustrations.
With an eye for detail and beauty Ms. Wickerson was struck by the beauty of the costumes.
"Incredible changes of colour with the costumes! I don't know how many costume changes there were, but we really enjoyed it," she said.
"Superb!"
Ms. Barikoff agreed saying, "The costumes were amazing. The costumes, and the colours!"
Shen Yun's website contains insights into the traditions behind classical Chinese dance.
"Classical Chinese dance has its own set of training methods in basic skills and has strict training in both physical expression and specific postures. It also involves learning combinations of leaps, turns, flips, spins, and other aerial and tumbling techniques. It is a vast and independent system of dance."
The ladies enjoyed the dancing very much and were impressed with the high level of athleticism displayed by the dancers.
Ms. Wickison said, "The dancing is superb, it's excellent. … fantastic skill of the dancers."
Ms. Barikoff was impressed by "the precision of the dancing."
The website states, "With state-of-the-art graphics technology, Shen Yun's digital-backdrop team creates vividly animated settings, extending the stage and transporting the audience to a world where heaven and earth are one."
Mr. Duffy said that he enjoyed the interaction between the dancers and the animated backdrop, and he especially liked the story of The Monkey King Thwarts The Evil Toad.
All three said that they'd never experienced a performance like Shen Yun before, and that they would highly recommend it to their friends.
Ms. Wickisin said, "The spectacle was superb."
Reporting by Libei Guo and Kathy McWilliams
New York-based Shen Yun Performing Arts has four touring companies that perform simultaneously around the world. For more information, visit Shen Yun Performing Arts.
The Epoch Times considers Shen Yun Performing Arts the significant cultural event of our time. We have proudly covered audience reactions since Shen Yun's inception in 2006.