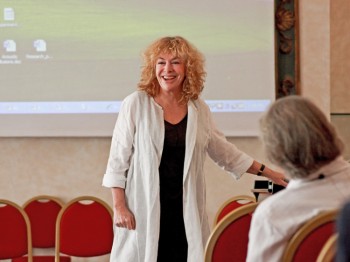 As a world-class pianist, Ilana Vered played in the most esteemed concert halls in the world with the top musicians of her time. Today she uses music as a tool for change. Vered speaks about the process of evolving from an internationally respected soloist to a teacher and painter, and about the accident that precipitated that change.
Today, along with her husband, Peter Hermes, she directs the "Music Fest Perugia" in Italy and participates in numerous other projects that help young musicians and that promote classical music.
In the Bubble
"I remember that in my childhood, the greatest artists came to perform in Tel Aviv and so I saw Arthur Rubinstein. I looked at the people during the concert, and they were sitting quietly—while tears ran from their eyes. In that moment I realized what it was all about. I thought it will be wonderful if I could do the same thing," Vered said.
Vered started to play piano at the age of 3 and was deemed a "wunderkind" at a very young age. Her parents were musicians as well.
"My mother was a piano teacher; my father was a violin teacher, and I wanted to have their attention so I started to play. Ever since, playing became my life," she said with smile.
Later her parents moved to Paris where she studied in the Conservatoire de Paris. After two years there, she won the first prize. Then her family moved to Brazil and then to the prestigious school for music, dance, and drama in the United States—Juilliard.
When Vered finished her studies, she performed with the greatest orchestras in the world: the NY Philharmonic, San Francisco Symphony, the NHK Symphonic Orchestra in Japan, the Munich Philharmonic, the Israel Philharmonic Orchestra and many more. She recorded many albums and performed with conductors Stokowski, Mehta, Solti, and Kondrashin, among others.
"As a wunderkind, I mainly concentrated on working, on piano. I was in some kind of a soloist's bubble. There were tours and concerts and then everything stopped when my first child was born. But then I came back."
But coming back was not easy for her. "The piano demands all your attention, all your time. It is not only the playing itself—with the fingers, it is also the thinking. You think about it all the time. It is like an artist that thinks about his painting even when he is not painting. And there is also the enormous competition that you have to face when you play in the biggest concerts in the world," she explained.