Artist Says Shen Yuns Colours 'Vibrant! Stunning! Spectacular!'
April 10, 2014 12:15 am Last Updated: April 11, 2014 12:22 am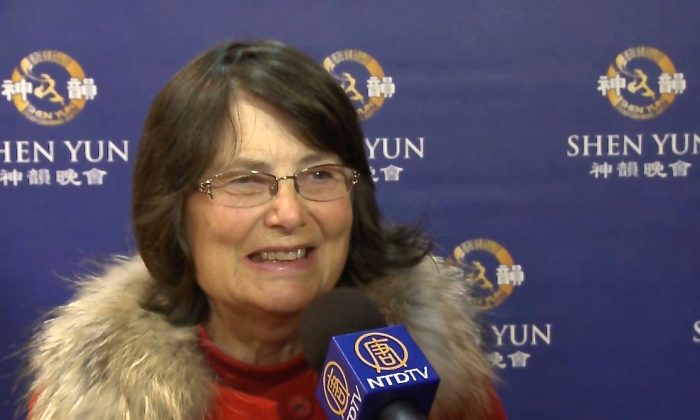 WELLINGTON, New Zealand—"I loved it! Very spectacular! And very colourful!" said artist and painter, Elizabeth Beecham Leatherbarrow after seeing Shen Yun Performing Arts at St James Theatre on Wednesday April 9.
She said, "I think it's wonderful, very beautiful,"
From and artistic viewpoint Ms. Beecham Leatherbarrow was enchanted with the vibrancy and colour combinations.
"The way they put certain colours together; really it was absolutely wonderful," she said.
"They put a lime green with almost a shocking pink, not quite a shocking pink but definitely a strong pink and those colours together; they just hum."
"Very vibrant and there are other colour combinations as well which, you know in the costumes in the lady's costumes and also in the men's costumes which are very, very vibrant. Colourful!"
Shen Yun's website says "every costume in a Shen Yun performance is presented with brilliant colours, displaying a splendid spectacle."
Ms. Beecham Leatherbarrow was so impressed with the colours and the colour combinations she was finding it difficult to find the word to express her delight.
She said, "It was spectacular, yes spectacular. I don't think I can say anything higher than that, yes very vibrant and spectacular."
Shen Yun is based in up-state New York, according to the website, "Shen Yun draws top artists from around the world. With a passion for the classical arts, they join Shen Yun in its mission to revive a culture that was once almost lost."
A feature of Shen Yun performances is the use of the digital backdrop.
The company's website explains, "These digital backdrop designs complement and synchronize all aspects of the performance: the characters, colour of the costumes, specific dance movements, props, lighting, the story being told, particular notes played by the orchestra and special audio effects."
Ms. Beecham Leatherbarrow understood the value of the backdrops saying it's "conveying part of the story that you can't just convey on the stage alone."
Describing the performance as exciting Ms. Beecham Leatherbarrow also said she loved the Chinese music.
"It all came together, very exciting."
In a final salute to all the performers she said, "Very well done, excellent."
"Stunning, stunning, stunning."
Reporting by NTD Television and Judy Shakespear
New York-based Shen Yun Performing Arts has four touring companies that perform simultaneously around the world. For more information, visit Shen Yun Performing Arts.
The Epoch Times considers Shen Yun Performing Arts the significant cultural event of our time. We have proudly covered audience reactions since Shen Yun's inception in 2006