Artist Says Shen Yun Is 'Just Gorgeous'
May 3, 2014 7:40 am Last Updated: May 4, 2014 12:40 am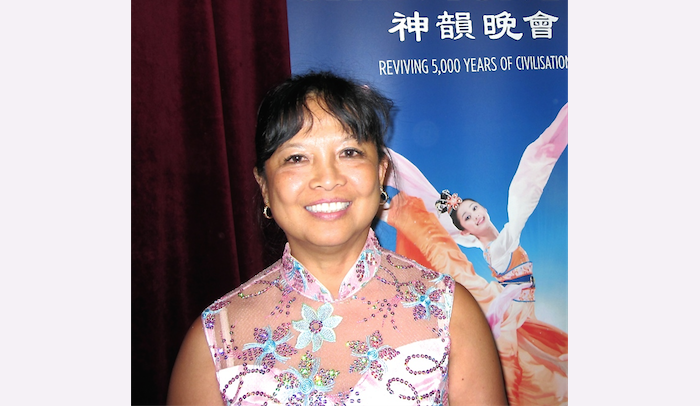 PERTH, Australia—"It's sensational! It's beautiful!" said Nunnally Paterson, a landscape painter and photographer when she saw Shen Yun Performing Arts at the matinee performance at The Regal Theatre on Saturday, May 3.
"I really enjoyed it, it's magnificent," she said. "It's marvellous, it's just fantastic, it's so magical with all the flying things and the dragon."
State-of-the-art digital backdrops and originally designed costumes created a visual extravaganza for Ms. Paterson.
"The colours! It's just gorgeous. It's got the unique traits in their culture to all the fantastic colours. … Their outfits were just wonderful."
The Shen Yun website explains "Every costume in a Shen Yun performance is presented with brilliant colors, displaying a splendid spectacle—from the Tang Dynasty's "Raiment of Rainbows and Feathers" to imperial dragon robes, phoenix coronets, and cloud capes; from the civil official's headdress and robes to the warrior's helmet and armor; and from the traditional rightward cross-collared Han clothing to the ethnic attire of the Manchurian, Tibetan, Dai, Mongol, and Uyghur ethnic groups."
Ms. Paterson said, "The whole impact is just marvelous, it's brilliant how they perform; and the outfits and the scenery, it was just magical."
Ms. Paterson also appreciated the journey of 5000 years of Chinese history and culture depicted through the music and dance.
"It's ancient Chinese dancers and I really enjoyed them," she said. "Spiritually, it's encouraging … all the ancient cultures, [it] was really nice. I enjoyed them."
She feels it is important for the Chinese people to see their origins.
"It is magical and it is divine. It's gorgeous!"
Reporting by NTD Television and Leigh Smith
New York-based Shen Yun Performing Arts has four touring companies that perform simultaneously around the world. For more information, visit Shen Yun Performing Arts.
The Epoch Times considers Shen Yun Performing Arts the significant cultural event of our time. We have proudly covered audience reactions since Shen Yun's inception in 2006.