For some reason, we Americans tend to reserve bubbly for celebrations.
"This is one of the great issues with bubbly—people save it for birthdays and ball drops," said Mark Oldman, a wine expert based in New York's Chelsea neighborhood.
Not the case for him.
"A wise person once told me to always have a bottle of Champagne in your fridge in case of joy," he said in a phone interview. If you peeked into his fridge, you'd find some cava and a nonvintage Tarlant "Cuvée Louis" Brut Champagne.
"Is the stash reserved for little joys or great joys?" I ask.
"Often little moments of joy," he says. "In other words, people coming over, making it through the day, not having back pain. Or having back pain." He laughs, a lightly effervescent "ha ha ha ha" that bubbles slowly, merrily.
"It is immensely self-celebratory," he adds. "You don't need a big reason for it. We Americans especially deny ourselves, whereas I think the Europeans more readily embrace a bubbly, especially throughout a dinner."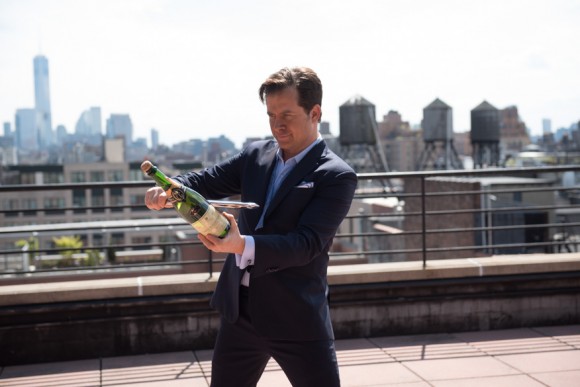 Bubblies pair well with every food, he points out—baked foods, fried foods, spicy foods. In his new book, "How to Drink Like a Billionaire: Mastering Wine with Joie de Vivre," he lists some eyebrow-raising pairings, like the highbrow-lowbrow marriage of a prestige cuvée, the grand dame of Champagnes, with French fries. Or how about Australian sparkling shiraz with Froot Loops?
If you're drinking like his metaphorical billionaire, according to Oldman, then you know "when you need to spend a lot of money and when a $12 bottle of American sparkling wine can give you 80 percent of the joy at 20 percent of the price." And also, "it's about unapologetic joy. It's about relaxing and having fun in ways that uptight wine authorities might not endorse."
Quite the opposite of wine snobs, Oldman points to winemakers who are relaxed about their products. Champagne with ice? Sure. Champagne with steak? Why not?
With the holiday season, Oldman's not drinking more, but drinking better, "really trying to drink the stuff I love," he explains. "So if I open a bottle and it's not really great, I'll just open another bottle because I care about quality over quantity, I guess."
"Life's too short, isn't it?" I say.
"Life's too short not to have Champagne in your fridge," he replies. He adds a disclaimer, though: Over months, the vibrations from the fridge will mess with the bubbles, and sometimes pungent aromas can affect the taste. "So the idea is to, you know"—he gives one of his mirthful, contagious laughs—"keep your flow going; don't store it in there long-term. Make sure you have a weekly inventory-lightening."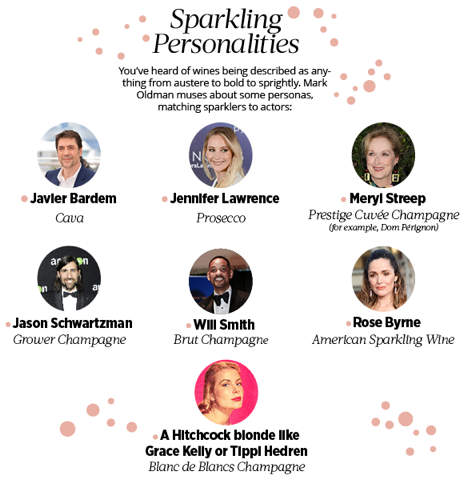 New Year's Eve
On New Year's Eve, for his pre- and post-parties, Oldman plans to start with a Spanish cava, Segura Viudas "Aria" Brut. "It's a great value, $20 bubbly that drinks like something twice as expensive," he says.
At midnight, he'll break out an American sparkling wine, Sea Smoke Cellars "Sea Spray" Blanc de Noirs, from a pinot noir producer near Santa Barbara, California. "It's hard to get, about $100 a bottle. On New Year's, I tend to open something pretty rare just to mark the occasion," he says.
To add a little drama, he'll likely saber some bottles, sending a geyser of frothy bubbles into the air.
The tradition, he explains, goes back to Napoleon's cavalrymen, who would use their blades to cleave off the tops of bottles to celebrate their victories.
Admittedly, there are some risks. "It's the greatest hits of 'don't try this at home,'" he says. "It's contents under pressure, alcohol, flying projectiles, jagged glass." The first time Oldman tried it, he picked up yellow safety goggles and orange work gloves from Home Depot beforehand. No one got hurt.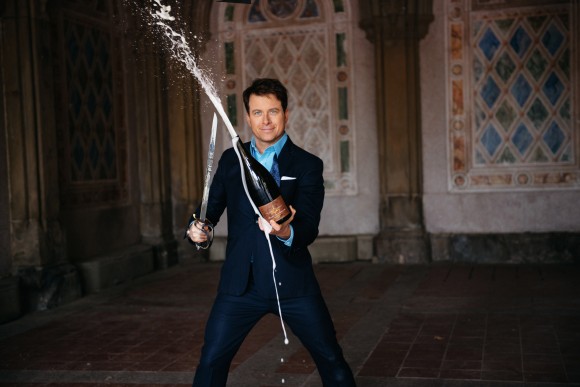 Oldman estimates he has sabered about 500 bottles by now and, in Seussian fashion, has decapitated bottles "under all sorts of circumstances: in the snow, in the tropics, with a ski, with a butter knife, with a traditional saber."
Indeed, you don't need a saber. John Fischer, a professor at The Culinary Institute of America in Hyde Park, New York, has even seen it done with the stem of a Champagne glass. "But it can't be crystal," Fischer said in a phone interview. A neighboring brewer is fond of using farm implements. "He sabered a bottle of his own beer with long-handled loppers for gardening."
The pressure inside the bottle is about 70 to 90 pounds per square inch, Fischer says, so when you pop the cork off, the wine shoots out, sending any shard of glass away from the bottle. (Oldman gives the speed at 45 miles per hour.) But the break is often clean, Fischer explains; if you put the broken neck back on, you'll notice an almost perfect fracture.
Still, here are some tips. Get the bottle very, very cold, which will make the glass more brittle. Point the bottle away from people, in case the cage spontaneously shoots off. And hold it in a napkin, says Fischer, in case the bottle explodes in your hand.
Find where the seam meets the lip, and "just swing with a soft wrist and follow through," says Fischer. And for goodness' sake, relax. The more tense you are, the less likely it is to work, he says. He pointed to an example in tennis, of "that perfect backhand where you feel almost no tension and you cream the ball."
All the more reason to have some bubbly beforehand.