NEW YORK—Order a slice of pizza in Rome, and the worker behind the counter will break out the scissors.
The city's pizza of choice, pizza al taglio ("al taglio" meaning "by the cut"), is baked in large, rectangular pans, typically in electric ovens, then laid out on shop counters and scissor-snipped into pieces to order. It's portable street food, unique to Rome.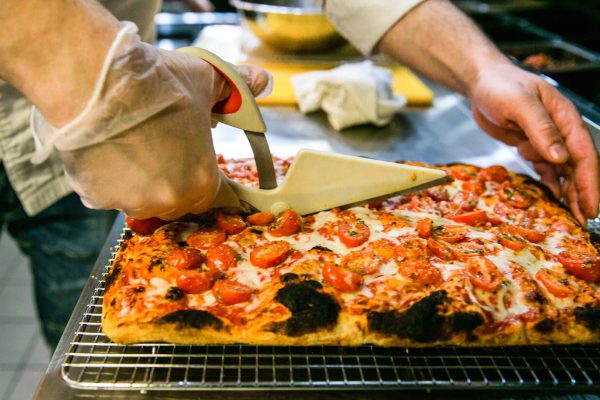 There's sit-down, restaurant-style pizza as well, namely pizza tonda, with a thin, almost cracker-like crust, and pizza in pala, thick and puffy and served on its namesake wooden paddle. But the grab-and-go al taglio is Rome's pizza claim to fame.
"If you want to really make a distinction between what's going on in Rome and elsewhere, that's the bigger picture: portability," said Scott Wiener, pizza expert extraordinaire and founder of Scott's Pizza Tours in New York City.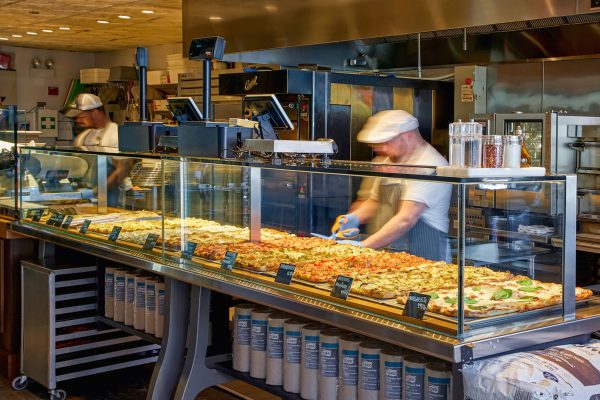 That portability rings familiar to devotees of the beloved New York slice, while the quadrilateral shape may bring to mind its square Sicilian and Detroit cousins. (Aside from their oily bottoms and different toppings, the styles are very similar to pizza al taglio, Wiener says.)
It's only natural, then, that pizza al taglio has made its way to the United States. With famed pizzaioli like Giuseppe Manco, Angelo Iezzi, and Gabriele Bonci setting up shop in the States, it looks like the Roman slice is here to stay.
A Crust Above the Rest
A slice of pizza al taglio can stand an inch or thicker. But bite into a well-made one, and you'll find that the height is mostly air. A thin, cracker-crisp bottom shatters into a pillowy soft center, riddled with a web of irregularly shaped air bubbles, much like the honeycombed insides of a good loaf of bread. After the first bite, the crust slowly decompresses, like memory foam, buoyed by the great pockets. It's extraordinarily light.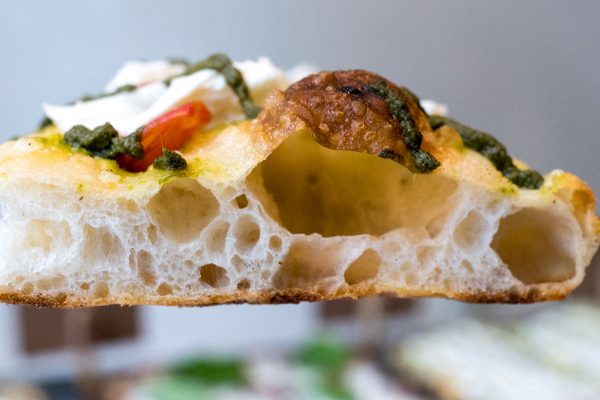 The air bubbles are a product of the dough's especially high hydration, or water-to-flour ratio, of 70 percent and above—compare that to 58 to 62 percent for Neapolitan pizza, and 45 percent for a typical New York slice—and its long fermentation time of up to 96 hours. The dough is cold-fermented to allow for the extended time.
"The more water you put in, the more air bubbles you'll get out," Wiener explained. Those air bubbles are a sign of the lightness and digestibility of the crust. Similarly, "the more [time] you give the fermentation, the [more the] dough will be light and digestible," said Manco.
For Manco, a two-time world pizza champion from Naples, that digestibility is the ultimate sign of a good pizza. "That is the most important thing," he said. "When you eat pizza, you [shouldn't] feel thirsty. If it's heavy and you can feel it in your stomach, you are very thirsty after, something wasn't good."
Pushing the Limit
That's why, at Manhattan's Mani in Pasta, Manco pushes his dough's hydration to an impressive 90 percent. "That's hardcore," Wiener said, noting that hydration usually tops out at an already extreme 85 percent. "Ninety is really pushing it."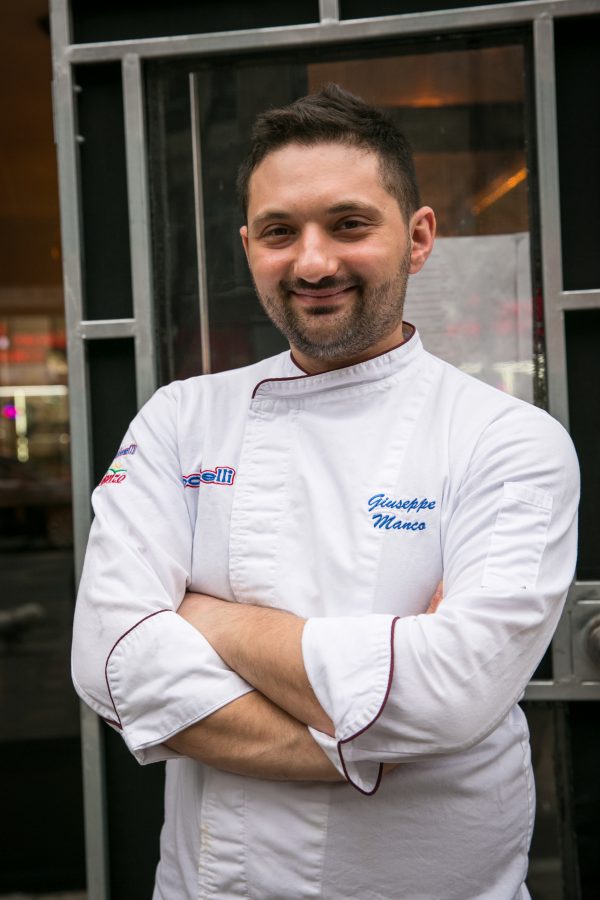 The secret is in the flour, Manco says. Roman pizza dough uses type "0" flour, on a spectrum of coarsely ground type "2" to the superfine type "00" used in Neapolitan pies. Less refined and higher in gluten, the flour is stronger and sturdier and has a higher level of absorption, so it can hold up to more water and longer fermentation patterns.
After two rounds of cold fermentation and one of leavening, 96 hours in total, the dough is soft and supple. As Manco carefully works it flat, great pockets of air swell from within and threaten to burst open at the surface. The finished product is dotted with precarious bubbles, which will puff up in the oven and make for that delicately airy crust.
Revolutionizing Pizza
The original man behind the magic is Iezzi, the Roman pizzaiolo and president of Associazione Pizzerie Italiane (Association of Italian Pizzerias), or API.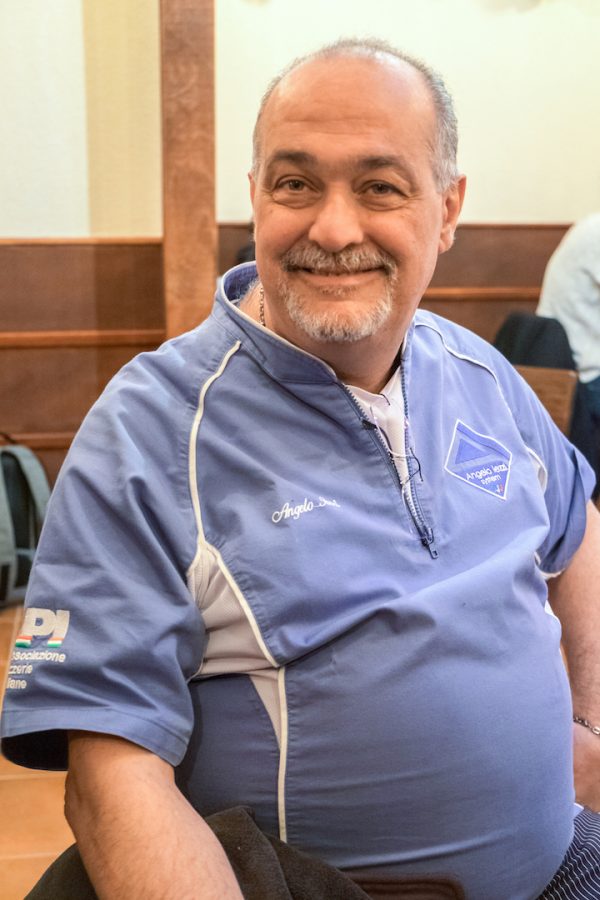 Iezzi pioneered the revolution of Roman pizza in the late 1980s. Though pizza al taglio had been around since the 1960s, Iezzi wanted to give people a better, lighter, and more easily digestible option than the traditional offerings at the time, which used little water and were often weighed down by lard and seed oil.
"So I started experimenting," he said in a video produced by API. "They use hot water? I take the ice. They use a lot of flour? I use less flour. They put a lot of yeast? I put a little yeast. They use a lot of fat? I don't use it at all." He studied as he went, adopting a scientific approach to the art.
His breakthrough came with a breakdown—of the freezer where he kept his experimental doughs, that is. The dough, now refrigerated instead of frozen, had risen and overflowed overnight, and ended up being exactly what he was hoping to achieve. It was then that he hit upon his winning formula for a light and digestible crust: long, cold fermentation with a high-hydration dough. Years of study and tinkering and two world pizza championship victories later, his perfected style has made its way across Rome, and to the United States.
Iezzi recently joined forces with Fabio Casella, owner of San Matteo, to open up PQR, short for Pizza Quadrata Romana, in New York. That formula is scribbled on a chalkboard in the shop: "96 hours fermentation, 80 percent hydration, extra-virgin olive oil, buon appetito."
"He changed the way to make pizza," Casella said. "He changed the product around. The dough is so light … you can eat like 20 [slices] and you don't feel full."
Creative Toppings
Traditional Roman toppings include potatoes and rosemary; shaved zucchini; soppressata; and the humble Margherita, with tomato sauce, mozzarella, and basil. But pizza al taglio is also a popular canvas for fancier, showier options, like cacio e pepe (black pepper and Pecorino Romano cheese), oxtail ragu, puntarelle salad (an anchovy-dressed Roman salad), and all kinds of other "funky stuff," Wiener said.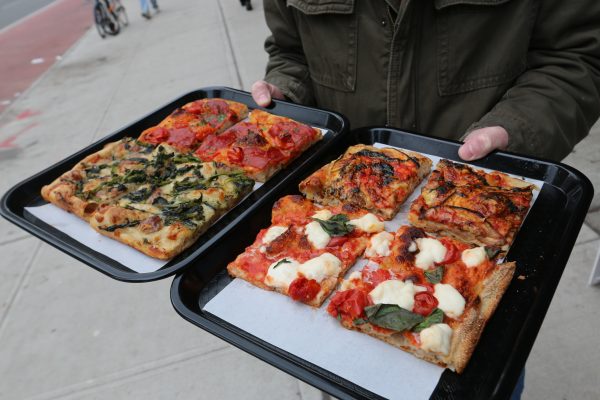 Bonci, the pizzaiolo behind the world-famous Pizzarium in Rome, has made a name for himself with his 1,500-plus different combos. Many of them are modern and inventive, like pumpkin, speck, and caciocavallo, or cherries and foie gras. At Iezzi's restaurant PQR, highlights include a pie with grapes, goat cheese, and prosciutto, and another stuffed with porchetta and topped with potato slices.
At Mani in Pasta, Manco prefers to keep the toppings simple and the focus on the crust. "I didn't want to play so much, honestly," he said. "Simple things are always the best to me."
His favorite is the Regina, a refreshing combo of tomato sauce, cherry tomatoes, buffalo mozzarella, and micro basil. He's not alone in his preference—the classic pie won him the award for best pan pizza at the International Pizza Expo in Las Vegas, the world's largest pizza show, in 2017.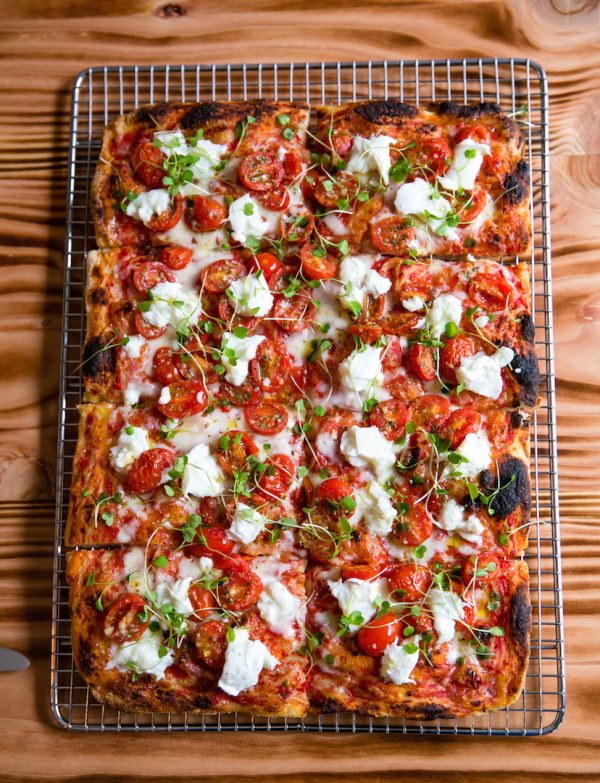 The Romans Are Coming
Roman pizza is on the rise, with pizza al taglio now growing in popularity throughout Italy and in the United States.
Part of that popularity can be attributed to schools that train specifically in Roman pizza. Iezzi founded the Scuola Nazionale di Pizza (National School of Pizza) to pass on and spread his knowledge. ("He's not just a pizza guy, he's a teacher," Casella said.) Headquartered in Rome, the school has outposts throughout Italy, as well as in Seoul, Dubai, and as of last year, Dublin. His next stop? The United States.
For those purely interested in the eating, options here are already growing.
In New York, aside from Mani in Pasta and PQR, places like My Pie Pizzeria Romana, Sullivan Street Bakery, and Eataly are all offering Roman-style pizza. Meanwhile, Bonci opened up an eponymous outpost of his legendary Pizzarium in Chicago last year, with a second location in the works.
"America is ripe territory," Wiener said. "We're so into pizza right now."
Where to Get Your Roman Slice
New York
Mani in Pasta (two locations)
245 E. 14th St.
Gramercy
14 E. 37th St.
Midtown
ManiInPastaNYC.com
PQR
1631 Second Ave.
Upper East Side
PQR-NYC.com
My Pie
690 Lexington Ave.
Midtown East
MyPiePizzeria.com
Chicago
Bonci
161 N. Sangamon St.
BonciUSA.com
Philadelphia
Rione Pizza al Taglio
102 S. 21st St.
RionePizza.com
Alice Pizza
236 S. 15th St.
AlicePizza.us
Miami
Pizzarium
69 E. Flagler St.
PizzariumMiami.com
Los Angeles
Il Romanista
829 N. Douglas St.
El Segundo, Calif.
PizzaIlRomanista.com