AIX-EN-PROVENCE, France—Shen Yun lit up the Grand Théâtre de Provence in Aix-en-Provence Feb. 6 to Feb. 9, 2022.
In numbers, that's 5 performances, 1,350 seats in a full house, 5 standing ovations and several encores. But the effect of the New York-based classical Chinese dance phenomenon cannot be quantified. Audiences reflected after the show, stating they were "overwhelmed" by the beauty and goodness exemplified by Shen Yun and its performers.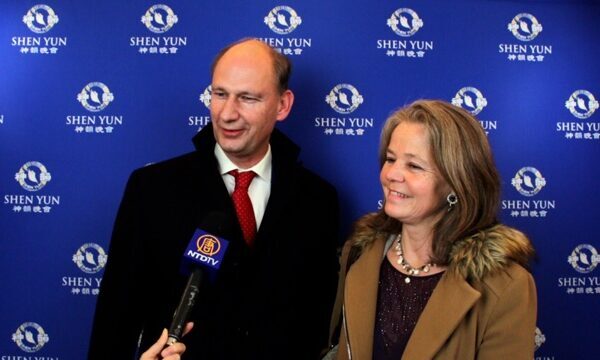 Frédéric Vié, a medical doctor, and Sandrine Vié, a guest house manager from a village of the Drôme provençale, were part of a full house on Feb. 7.
Ms. Vié was captivated by the dancing. "I love dancing, I've done it, and I think the dancers move on stage with an absolute grace … I've never seen a show that enchanted me that much," she said. "Everything is harmonious, it's magic!"
She noted and appreciated how the artists reflect beauty, "Beauty, everyone needs beauty! I think that no matter people's tastes, their origin, their education … When they are in front of a show like [Shen Yun], they can all, nevertheless, see perfection—a touch of the divine", she said.
For Dr. Vié, spirituality, present throughout the history of China, is also at the heart of Shen Yun:
"It was a great moment of joy, of spirituality," he said.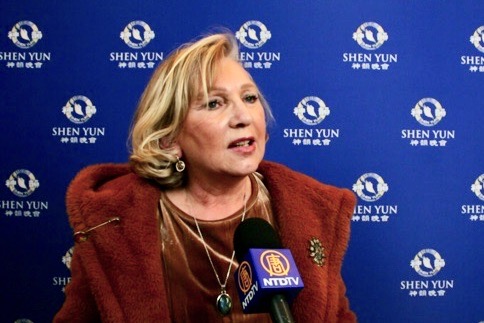 Nelly Papin drove more than 60 miles from Toulon just to see Shen Yun. The head of a La Crau real estate consulting firm confides that she never comes to Aix-en-Provence.
"I had to be here, today, to be able to really, fully penetrate my body with this beautiful soul that the company has shown us, "said Ms. Papin, visibly moved.
Mrs. Papin tried to describe her feeling: "I was overwhelmed! I was shaking … My solar plexus … there is warmth! It is an extremely vibrant energy that takes me, that takes my whole body."
"The feeling was such that I am overwhelmed by this show, by the colors, by the harmony… It is a splendor! I never thought I would have the opportunity to see something so beautiful, so respectful of others," she said.
She could feel the togetherness of the performers, whether it was the dancers moving in synch or the live orchestra timely accompaniment. "I find the beauty of the people who make the show extraordinary. As I said, there is communion … well-being. There is something so good!"
Beyond the beauty, Ms. Papin was able to feel that "the dancers are humble … There is something so touching about them. There is a warmth that comes out of this show that is so good."
Shen Yun has a unique characteristic: its performers are practitioners of Falun Dafa, an ancient Chinese spiritual way, based in the principles of truthfulness, compassion, and forbearance, that has been banned and brutally persecuted in communist China.
For this business leader, the humility of the artists is a value that could be transposed into everyday life: "It's a little lesson in relation to what happens in life, and everyone has to reflect on that … in relation to good versus evil."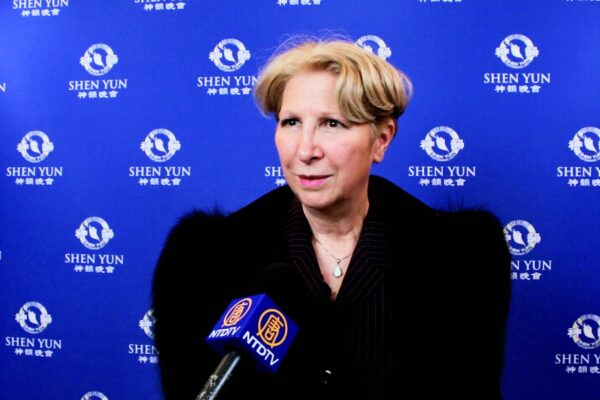 On closing night, former hospital director Nicole Piazza said she was amazed by Shen Yun for two reasons:
The first is that "the show is superb and the choreography sumptuous," she said. "In itself, it is already extraordinary, but all the scenes refer us to what is in danger of being lost now, and that's what really impressed and moved me."
"There is behind it a culture, a reminder of history, a reference to what is happening in China now and is very important. It's a reminder of a culture that we shouldn't forget," she said, referring to the loss of traditional culture in China today under communist rule. In the last 70 years, China's 5,000 years of divinely inspired cultural heritage has been decimated systematically in order to rewrite history.
"This spirituality is important because it is part of the roots of Chinese culture, it is rooted in history," Ms. Piazza noted. "It's important to have been able to showcase it, and to show it in such a spectacular and extraordinary way."
Shen Yun's mission is grand and its message sometimes somber, but Shen Yun offers an example of hope. In its storylines, "even when a situation seems hopeless, something else can happen behind it," Ms. Piazza noted.
After seeing Shen Yun, "you feel like you're not alone and that there are people who share with you this desire for resilience, that may be a better time will come for our children. Beyond the beauty of the show, this is what impressed me," Ms. Piazza concluded.
Reporting by Zhang Ni and NTD.
The Epoch Times is a proud sponsor of Shen Yun Performing Arts. We have covered audience reactions since Shen Yun's inception in 2006.