Acupuncturist Marvels at Shen Yun
'The dancing was fantastic!'
April 21, 2014 6:49 pm Last Updated: April 24, 2014 7:04 pm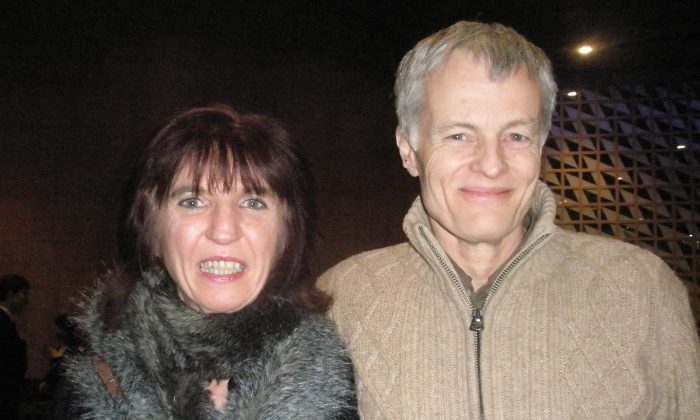 DUBLIN, Ireland—An acupuncturist who runs his own clinic—The Welcare Foundation on Dublin's Merrion Square—Bruce Du Vé greatly enjoyed Shen Yun's performance at The Convention Centre Dublin on April 19th, and was accompanied by his colleague, Catherine Walshe.
Having spent seven months in China in the past, Mr. Du Vé enjoyed Shen Yun's tapestry of heavenly realms, ancient legends, and modern heroic tales.
He said: "I just love China and Chinese culture and the dancing. It is wonderful to see how advanced Chinese dance was so many years before it developed in the West, and how much we have gained from the Chinese style of dancing; how much even modern Western ballet has been influenced by it. Nobody really knows this, and I think it is wonderful someone is actually demonstrating this. There are so many things that have come into the West from China."
Mr. Du Vé was most impressed with what he described as Shen Yun's attention to detail. "What I loved about this was the attention to detail with the costumes, and the dancing was fantastic. And the old stories—I have seen some of these stories in comic books for children in Chinese."
"It's moving to see something done so well – it's really, really well done," he said.
Mr. Du Vé said that he studied a lot of Chinese literature before he went there. "I think a lot of things have happened since 1950. The standard of living and quality of live has improved so much for the average person in China … but I think it is really important to acknowledge the history of China. I visited some of the temples over there, they are magnificent, and they're something everybody in the West should know about," Mr. Du Vé said.
Ms. Walshe said she found Shen Yun stunning: "It was magnificent, exquisite! You really felt so uplifted and inspired, it was amazing, it really was—everything about it!" Ms. Walshe said.
She said that she truly appreciated the spiritual aspect of Shen Yun. "I loved the singing, the power of the voices, and I loved the way they didn't hold back in their message. It was a really pure message, a very strong message," she said.
Ms. Walshe said she regretted that the spiritual tradition of China has been oppressed. "[It] hasn't been allowed to flourish or to even exist, and how the spiritual meditation is being suppressed and people are suffering a great deal by not been able to express that side of their beings and their life," she said, in reference to the 15-year persecution of the peaceful, meditative Qi Gong school of Falun Dafa, a theme of Shen Yun's The Steadfast Lotus dance.
Ms. Walshe was saddened by these issues, and also by the fact that, due to the Chinese Communist Party's seeking to limit and control artistic expression, Shen Yun cannot be seen in China.
"It is very sad to think that this tradition is being deprived in their own country," she said.
"I can't imagine the level of training that goes into each dancer; it must be phenomenal, each dancer was superb; the grace, the range of movement and the beauty of the costumes and, in particular, the flowing scarves and sleeves. The backdrops—how the dancers came in and out of the backdrops, and how they made it all work together," Ms. Walshe said.
Reporting by Martin Murphy and Wen Hua
New York-based Shen Yun Performing Arts has four touring companies that perform simultaneously around the world. For more information, visit Shen Yun Performing Arts.
The Epoch Times considers Shen Yun Performing Arts the significant cultural event of our time. We have proudly covered audience reactions since Shen Yun's inception in 2006