RICHARDSON, Texas–Sunny Lohden, an actor and producer, said he underwent a purifying experience when watching Shen Yun Performing Arts at Eisemann Center with his wife and children.
"Yes, it was enlightening. It was beautiful and it was peaceful, so in the end, it all came around and it was like a cleansing," he said after seeing the matinee on Jan 12, 2020.
Lohden was specifically referring to the performance's showcase of the spiritual heritage of China. In ancient times, Chinese civilization was very in touch with the divine, and the people of China deemed this to be very important in guiding themselves and understanding the universe.
His wife, Anne, was introduced to China's 5,000 years of culture. "Colorful and beautiful and I learned more about the culture," she said. Anne is an Event Sales Manager for Renaissance Hotels.
Shen Yun is a performing arts company based in New York. The company's goal is to revive traditional Chinese culture and to share it with the rest of the world through classical Chinese dance and music. It has seven companies that tour around the world every year.
Anne personally enjoyed the female dances, but she was also impressed by their male counterparts. "The men, they look like they were flying. Very powerful," she said.
Shen Yun dancers are trained in classical Chinese dance, an advanced system of dance that has been developed over thousands of years in China. The style of dance is renowned for its acrobatic movements including spins, flips, and tumbling techniques. Classical Chinese dance is also known for its elegance and grace which involves physical bearing and self-expression.
Sunny was amazed by the performance's music, especially the solo performance of the erhu, a classical Chinese musical instrument. Despite having only two strings, the erhu is able to produce a wide range of sounds and tones.
"That was incredible, that was a rare experience," Sunny said.
Taekwondo Master Instructor Connects With Classical Chinese Dance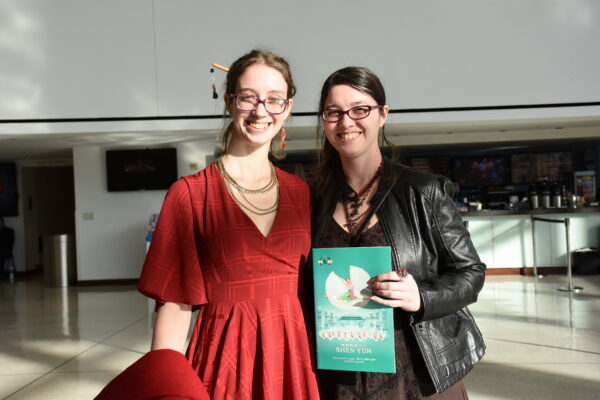 Theatergoers Rachel and Khira Smith enjoyed watching Shen Yun, and said that they will come to watch it again next year.
"Especially since it's different each year. It's a mystery to figure out what it would be next year," Rachel said.
Rachel was inspired by the classical Chinese dance, which was featured throughout the performance. She is a Taekwondo master instructor at Pro Taekwondo, and has been practicing for 18 years.
Rachel said, "A lot of it actually reminded me of the forms and all that I've been doing and it's definitely a mixture, it's hard to explain to people sometimes that martial arts and dance are very together and very integrated, and when you get to see like Chinese culture, they do it a lot and it's a good balance. It makes it so you can actually see that there's more unity and everything than separate."
The origins of classical Chinese dance was closely tied to that of Chinese martial arts. According to the company's website, the first forms of many classical Chinese dance movements were similar to martial arts. The difference was in how they were performed and what was required to execute the movements.
"It's a really beautiful thing," Rachel said.
With reporting by Sophia Zheng, Amy Hu, and Don Tran.
The Epoch Times considers Shen Yun Performing Arts the significant cultural event of our time and has covered audience reactions since the company's inception in 2006.
Richardson, United States
Shen Yun North America Company