My memories of summer growing up in the South are dotted with visions of my mother, covered in dirt, garden spade in one hand, handful of weeds in the other. She inherited a green thumb from her father, an orthopedic surgeon who used to unwind from work with his hands in the soil of his Tennessee garden.
At one point in my childhood, the backyard of my childhood home was meticulously landscaped, manicured to the nines with immaculately trimmed bushes, coiffed geraniums, and perfectly pruned pansies. But around the time I was in high school, Mom's gardening strategy changed completely.
She became obsessed with growing her own fruits and vegetables. Actually, she and my younger brother both became obsessed. They tore up entire sections of the grass that she had previously obsessed over properly irrigating to make room for tomatoes, peppers, and lettuce greens. Flower beds were replaced by herb gardens so full of basil, mint, parsley, and dill that every meal in our home was overflowing with bounty from the garden.
Along with my memories of mom in the garden come memories of the incredible summer feasts she would prepare for our family of five. She is very partial to cooking on the grill in the summertime, so I think of char-grilled meats and vegetables most when I think of her backyard garden meals. 
Grilled chicken and eggplant with an herby yogurt sauce. Orange juice and soy sauce-marinated pork tenderloin with a platter full of grilled peppers, tossed with basil and mint. Worcestershire-marinated steaks with roasted potatoes and grilled zucchini planks.
Oh, the amount of zucchini consumed in the summertime at my mother's house. 
Zucchini is an incredibly prolific plant, yielding up to 10 pounds of produce in one growing season. That's about 20–25 zucchini, FYI! Mom always had at least four zucchini plants, so you can do the math.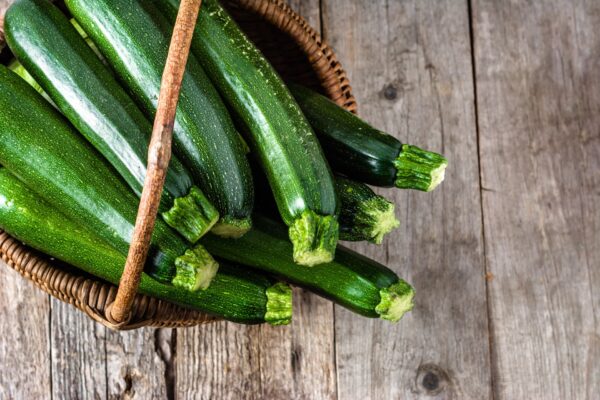 When temperatures start to rise and it really starts to feel like summer, I find myself wanting zucchini, zucchini, and more zucchini, like a subconscious pull to my childhood.
With the help of a lot of FaceTime consultations with my mother, my husband, George, and I planted a serious garden at our home in California back in March, at the beginning of our shelter-in-place order. Finally, we're starting to reap some of the rewards. The herbs are out of control, we have more lettuce than we can handle, and at long last, the zucchini is popping off every vine!
After grilling it a la my mother more times than I can count, it was time to move on to a different use of the summer squash. Considering that I'm 32 weeks pregnant, pasta was calling my name. Considering that I also have a toddler, specifically one-pot pasta was calling my name.
Breaking It Down
We start out by sautéing three, yes three zucchini for a two-person serving (they cook down a lot!), with scallions, garlic, and lemon zest until they're incredibly tender. The lemon zest and garlic get toasted and add so much bright, zesty flavor to the pasta. 
Then, we stir in our pasta and vegetable stock. I love using orecchiette here, but you can use any small pasta shape, such as rotini or penne. A long noodle, such as spaghetti, would also work, but I prefer a shorter noodle about the same size as the zucchini slices.
By cooking the pasta and zucchini together in the same pot, we capture all of the starch the pasta releases as it cooks, and use the resulting starchy vegetable stock to build a creamy, zucchini-based sauce.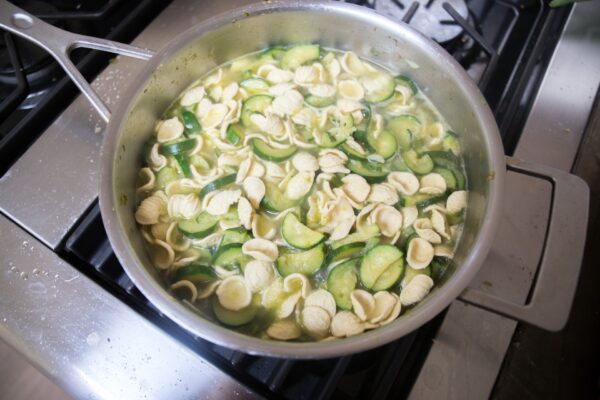 Once the pasta is tender, we stir in Parmesan and fresh basil for cheesiness, more creaminess, and lots of bright, summery flavor. 
This recipe makes a hearty pasta portion, in part thanks to the generous amount of zucchini. My husband is a big eater, and it feeds the two of us, plus our 17-month old, who's a pretty good eater himself. 
I hope you can use this recipe to make your own summer memories using zucchini from your local market—or maybe from the overflowing plants in your own backyard garden!
One-Pot Cheesy Zucchini Pasta
Serves 2 generously
2 tablespoons olive oil

3 medium zucchini, halved vertically, then sliced into thin half-moons

4 scallions, thinly sliced

4 garlic cloves, thinly sliced

Kosher salt 

Freshly ground black pepper

1 lemon, zested and juiced, divided

2 1/4 cups vegetable or chicken stock (or water)

8 ounces orecchiette pasta 

1/2 cup grated Parmesan cheese

1/2 cup thinly sliced fresh basil leaves, plus more for garnish
Warm olive oil in a 10-inch saucepan or deep skillet over medium heat. Add the zucchini, scallions, garlic, 1 teaspoon kosher salt, 1/4 teaspoon freshly ground black pepper, and lemon zest (not the juice yet!).
Cook for 15 minutes, stirring every few minutes, until the zucchini is very soft.
Pour in vegetable stock, scrape up any bits that are stuck to the bottom of the pan, and bring to a boil over high heat. Stir in pasta. The water might not cover the pasta, depending on the size of your pot—that's OK!
Reduce heat to medium and simmer uncovered, stirring often, for 12–15 minutes, or until the pasta is tender (take a bite!) and only 1/4 cup or so of the liquid remains. Depending on the size of your pot, it may take more or less time for the liquid to cook down. If the liquid all evaporates before the pasta is fully cooked, add another 1/4 cup of water and keep cooking. 
Remove the pot from the heat once the pasta is tender. Stir in Parmesan cheese, basil, and the juice from the zested lemon.
Taste and season with additional kosher salt as needed.
Serve immediately, garnished with more basil, a drizzle of olive oil, and freshly ground black pepper. Leftovers can be reheated in a skillet with a splash of water over medium-low heat.
Ingredient Substitutions
Olive oil: Butter will work here since we're cooking at medium heat.
Zucchini: Yellow summer squash also works! Try throwing 1 cup of corn kernels in at the end—yum.
Scallions: 1 small shallot, minced, or 1/2 small yellow onion, minced.
Garlic: Stir in 1 teaspoon garlic powder at the end with the Parmesan.
Pepper: Pinch of red pepper flakes, or omit.
Lemon: 2 teaspoons of a light-colored vinegar.
Orecchiette pasta: Rotini, orzo, or another small pasta shape similar in size to orecchiette.
Parmesan cheese: Manchego, Pecorino Romano, or another hard cheese, finely grated.
Basil: 1 tablespoon fresh thyme leaves, but add them when you're sautéing the zucchini. Parsley also will work. A few mint leaves would be delicious thrown into the mix as well.
Caroline Chambers is a recipe developer, food writer, and author of "Just Married: A Cookbook for Newlyweds." She currently lives in Carmel Valley, Calif., with her husband George, and son, Mattis. Follow her on Instagram for cooking tips and snippets from her life in Northern California. @carochambers