In the latest sign of the growing popularity of foods made from plant-based proteins, a group of companies has united to form the industry's first ever trade association.
The $3.5 billion sector (excluding Whole Foods sales data) includes companies that make plant-based versions of meat, tofu products, and non-dairy milk, cream, yogurt, and cheeses, the trade group stated in a press release.
Thanks to Michele Simon, the public health lawyer and food policy advocate who helped to form the group, and is now its executive director, the 23 founding companies of the Plant Based Foods Association now have a seat at the table in Washington, D.C., and beyond.
Consumer demand for plant-based products has exploded in recent years, translating to an 8.7 percent two-year sales growth.
However, advocating for change is already in the DNA of each of these innovative companies whose products are profiled in this article.
Consider for a moment that it is not the norm in America to make, or eat, products like almond milk ice cream, cashew cheese, or beef cutlets made entirely of plants.
Some of the entrepreneurs felt they were pushed into business due to health concerns, or allergies related to meat and diary consumption, but if you visit the company websites below, you will invariably find there additional commitments to sustainability.
Consumer demand for plant-based products has exploded in recent years, translating to an 8.7 percent sales growth over the last two years, according to leading retail sales analytics company SPINS. To compare, growth in the conventional food and beverage sector was just 3.7 percent in the same period.
Strongest plant-based growth categories in the last two years
14.4 percent – Growth in plant-based milk
12.7 percent – Growth in plant-based yogurts
7 percent – Tofu-based products
Source: SPINS
Plant-based protein is appealing not just to vegetarians and vegans, but also to meat eaters (known as flexarians) who like the taste and nutritional profile of the many new and exciting options that appear regularly on grocery shelves, or at online food retailers.
1. Axiom Foods
Axiom is a Los Angeles-based B To B manufacturer of organic plant proteins. Axiom products, sold in powder form, are alternatives to milk whey protein, or even soy protein, the latter of which has fallen out of favor with some consumers due to the widespread use of genetically modified soy seed.
Axiom is best known for its flagship brown rice protein Oryzatein. Its other products include a yellow pea protein, and a protein made from sacha inchi seeds, or what is sometimes known as the Inca peanut.
Beanfields Snacks makes bean and rice chips in 10 different flavors, such as White Bean with Sea Salt, and Jalapeño Nacho, made with black bean, navy bean, and brown rice. Their chips have twice as much protein and fiber, and a third less fat, as most tortilla chips made with corn, according to the company website.
The company is a family enterprise that is also a registered B corp, dedicated to rigorous standards of social and environmental performance, accountability, and transparency.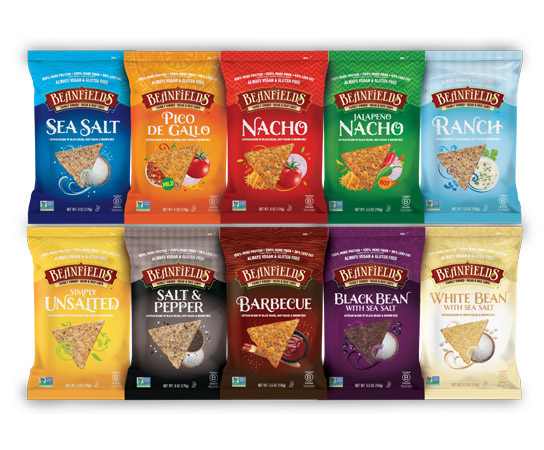 Bakersfield, Calif.-based Califia Farms is a beverage company specializing in California-grown fruits and nuts.
For those people who do not enjoy drinking cow's milk, or who are lactose intolerant, Califia offers a wide variety of almond milks, almond milk protein drinks, almond milk coffee creamers, and cold brew coffees with almond milk. They also make a variety of tropical fruit and citrus juices.

4. Daiya
Vancouver, Canada-based Daiya makes an impressive number (30) of non-dairy cheese products, including cheese shreds, slices, blocks, and cream cheese, as well as pizza, cheesecake, mac and cheese, and Greek yogurt.
Daiya's cheeses are made with tapioca and potato starches, high quality oils like coconut oil, and pea protein to create the familiar texture of dairy cheeses.

Follow Your Heart was started in 1970 as a market and restaurant by four friends in Canoga Park, Calif.
Today the company manufactures a large array of egg-free, dairy-free products, including Vegenaise, vegan sour cream, cheese, dips and spreads, and salad dressings, made with expeller-pressed oils.