Dance Company Director Appreciates Shen Yun
'I love the choreography'
April 16, 2013 5:12 am Last Updated: December 23, 2013 7:16 pm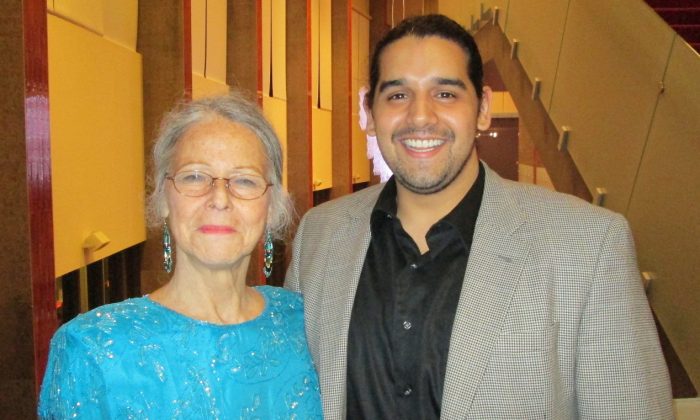 SAN ANTONIO—Dance company director Robin Byers drew inspiration from a plethora of cultures watching Shen Yun Performing Arts at the Lila Cockrell Theatre on April 15.
"I love the visuals," Ms. Byers said. "I remember the fact of getting a piece of culture of all the different peoples and the different styles."
"I danced for many years. And I did a lot of folk dance, so I really appreciate what I was seeing," Ms. Byers said. "I was just incredibly impressed."
Watching New York-based Shen Yun's choreography, Ms. Byers was inspired.
"The choreography—I've actually stolen several things while I was watching," Ms. Byers said. "I was like, 'Oh, yes!' It's just incredible. I love the choreography. The use of the stage is quite impressive."
Mr. Pedro Class, a day trader, attended the performance with Ms. Byers and thought the choreography was "just perfect."
"I think it's very elegant, the way they express the culture and the dance with that," Mr. Class said.
The performance wasn't just a visual treat, it was a spiritual experience as well, Ms. Byers said. "I found it along with my beliefs. So it's very easy to almost think into a meditator's state."
Mr. Class agreed and said he felt it in Shen Yun's solo vocalists' songs as well.
"It really makes you think about the roots, and the passion, and how they put that all into that—not just the dance, but the show," Mr. Class said. "Because you have the singers as well as the dancers, and they want to show you that they're bringing all of that."
"It's really nice. It's sort of a spiritual, uplifting thing when you see it and you hear it," he said.
The myths and legends Shen Yun told all had a touch of the divine, and Ms. Byers said the stories really brought the culture to her.
"It's what brings culture to life, and understanding some of the stories," she said. "I enjoyed that, seeing the stories put on stage."
Shen Yun Showed 'Divinity Sanctified'
The stories Shen Yun told had a "feeling of innocence" for Mr. Malcolm Steinberg, an executive recruiter.
"It's the notion of divinity sanctified," Mr. Steinberg said, watching the different dynasties presented on stage. "It's the idea of … the sanctification and sacredness of the individual and the society."
Reporting by Mei Zhong and Catherine Yang
New York-based Shen Yun Performing Arts has three touring companies that perform simultaneously around the world. For more information, visit ShenYunPerformingArts.org.
The Epoch Times considers Shen Yun Performing Arts the significant cultural event of our time. We have proudly covered audience reactions since Shen Yun's inception in 2006.