A nationwide recall of one lot of Xanax was issued because the tablets might contain a foreign substance.
The voluntary recall from Mylan Pharmaceuticals Inc. was issued "due to the potential presence of foreign substance," according to the recall alert, posted on the Food and Drug Administration website.
"Clinical impact from the foreign material, if present, is expected to be rare, but the remote risk of infection to a patient cannot be ruled out. To date, Mylan has not received any adverse events related to this batch."
The exact foreign substance wasn't specified and it wasn't made clear how the substance might have become embedded in the tablets.
The recall was for Alprazolam Tablets, which are sold under the Xanax name.
They are "indicated for the management of anxiety disorder, the short-term relief of symptoms of anxiety, and the treatment of panic disorder, with or without agoraphobia," the administration stated.
The USP C-IV 0.5 mg are packaged in bottles of 500 and were distributed nationwide in July and August. The expiry on the bottle is listed as September 2020; the lot number is 8082708; and the NDC is 0378-4003-05.
Wholesalers with the recalled tablets were told to "immediately examine your inventory, quarantine, and discontinue distribution of these lots." If wholesalers have distributed the recalled product, they were told to identify their retail customers.
Retailers were also told to examine inventory and stop distributing the recalled tablets. If they've already sold some tablets, they were told to identify the consumers who bought them and alert them of the product recall.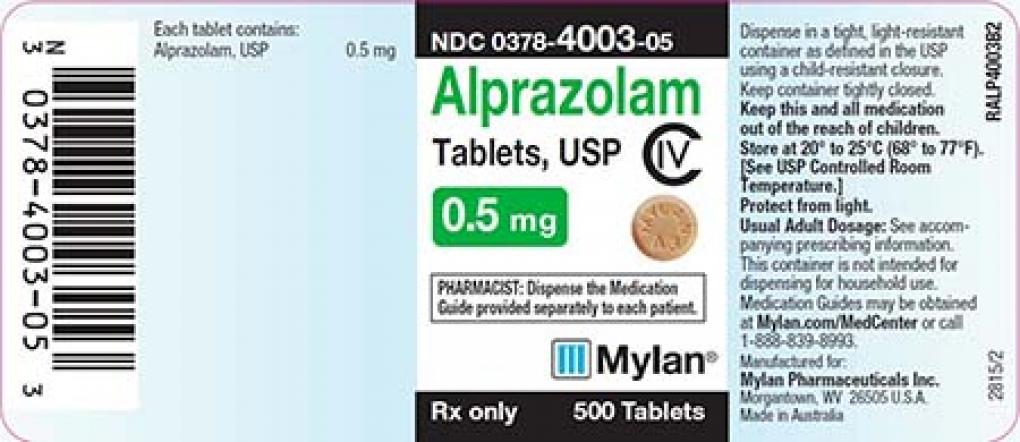 People who purchased the tablets can call Stericycle at 1-888-843-0255 for the documentation packet to return product to Stericycle.
Consumers with questions regarding this recall can contact Mylan Customer Relations at 800.796.9526 or customer.service@mylan.com, Monday through Friday from 8 a.m. – 5 p.m. EST.
Consumers were advised to contact their physician or healthcare provider if they have experienced any problems that may be related to using this drug product. Adverse reactions or quality problems experienced with the use of this product may be reported to the FDA's MedWatch Adverse Event Reporting program either online, by regular mail, or by fax.
"Alprazolam is used to treat anxiety disorders and panic disorder (sudden, unexpected attacks of extreme fear and worry about these attacks). Alprazolam is in a class of medications called benzodiazepines. It works by decreasing abnormal excitement in the brain," according to the U.S. National Library of Medicine.
"Alprazolam is also sometimes used to treat depression, fear of open spaces (agoraphobia), and premenstrual syndrome."
The medicine comes as a tablet which is usually taken two to four times a day.
"Alprazolam can be habit-forming. Do not take a larger dose, take it more often, or take it for a longer period of time than prescribed by your doctor," the library warned.