It has many names: Shrove Tuesday, Fat Tuesday, Pancake Day.  As the day before Ash Wednesday—the first day of Lent for Christians—this holiday has a rich tradition. Italy has its masked Carnevale and Brazil its colorful Carnival, but in the United States it is mainly celebrated in Louisiana, where Mardi Gras is the event of the year. One tradition all these events have in common is the wearing of masks—and I don't mean surgical ones.
Most classic films that feature Shrove Tuesday in their plots depict the South American Carnival rather than New Orleans's Mardi Gras. One exception to this is "Two Smart People," an obscure 1946 film starring Lucille Ball, John Hodiak, and Lloyd Nolan. Directed by Academy Award nominee Jules Dassin, this black-and-white features Lucille Ball, the famous comedienne of "I Love Lucy," who plays it straight as conwoman Ricki Woodner.
Her leading man, swindler Ace Connors, is played by John Hodiak, a Ukrainian American actor who got his big chance during World War II because his 4-F status made him a prime replacement for the A-list actors in the service. Lloyd Nolan completes the trio as Bob Simms, a kindhearted detective on his last assignment.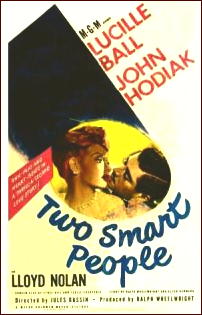 A Crime Mystery
Ace Connors and Ricki Woodner meet by chance at a Beverly Hills hotel, where each plans to swindle a gullible millionaire (Lloyd Corrigan). Both shady characters succeed in spoiling the other's racket. Connors concludes that they could make a great team, but Ricki wants revenge on him because he spoiled her swindle. These two crooks have another mutual business associate, nervous criminal Fly Feletti (Elisha Cook Jr.). After unsuccessfully attempting to locate Connors's $500,000 of stolen government bonds, Feletti tries to blackmail Ricki into using her wiles to learn Connors's secret.
Meanwhile, detective Bob Simms has finally caught up with Connors. After years of playing cat and mouse, they've become good friends, so they amicably discuss the case. Connors has agreed to serve five years in prison, having wired his intention to give himself up in New York to the authorities. However, he proposes to Simms that they savor the train trip together as friendly traveling companions before Connors turns himself in and Simms retires. The detective warily accepts this suspicious proposition because he hopes to learn where the swindler is hiding the bonds during the trip.
As the two settle into their comfortable train compartment, they meet Ricki, who acts delighted at their "surprise" meeting. The pretty con-woman joins the strange duo in their adventures during the trip, while she and Connors kindle a romance. While heading east, they stop at a few places, including Santa Fe and New Orleans, always with Simms at their side and Feletti hot on their trail.
Is the lady in cahoots with our nervous criminal? Is she trying to get the bonds for herself, or is she really falling in love with Connors? The adventure culminates in a masked chase around New Orleans on the evening of Mardi Gras.
Action at Mardi Gras
Connors and Ricki couldn't have visited New Orleans at a better time. They arrive in town after nightfall on Mardi Gras itself. The streets are filled with parades and costumed revelers, all of whom are wearing festive masks. Confetti fills the air, and streamers twist around people like jungle vines. Although this sequence was doubtless filmed on a Hollywood soundstage, it seems like the real streets of the Big Easy. The chaotic energy in the throng of costumed merrymakers is so real it makes you remember what it's like to be in such a pulsing crowd of strangers wearing masks that cover the upper part of their faces!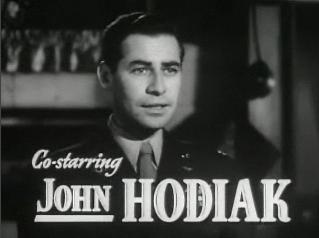 This is the perfect setting for the last hoorah of the con artists' romantic train trip. Costumed as a beautiful princess and a suave pirate, the pair disappear into the crowd, leaving Simms, appropriately attired as an Old West sheriff, to wonder if they've intentionally given him the slip. Romance and mayhem go side by side in this masquerade as an armed Simms and an angry Feletti pursue the crooked couple across the city.
That this story's climax takes place at Mardi Gras is no coincidence. The holiday's meaning is like the characters' personal situations. Connors and Ricki have a meaningful conversation about the background and significance of Mardi Gras. As they enjoy a romantic supper aboard a riverboat, Ricki muses, "Why can't this go on forever?"
Connors responds, "Because that would be a contradiction in terms. Do you know what the word 'carnival' means?"
Ricki guesses, "Fun, I suppose. Everybody having a good time?"
"Yes, but only because the good times are coming to an end. In Latin, it's 'carne vale.' It means 'farewell to the flesh.' … None of this would have any meaning unless it was defying a time limit."
"Is that the meaning of Mardi Gras?" Ricki asks.
"Mardi Gras is only Shrove Tuesday. After that comes Ash Wednesday and the beginning of Lent. Tomorrow is sackcloth and ashes, fasting and repentance. Now let's yet drink and be merry, for tomorrow we die!"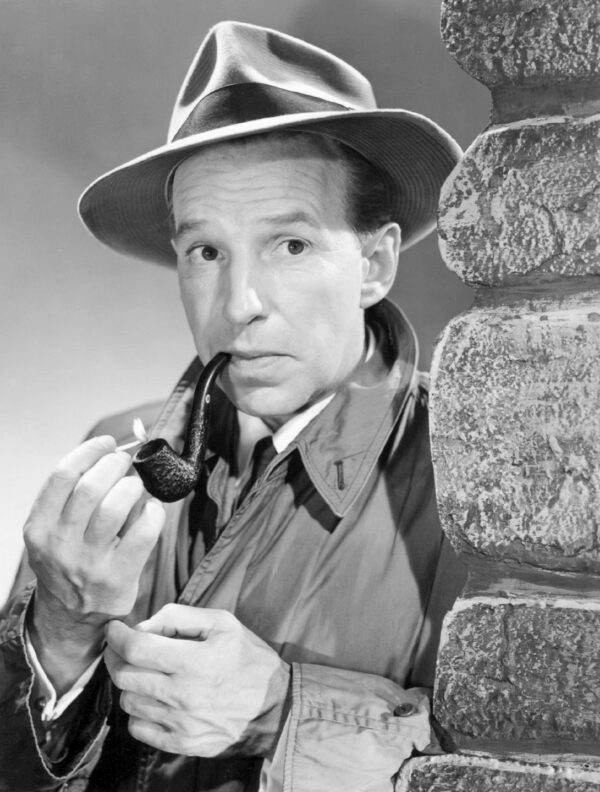 This conversation is a reminder of what Mardi Gras really is: It's a time of feasting and celebration before the fasting and sacrifice of Lent. Mardi Gras falls on a different date each year, depending on when Easter is. The feasting, parties, and wearing of masks last from approximately the end of the Christmas season until Ash Wednesday.
Symbolically, everyone removes his mask at the stroke of midnight after Mardi Gras, when Lent officially begins. (In the past few years, this custom has taken on a whole new meaning.) This reminds us that the twosome's romantic dreams are short-lived, since eventually the masks must come off. They can't hide from the law or their past crimes—personified by Simms and Feletti—for long as Connors tries to escape in the throng after he's removed his mask.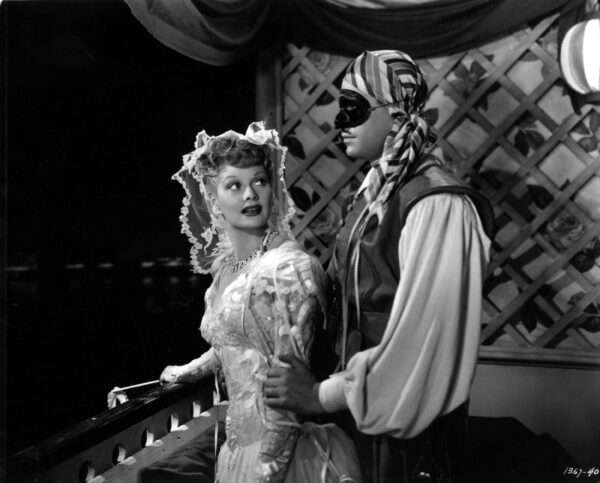 A Meaningful Season
"Two Smart People" features an intriguing, different take on a crime or detective story by showing both the criminal and the policeman as very reasonable men, who are friends despite being on opposite sides of the law. This obscure film also offers an interesting opportunity to observe a very different side of Lucille Ball's talent than most people remember. It also features some other talented actors with whom most people are unfamiliar.
This movie's finale at Mardi Gras makes it timely. Obviously, it's an appropriate choice of film for the seasons of Shrovetide and Lent. Beyond the seasonal appropriateness, the vivid example of two rogues celebrating Mardi Gras illustrates a truth modern society needs to learn during this season: The masks must eventually come off, revealing the sordid truths.
Tiffany Brannan is a 20-year-old opera singer, Hollywood history/vintage beauty copywriter, film reviewer, fashion historian, travel writer, and ballet writer. In 2016, she and her sister founded the Pure Entertainment Preservation Society, an organization dedicated to reforming the arts by reinstating the Motion Picture Production Code.