NEW YORK—Theater company Patch of Blue's "We Live by the Sea" is first and foremost a story about family—those who have left, those who remain, and those who join. Tightly directed and boasting four strong performances, the play makes a worthwhile addition to the Brits Off-Broadway series at 59E59 Theaters.
Katy (Alexandra Brain), a 15-year old girl on the autism spectrum, lives with her 18-year-old sister Hannah (Alexandra Simonet) in the English county of Yorkshire, not far from the sea. Their father died the year before, and their mother left years earlier, shortly after Katy was diagnosed.
Intelligent and with a talent for numbers, Katy can become hysterical when bombarded with too much input or if around too many people. It's a frequent problem at the mainstream school she attends.  She's a creature of routine whenever possible and wears specific colors on specific days, takes a shower for exactly 15 minutes each morning, and always has three fish fingers with her tea.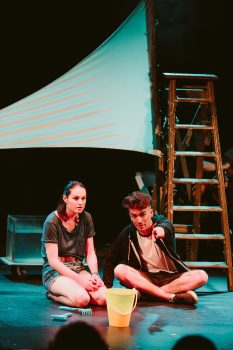 Katy's best pal is her imaginary friend, a dog named Paul Williams (Lizzie Grace). Paul is constantly at her side and offers her advice as well as a steadying hand. The two at times talk in a language only they understand.
Paul, Katy, and Hannah's existence is suddenly changed by the arrival of Ryan (Tom Coliandris). The lad of 18 has just moved to Yorkshire with his mother. Stopping by to say hello, Ryan is at first overwhelmed by Katy but soon comes to enjoy both her and Hannah's company and learns to relate to each woman on their own particular level, while never condescending to either.
Ryan, as we soon learn, is haunted by an incident in his past, which is the reason for his move to the area and which has kept him from being the YouTube presence he once was. He finds, via his interactions with Kate and Hannah, a sense of peace and satisfaction. These, in turn, help him to deal with his own pain.
Yet as Hannah soon explains to him, not every day with Katy is a happy one. She often breaks into fits of screaming when someone says or does the wrong thing, such as accidentally touching her. Hannah lets Ryan know these episodes are something he must be prepared for, should he decide to stick around, something Hannah wants as much at Katy.
What elevates this story to something more than a tale about a person with a disability is that it allows the audience to see Katy both from the outside and from within. "We Live by the Sea" is as much about people learning to accept Katy's condition and interact with her accordingly as it is about Katy trying to adjust to life in the so-called normal world.
Brain does a wonderful job in the role, projecting both the pain and anguish of someone who lacks the accepted coping skills for everyday life, while also showing she is capable of insight, intelligence, and a great deal of heart.
Grace gives an excellent performance as Paul Williams, a character who can best be described as Katy's personal safety valve. Paul is the inner voice or alter ego that offers Katy a lifeline to a place inside herself when things becomes too much to deal with. At the same time, Paul only wants the best for Katy and is willing to step back and let Ryan take over some of these duties if that's what Katy wants.
Simonet is very good as Hannah. Despite the continual stress that comes with caring for her sister, one that makes her seem perennially tired and older than her years, Hannah loves Katy and never sees her as a burden. Yet Hannah is definitely relived when Ryan comes on the scene and offers her another person to talk to.
Coliandris works quite well as Ryan. With Katy and Hannah the young man finds a sort of redemption for his past actions. He even is able to get Katy to accept certain concepts she was once unwilling to confront. Unfortunately, certain elements of Ryan's background are unclear, which makes one feel something is missing in his makeup. This oversight could have been corrected with one or two bits of dialogue.
Alex Howarth's direction is tight. He seamlessly juggles the production's elements for maximum impact and nothing comes across as over the top or clichéd. The projections, props, and live music (musicians Josh Flowers and Julianna Zachariou interact with the performers at one point) combine to add a strong feeling of immediacy.
Intimate, insightful, and ultimately uplifting, "We Live by the Sea" offers some simple yet powerful lessons about growth, change, and acceptance by others, with the luckiest being those who have someone to offer a helping hand along the way.
'We Live by the Sea'
59E59 Theaters
59 E. 59th St.
Tickets: 212-279-4200 or 59e59.org
Running Time: 1 hour, 30 minutes (no intermission)
Closes: May 6
Judd Hollander is a reviewer for Stagebuzz.com and a member of the Drama Desk and the Outer Critics Circle.