Theater Review: 'The Dance of Death'
A graceless tango
April 24, 2013 12:53 am Last Updated: April 24, 2013 12:53 am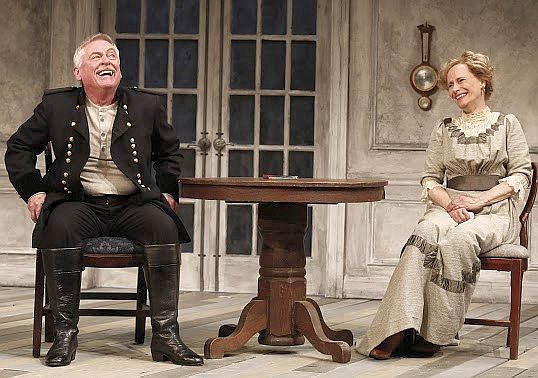 NEW YORK—Thought by many to be the prototype for "love dramas" (or marital battlegrounds, depending on one's point of view) such as Edward Albee's "Who's Afraid of Virginia Woolf," noted Swedish playwright August Strindberg's "The Dance of Death" offers no leavening properties as does Albee's final scene.
However, Mike Poulton, the playwright and adaptor of the current production presented by Red Bull Theater, insists in a program note that the play is a love story.
And so it is—of a certain kind.
Set in the year 1900 in an island fortress (presumably somewhere in Sweden), Edgar (Daniel Davis), who is captain of an island artillery battery, lives with his wife Alice (Laila Robins). She is an actress who gave up her career for this marriage, now of 25 years' duration.
They are isolated; they are bored. Whom do they have to pick on? Why, each other, of course.
As a couple, they seem consummately ill-matched. Edgar is pompous and self-important, always dressed in full uniform replete with sword at his side. He is also a hypochondriac and feels himself to be very ill.
Alice is vibrant and energetic and moves about with the vigor and grace of an important leading lady. Although the pair has no social life, Alice dresses with flair and elegance, making several costume changes during the show (courtesy of costume designer Alejo Vietti).
The two are so hostile that they have turned everyone away from them. They have sent their children away to school. Even the servants have abandoned them, and Alice must demean herself to cook meals—although it may come to pass that they will encounter difficulty in getting enough food. It seems that Edgar, who is supposed to manage their finances, has erred in his calculations.
The couple spend most of their time verbally battling with great skill; each knows the other's soft spots and jabs effectively. However, when Edgar's health occasionally takes a bad turn, there is Alice at his side, nurturing and caring.
Does she really care? Does she really love him beneath all the abuse? Or does she simply want to keep him alive for the next onslaught. It's hard to know.
Just when things threaten to go ballistic, an unexpected visitor arrives. He is Gustav (Derek Smith), a younger cousin of Alice's, who has been posted on the island. On paying the couple an initial visit, he is all innocence and acceptance.
But as the couple develops into a triad, the scene darkens. Poor Gustav is manipulated by both protagonists. At one point, Alice almost succeeds in seducing him. Gustav, now completely bewildered, finally senses the horror of the situation, and the apparent hatred of the couple for each other.
The play is not without humor, however. The humor is often vitriolic. But still, one laughs loudly, with skilled director Joseph Hardy apparently responsible for mining Poulton's script of every possible opportunity for levity.
Performances are a pleasure to behold. Poulton has eliminated a few minor roles, leaving the three tightly written characters to be savored, both by the players and the audience.
Laila Robins's Alice is crisp and seductive, with a brittle edge. She is even soft at times, to impress Cousin Gustav. Daniel Davis's Edgar conveys the egotistical sense of authority called for. Derek Smith's Gustav supplies just the right level of initial naiveté, followed by his growing realization of the situation's harsh reality.
The set by Beowulf Boritt conveys an appropriate, slightly shabby look.
Production company Red Bull Theater, which specializes in presenting world classics, has received numerous theatrical nominations and awards over its 10-year history. This production of "Dance of Death" should be another feather in its cap.
"Dance of Death"
Produced by Red Bull Theater at the Lucille Lortel Theatre
121 Christopher Street
Running Time: 2 hours, 15 minutes
Tickets: 212-352-3101 or visit www.redbulltheater.com
Closes: May 4
Diana Barth writes and publishes "New Millennium," an arts publication. For information: [email protected]