NEW YORK—After being introduced to this dysfunctional family, one wonders if there will ever be peace for Mary Frances, the family matriarch, who lies slowly dying of a respiratory disease.
Her caretakers include her daughter Fanny (Johanna Day), a recovering heroin addict on methadone for some years, who can be forgetful. She's failed to connect her mom's oxygen correctly, for example, which brings about the wrath of her conscientious sister Alice (J. Smith-Cameron).
The sibling rivalry of this pair permeates the play, with an almost insidious assist by their tough mom (portrayed vividly by Lois Smith). Mary Frances isn't always distressed by her offspring's conflicts; it's often to her advantage to have Fanny and Alice compete against one another for her love and money. In fact, it's remarkable how energetic and vital Mary Frances remains to the end.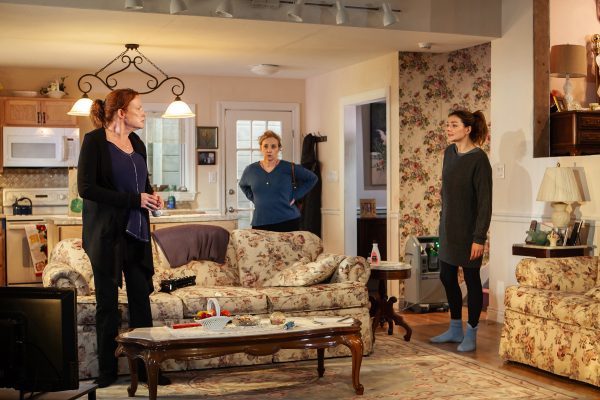 The fierce old dame figures out her inheritance amounts with the aid of her son Eddie (Paul Lazar), a self-centered lawyer who occasionally travels a fair distance to assist and then leaves as quickly as possible, without having done the kind of heavy lifting that his sisters must deal with.
On the periphery are Alice's daughters Helen (Heather Burns) and Rosie (Natalie Gold).
After much stress and conflict, a hospice nurse, Bonnie (Mia Katigbak), is brought in, later assisted by Michael (Brian Miskell). Bonnie explains the system: when and how to medicate to make Mary Frances comfortable, and how to deal with the end stages. Sympathetic health aide Clara (Melle Powers) is later brought in.
This hospice routine, which appears to have been assiduously researched by the playwright (or perhaps fell within her personal experience) was for me the most interesting part of the proceedings.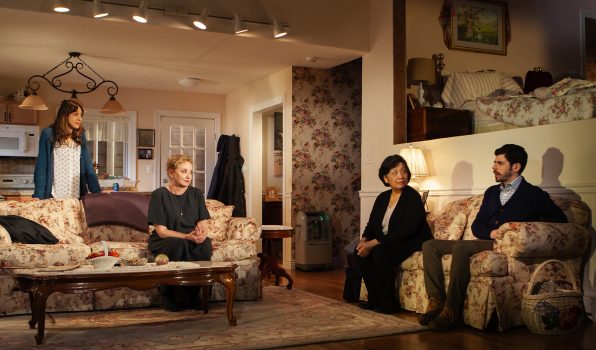 Perhaps director Lila Neugebauer was intimidated by the weight of the material. Despite good material to be found here, what might have flowed becomes heavy as lead.
Why, for example, did the play seem to be played in real time? This two-hour-and-35-minute presentation (with one 15-minute intermission) would have profited from shaving about 15 minutes from it. Was there to be no end to the end? (We learned early on that Fanny and Alice don't get along. So let's go forward.)
Given that the script was playwright Lily Thorne's professional debut, perhaps The New Group, which produced the play, should have encouraged judicious tightening of the material before presenting it to the public.
Dane Laffrey's set, although it appeared as described in the script, seems overpowered by too small a stage space. And what did music designer Daniel Kluger have in mind with those plunkety-sounding scene transitions? They seem comical, but nothing is funny.
The performances, however, are excellent, with the indomitable Lois Smith clearly running the show.
Some hits, some misses, but a worthy first effort.
'Peace for Mary Frances'
The Pershing Square Signature Center
480 W. 42nd St.
Tickets: 212-279-4200 or TicketCentral.com
Running Time: 2 hours, 35 minutes (one intermission)
Closes: June 17
Diana Barth writes for various theater publications. For information, she may be contacted at diabarth99@gmail.com