NEW YORK—"Loverly" through and through, the Broadway revival of the 1956 musical "My Fair Lady" shows itself to be a good fit for the 21st century. Special credit must go to director Bartlett Sher for allowing the underlying messages of the musical to shine through in this new production.
With book and lyrics by Alan Jay Lerner and music by Frederick Loewe, the work is based on the George Bernard Shaw play "Pygmalion" and subsequent film by Gabriel Pascal.
In 1913 London, Eliza Doolittle (Lauren Ambrose), a young woman who makes her living selling flowers on the street, sees a well-dressed man observing her. He is soon revealed to be Henry Higgins (Harry Hadden-Paton), a professor of phonetics with a deep annoyance for those who mangle the English language due to lack of education, breeding, or to the influence of local dialects.
Hearing him say to his new acquaintance, Colonel Pickering (Allan Corduner), that, given six months, he could turn Eliza into a proper lady, Eliza shows up at Higgins's home soon after and challenges him to make good on his boast. Bemused by Eliza and then intrigued by the possibility, Higgins agrees.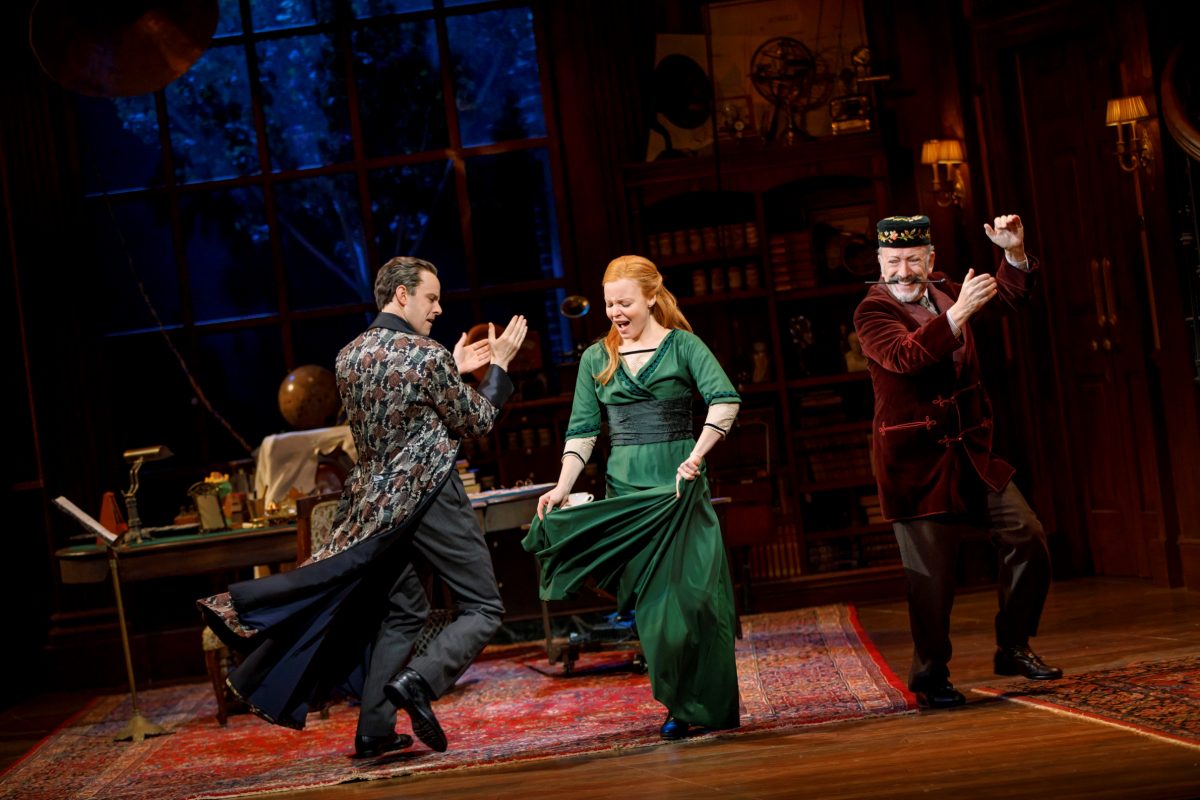 After more than a few bumps in the road—Higgins railing at the dangers of women in general and Eliza envisioning several scenarios of her teacher's demise—Eliza is presented to polite English society at a glittering, highbrow affair. Her transformation from Cockney flower girl to refined lady is a complete success.
However, the issue then becomes, what happens next? Higgins so basks in Pickering's praise that neither man realizes how terrified Eliza is about being on her own again. Her original dream to become refined enough to work in a flower shop no longer has any appeal for her. She's grown beyond it.
Eliza points out to Higgins that now she's a lady, her options for the future are rather limited.
As the show makes clear, change can be frightening, not only for Eliza but for Higgins as well. He's used his abilities to create his version of the ideal woman yet failed to take into account that Eliza is not some statue of stone. Higgins is unable to admit, other than through the occasional offhanded comment or private musings (the number "I've Grown Accustomed to Her Face") that Eliza has become more than an experiment to him.
This fear of change is also seen in Eliza's father, Alfred P. Doolittle (Norbert Leo Butz). A carefree drunkard and quite the "moralist," he serves as Shaw's mouthpiece for potshots at middle-class morality. Although Doolittle fears no man or law, the thought of financial security scares him to death. For with that comes responsibility and expectations, which he has managed to dodge his whole life. (There's a reason one of Doolittle's numbers is called "With a Little Bit of Luck," and Butz a hilarious scene-stealer in the role.)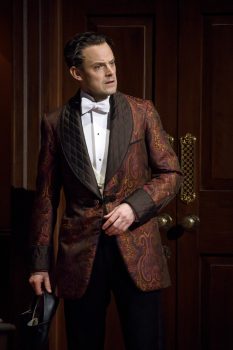 Most of these messages are brought wittily to life thanks to the sparkling Lerner and Loewe score. The different numbers invoke such emotions as wistful longing ("Wouldn't It Be Loverly"), nostalgia ("Get Me to the Church on Time"), exultation ("I Could Have Danced All Night"), frustration ("Show Me"), and love ("On the Street Where You Live").
An interesting decision by Sher was to have Eliza and Higgins played by actors approximately the same age. Higgins is usually at least a decade or two older. While the text makes no reference in that regard, the question then becomes if the actor in question is able to inject enough gravitas into the character, especially since Higgins is quite respected in academic circles.
Fortunately, Hadden-Paton does a brilliant job in bringing to life the confirmed old bachelor, while also demonstrating the character's caustic wit. These both are especially evident in the numbers "I'm an Ordinary Man" and "A Hymn to Him."
While Ambrose plays off Hadden-Paton nicely, she doesn't fare as well overall as the other characters. When she first appears, she looks far too pretty for a woman barely a step away from the streets, who works hours on end.
She also has some trouble clearly delivering her lines. (This may have actually been a problem with the sound design, which was a constant problem.) Fortunately, as the musical progresses, Ambrose more than grows into her role, especially with the aid of some of the magnificent costumes by Catherine Zuber she wears in later scenes.
Jordan Donica is excellent, if somewhat deliberately bland as Eliza's would-be suitor Freddy Eynsford-Hill. He offers Eliza the life Higgins has molded her for, if that's what she wants.
Another bit of perfect casting is Diana Rigg as Higgins's mother. Prim and proper on the outside, she is perhaps annoyed enough by how women are generally regarded by polite society to aid Eliza. Rigg does all this with a twinkle in her eye.
The sets by Michael Yeargan make good use of the entire stage, from the wonderfully old-fashioned set of Higgins's study to the outdoor scenes that often feel like gigantic paintings.
Offering a production both powerful and timely, with a pivotal moment quite in keeping with Shaw's original vision, this production of "My Fair Lady" is an enjoyable and enticing affair.
'My Fair Lady'
Lincoln Center Theater at the Vivian Beaumont
150 W. 65th St.
Tickets: 212-239-6200 or TeleCharge.com
Running Time: 2 hours, 55 minutes (one intermission)
Closes: January 6, 2019
Judd Hollander is a reviewer for Stagebuzz.com and a member of the Drama Desk and the Outer Critics Circle.