BROOKLYN, N.Y.—"Long Day's Journey Into Night" is considered by many to be one of Eugene O'Neill's finest plays, if not the finest. This production of the play, transplanted from the Bristol Old Vic in Britain, has weathered crossing the "pond" to the Brooklyn Academy of Music (BAM).
It is certainly O'Neill's most autobiographical work, for the Tyrone family depicted is clearly based upon O'Neill's own. Here, James Tyrone, Sr. (Jeremy Irons), the former theater matinee idol, is shown with his wife and two sons in their summer home somewhere in a Northeastern port town.
James's wife Mary Tyrone (Lesley Manville) hates the place. The groaning foghorns keep her awake at night. The house is cheap and shabby, like almost everything her husband is involved with, and it has never felt like a real home to her. Nevertheless, she loves her husband dearly.
This is the crux of the play. It's a fervent depiction of a love-hate relationship among a family of four, a kind of intense ping-pong game for the production's three-and-a-half hours on stage.
As excellently played by Irons, Tyrone fights to keep the family on a somewhat even keel, although that's difficult, especially when one considers he himself is pretty much at fault for many of the family's difficulties.
In her younger days, Mary had wanted to be a concert pianist, or a nun, and these recollections gnaw at her. The eldest son Jamie (Rory Keenan) is a part-time actor, forced on the stage, he claims, by his father. Mostly he's a stay-at-home ne'er'do-well who loves the bottle. In fact, a bottle of whiskey often finds a place on the center-stage table, as all three Tyrone men find alcohol a comfort—as well as the cause of short tempers.
The youngest son Edmund (Matthew Beard) is the source of Mary's greatest stress: He has a bad cough. Mary, firmly in denial, insists it's only a summer cold, but in her heart she fears it's more serious.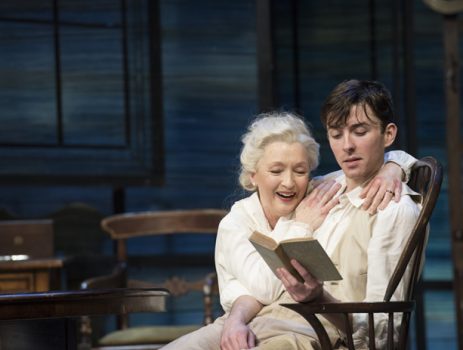 The men of the house know it's more serious. Edmund is to have a doctor's appointment later that day, and they're expecting a verdict of consumption (tuberculosis), which would mean a stay in a sanitarium for Edmund, or worse.
But the most gnawing threat to the household's stability is Mary. She's only recently returned from a sanitarium herself, for addiction to morphine—a result, all feel, of Tyrone's stinginess.
Tyrone had hired a quack doctor to care for Mary while giving birth to Edmund, and the inadequate physician's ready use of morphine as a painkiller led to her terrible problem.
So everyone can blame Tyrone for being tight-fisted, and Edmund can be blamed for having been born. Recriminations are woven around the deep love they feel for one another.
The focus of the long day is tensely listening for Mary's footsteps in the upstairs spare room, where she goes surreptitiously to take a forbidden dosage. She has even persuaded the maid Cathleen (Jessica Regan, in a welcome, light-hearted turn) to pick up her "prescription" for her.
The text of the play arguably compares to opera. The duet between Jamie and Edmund is incredibly powerful, as Jamie, under the influence, reveals his feelings for Edmund: Jamie loves Edmund, but also wants him to fail as a poet. Jamie states he will always undermine his younger brother; he can't help himself.
Mary's long monologue—or aria—closes the play. She has just returned from one of her visits to the spare room and speaks deeply of her truest feelings and perceived losses, displaying an almost unbearable poignancy.
There are no solutions posed. The work presents an authentic human tragedy.
Jeremy Irons does a fine job as the family patriarch, against tough odds. Lesley Manville's early scenes display an uncomfortable sing-song-y vocal pattern, but smooths out as the play ensues. Rory Keenan's Jamie takes the stage, particularly in the scene mentioned above, while Matthew Beard's Edmund impresses by its gentle, underplayed, but deeply felt approach.
Rob Howell's unorthodox set, mixing traditional with nontraditional elements, permits the players to enjoy the strongest focus. Peter Mumford's lighting complements Howell's work, while sound designer John Leonard's foghorns effectively permeate the background.
All is under the stewardship of multi-award winner director Sir Richard Eyre.
'Long Day's Journey Into Night'
BAM Harvey Theater
651 Fulton St., Brooklyn, NY
Running time: 3 hours, 20 minutes (one intermission)
Tickets: 718-636-4100 or Tickets.BAM.org
Closes: May 27
Diana Barth writes for several arts publications, including"New Millennium." For information,visit diabarth99@gmail.com