NEW YORK—When re-reviewing a show after the original leads have left, one must ask how the new cast members fit into the already existing scheme of the piece and how well the production works with these new additions. In the case of the Broadway revival of the 1964 musical "Hello, Dolly!" the answer is brilliantly!
Set in 1895 in and around New York City, the work tells the story of Dolly Gallagher Levi (Bernadette Peters), a middle-aged woman who makes her living as a jack-of-all-trades. The services she offers are as varied as dance instructor and legal advocate. Her primary profession, however, is that of a matchmaker, bringing together like-minded people desiring matrimony.
On this day, Dolly must finalize a marriage for Horace Vandergelder (Victor Garber), the richest man in Yonkers, New York. A rather shrewd businessman who still has the first penny he ever earned, Horace is a longtime widower and worth half a million dollars. Dolly must also get Horace to give his consent to the marriage of his niece Ermengarde (Melanie Moore) to starving artist Ambrose Kemper (Ryan Worsing, replacing Will Burton), a union he staunchly opposes.
Horace is about to ask the widowed Irene Molloy (Kate Baldwin) to be his bride when he visits her in New York that very afternoon, a match Dolly had previously arranged. He has no idea that Dolly's interest in him has become much more than professional.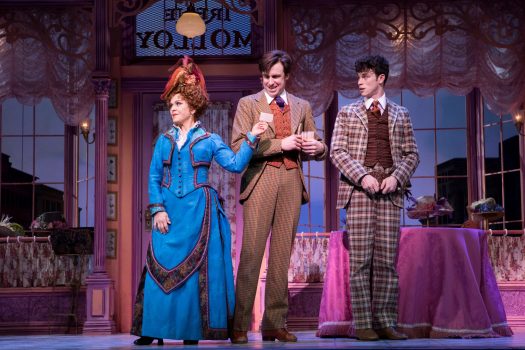 Also drawn into Dolly's plans are Horace's employees Cornelius Hackl (Gavin Creel) and Barnaby Tucker (Charlie Stemp), who take advantage of their boss's absence to head to New York themselves. They seek a day of adventure and a night on the town. The two end up at Irene's millinery shop shortly before Horace arrives, with Dolly not far behind.
Despite its lighthearted moments, "Hello, Dolly!" is a tale overflowing with sentiment. Michael Stewart's book is populated with those who have previously lost their special someones, and who now are ready to fall in love again. These second chances at romance contrast with the brash and awkward feelings of those who feel the joy and pain of love for the first time.
A wonderful treat for both the eye and ear, the show benefits from a creative team that seamlessly combines many of the musical moments with a glorious tableau of dance and color. The efforts by choreographer Warren Carlyle, orchestrator Larry Hochman, and director Jerry Zaks are integral in making the musical so powerfully effective.
Santo Loquasto's costumes, as in the numbers "Put on Your Sunday Clothes" and "Dancing," are so beautifully elegant that it makes the time period depicted come fully alive.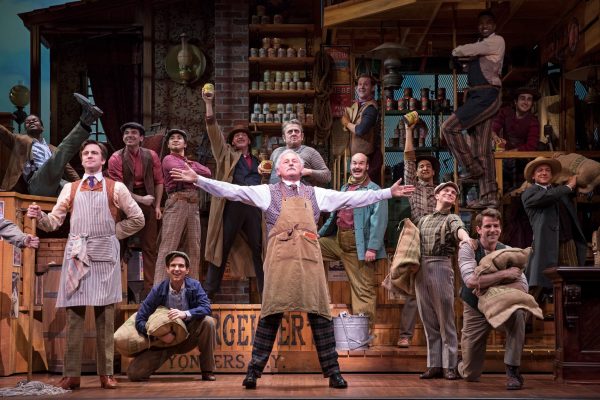 None of these efforts would mean anything without Jerry Herman's delightfully infectious score. Among the highlights, in addition to those already mentioned, are the comedic "It Takes a Woman"; the heartfelt "It Only Takes a Moment"; and the rousing one-act closer "Before the Parade Passes By," a lesson about grabbing life with both hands while you still have a chance.
There's also the title tune, which takes place at New York's Harmonia Gardens Restaurant. By the time Peters makes her entrance there, clad in a brilliant red dress, she has won the audience's heart.
Where Bette Midler, who originated the role of Dolly for this production, played the part as a strong, determined woman from the beginning and, at times, as a force of nature, Peters presents her Dolly in a more hardscrabble way, as she slowly grows into the role. You can also clearly see the exhaustion on her character's face from years of struggle, as well as the moments of joy when she realizes she is finally "back where she belongs."
Garber is perfectly cast as Horace. He plays the role as more befuddled and earthy than his predecessor in the part (David Hyde Pierce). Garber also gives Horace a world-weary feeling, which makes one truly believe how hard he has worked to get where he is. Yet, just like Dolly, Horace no longer wants to be alone.
Garber and Peters have great chemistry together, and the fact that they're closer in age than Midler and Pierce helps the believability of their interactions.
The rest of the cast more than hold their own. Creel, having recently returned to the role of Cornelius after a medical absence, shows a nice combination of athleticism and awkwardness, while delivering his songs beautifully. Baldwin captures just the right combination of refinement and girlish glee as Irene. Stemp works well as Barnaby; as does Molly Griggs as Irene's assistant, Minnie. Worsing and Moore are fine as Ambrose and Ermangarde, with Moore doing a particularly comical turn as a perpetually unhappy bride-to-be.
Guaranteed to have you leave the theater smiling, Hello, Dolly!" is, and remains, a hands-down winner.
Peters and Garber are scheduled to leave the show July 15, with Bette Midler and David Hyde Pierce returning on July 17 and staying with the show until it closes on Aug. 25.
'Hello, Dolly!'
Sam S. Shubert Theatre
225 W. 44th St.
Tickets: 212-239-6200 or TeleCharge.com
Running Time: 2 hours, 40 minutes (one intermission)
Closes: Aug. 25
Judd Hollander is a reviewer for Stagebuzz.com and a member of the Drama Desk and the Outer Critics Circle.