In need of a new steak dinner recipe? Look no further than your morning cuppa for inspiration. That's right: This steak's spice rub starts with ground coffee beans, and is balanced by the sweet molasses flavor of brown sugar and earthy ground coriander.
When the steak hits the high heat of the pan (or the grill), the aroma of the beans awakens, deepening their robust roasted flavor and creating a crave-worthy caramelized crust. Try it on any cut of steak, from skirt to ribeye. You'll quickly find yourself making it on repeat.
Use Freshly Ground Coffee for the Best Flavored Rub
Because freshly ground coffee offers a more robust and nuanced flavor than pre-ground beans, you'll want to start with whole beans for this rub. Grind the coffee evenly and finely to the consistency of ground spices—a burr grinder does this best, although a blade grinder is suitable too.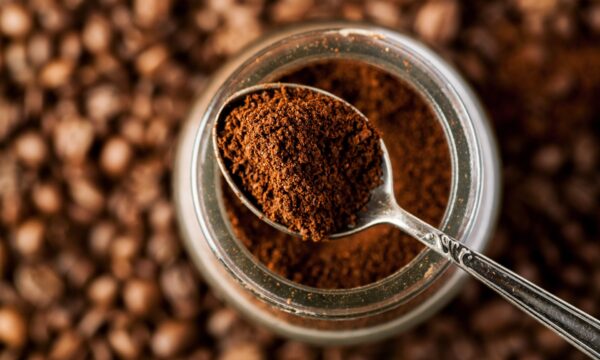 The flavor of pre-ground coffee isn't as vibrant, but it's often the right consistency (depending on the brand). If you choose to go the pre-ground route, make sure the bag is fresh.
Coffee-Rubbed Steak
Serves 2 to 4
1 tablespoon finely ground coffee beans
1 1/2 teaspoons packed dark brown sugar
1 teaspoon kosher salt
1/2 teaspoon onion powder
1/2 teaspoon ground coriander
1/4 teaspoon garlic powder
2 (1 to 1 1/2-inch thick) New York strip steaks (about 12 ounces each)
2 teaspoons canola oil, divided
Combine finely ground coffee beans, dark brown sugar, kosher salt, onion powder, ground coriander, and garlic powder in a small bowl.
Rub the steaks all over with the coffee-spice rub, making sure to season the edges and the sides. Place on a plate and set aside at room temperature for at least 15 minutes or refrigerate uncovered for several hours or up to overnight.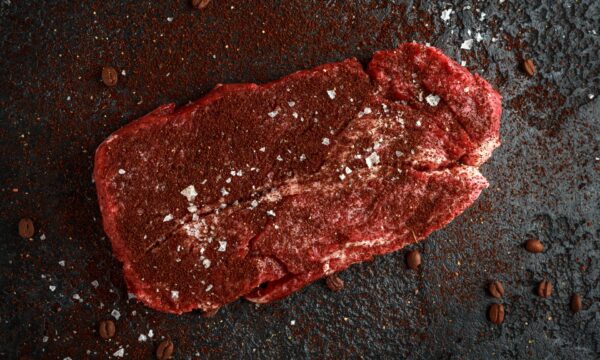 Cooking Option 1: Grilling
Heat an outdoor grill to medium-high direct heat. Scrape the grill grates clean if needed. Brush each steak with 1 teaspoon canola oil.
Place the steaks on the grill, cover, and grill until grill marks form on the bottom, 3 to 4 minutes. Flip the steaks, cover, and grill until grill marks form on the second side, 3 to 4 minutes.
Flip the steaks again and continue to grill until desired doneness, about 2 minutes for 130 degrees F to 135 degrees F for medium-rare. If the steaks are browning too quickly, turn a gas grill down to medium or move the steaks to a cooler part of a charcoal grill.
Cooking Option 2: Stovetop
Heat a 12-inch cast-iron skillet over medium-high heat until very hot and almost smoking, 4 to 5 minutes. Carefully place the steaks in the hot pan and cook on the first side until enough of a crust has developed that the steaks no longer stick to the pan, about 1 minute.
Flip and cook on the other side for 1 minute. Continue cooking and flipping for a total of 6 to 8 minutes for 130 degrees F to 135 degrees F for medium-rare.
To Serve
Transfer the steaks to a clean cutting board and let rest for 5 minutes. Slice the steak on a diagonal into 1/4-inch thick slices.
Recipe Notes
Use an instant-read thermometer to determine when your steaks are cooked to your liking: 125 degrees F for rare, 130 degrees F to 135 degrees F for medium-rare, or 140 degrees F for medium.
Leftovers can be refrigerated in an airtight container for up to four days.
Patty Catalano is a contributor to TheKitchn.com, a nationally known blog for people who love food and home cooking. Submit any comments or questions to editorial@thekitchn.com. Copyright 2021 Apartment Therapy. Distributed by Tribune Content Agency, LLC.