Taiwan Cycling Festival in November
September 25, 2013 2:51 am Last Updated: September 25, 2013 2:51 am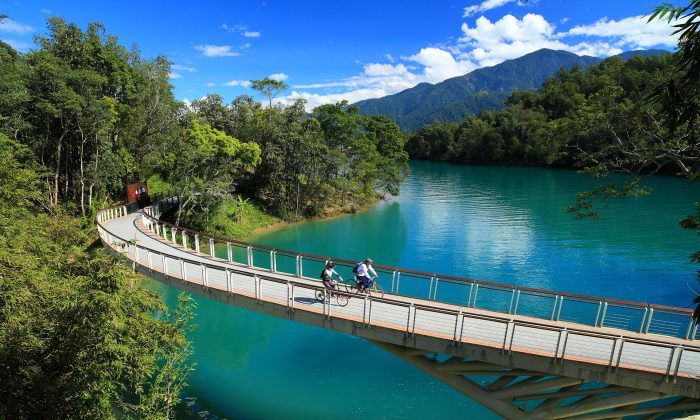 Beautiful coastline trails, lush inland foliage, lakeside pathways, and extensive tea plantations make Taiwan a blissful venue for cycling enthusiasts, especially in November.
Located on roughly the same latitude as the Hawaiian Islands, Taiwan has warm tropical and subtropical climates, without four distinct seasons. Fall in Taiwan is much more temperate than the country's extremely hot summers, which reach highs of around 95 F. During November, the average temperature is 68 F, making it a comfortable month to cycle around the 14,000 square-mile island. It is also a time when rainfall is at its lowest.
Over the last decade, Taiwan has been investing in redefining itself as a cycling haven, building hundreds of scenic bike trails throughout the country's impressive ravines and coastlines, and hosting cycling events and triathlons. Cycling is now considered by some to be the unofficial national pastime.
The Tourism Bureau has hosted the Taiwan Cycling Festival in November since 2011. In 2010, the inaugural festival was going to be held in early October, but had to be canceled because of a hurricane warning. Taiwan is also a major producer of bicycles for domestic use and for export, and bicycle manufacturers sponsor some of the festival's races.
The festival itself has become a major celebration in Taiwan, according to the Taiwan Tourism Bureau. Races for both competitive, professional cyclists and more relaxed rides for families and leisure tourists are held in different locations around the island, with something for almost every fitness level. Most of the more competitive races require participants to be 16 years of age or older.
The Formosa 900 and the Taiwan KOM Challenge are the two main events. They are complemented by a number of smaller races.
The most important race, the grueling Taiwan King of the Mountain Challenge (also known as the Taiwan KOM Challenge), is held on Nov. 9. Riders will travel 65.2 miles, from Chishingtan Beach in Hualien County inland through the Taroko Gorge, climbing upward on progressively steeper roads, until finally arriving at the finish line at an altitude of 10,745 feet.
Race organizers have invited professional riders who participated in the Tour de France, and other riders from Central Italy and Spain.
Last year, 380 riders competed in the race, vying for the title of King of the Mountain. Among them, professional French racers Anthony Charteau (Team Europcar) and Jérémy Roy (UCI ProTeam FDJ.fr.); Spanish rider Francisco Mancebo (AG2R Prévoyance); and defending 2010 and 2011 champion Yung Yi Fan of Taiwan.
The other main event, the Formosa 900, is a leisurely round-island cycle tour held Nov. 9 to 17. Groups of no more than 30 people will ride different legs of the journey each day, eventually covering a total of 567 miles.
As the ride is set at a more leisurely pace, the riders will have time each day to stop at various attractions, take in the local culture, eat iconic food, and possibly even meet with public officials.
If you are planning to travel to Taiwan in the fall and want to explore some urban trails on your own, you can pick up a free city-cycling map at any of the tourist visitor center kiosks. The subway maps also mark the locations for bike shops and trailheads.