According to a USDA press release on Oct. 14, Taco Bell is recalling some 2.3 million pounds of seasoned beef used in the company's tacos and burritos.
A statement from Taco Bell said that restaurants "in the eastern Midwest, northern Southeast and Northeast regions" of the United States have experienced shortages of the key ingredient.
"On Friday, Oct. 11, Taco Bell took immediate action and voluntarily recalled approximately 2.3 million pounds of seasoned beef from its restaurants and distribution centers. As of 9 a.m. PDT, Monday, Oct. 14, 2019, 100 percent of the affected restaurants in 21 states across the eastern Midwest, northern Southeast and Northeast regions impacted have confirmed product has been removed and discarded."
The Taco Bell statement continued: "The problem was discovered when a customer reported they found a metal shaving in their menu item. To ensure the safety of our guests, the company immediately partnered with the supplier to shut down the supply chain, remove the product from restaurants and distribution centers and notify the USDA.
The product was produced at one plant location on only one of the two lines used to make seasoned beef. This product was sent to distribution centers in the following states: Michigan, New Jersey, New York, Ohio and Virginia."
The United Stated Department of Agriculture (USDA) news release states, "Kenosha Beef International, a Columbus, Ohio establishment, is recalling … seasoned beef products that may be contaminated with extraneous materials, specifically metal shavings," according to the USDA's Food Safety and Inspection Service (FSIS). The FSIS did not indicate how the metal shavings had contaminated the meat filling material.
Approximately 1,150 tons of seasoned beef used in Taco Bell products have since been removed from restaurant locations across the United States.
The seasoned beef products were manufactured on between Sept. 20 and Oct. 4, 2019, and were packed in cases that contained eight 5-lb. plastic bags of "TACO BELL SEASONED BEEF Taco and Burrito Filling", according to the USDA.
"The products subject to recall bear establishment number 'EST. 10130' on the case. These items were shipped to five distribution centers, and from there shipped to restaurant locations nationwide. The problem was discovered when the firm notified FSIS on Oct. 12, 2019, that it received three customer complaints," said the USDA statement.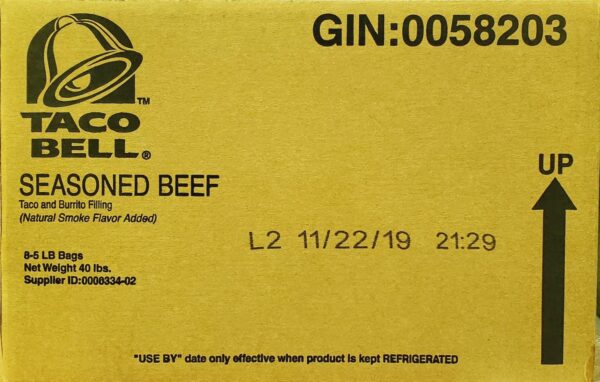 Customer Care
"Nothing is more important than our customers' safety, and nothing means more to us than their trust," said Julie Masino, President of North America, Taco Bell Corp. "As soon as we received the first consumer complaint, we immediately acted to remove the product from the affected restaurants and proactively worked with the supplier to inform the USDA of our steps to protect our guests."
According to the USDA, "There have been no confirmed reports of adverse reactions due to consumption of these products. Anyone concerned about an injury or illness should contact a healthcare provider."
However, the USDA did urge Taco Bell franchisees and restaurant managers to double-check. It said that the "FSIS is concerned that some product may be in restaurant refrigerators. Restaurants who have purchased these products are urged not to serve them. These products should be thrown away or returned to the place of purchase."
The recall is a further blow to Taco Bell, which in July 2019 experienced shortages of tortillas used in its burrito and quesadilla products. While the company did make a statement on its website, its social media accounts (Twitter, Facebook) did not mention the product recall or make reference to related product shortages.