There are endless versions and recipes for classic steak Diane, a dish of seared steak served with a rich, creamy, and flambéed pan sauce. Each calls for different cuts of steak, and some include button mushrooms. There are debates of scallions versus shallots, chives versus parsley, veal demi-glace versus beef stock, tomato paste or no tomato paste.
This recipe is my personal interpretation of steak Diane. I believe that as long as it includes a cut of steak and that the sauce consists of Dijon mustard, Worcestershire sauce, beef stock, a dash of heavy cream, and flambeed cognac, it falls under the steak Diane umbrella.
What Is Steak Diane?
Steak Diane is a dish that has been around for decades; some say a century. The origin of this dish has been claimed by many: Australia, Belgium, England, and the United States. However, according to an article from The New York Times archives published in 1979, the strongest claim has been staked by New York City's Drake Hotel, where it used to be served table-side by the maitre'd for the theatrical effect of flambéing cognac. The steaks were flattened beforehand for tenderness and a faster cook time in the dining room.
Some say the dish is named after the Roman goddess Diana, the huntress of wild animals, or after a female British aristocrat in the 1930s. Others say it evolved from a venison dish created as far back as 1914. I say, whatever the historical truth is, it's delicious!
My recipe pays homage to my British roots and how I remember steak Diane when I was growing up. For me, it always included mushrooms. Inspired by Gordon Ramsay, I have swapped out button mushrooms for cremini for an extra umami kick. Plus, I included a little tomato paste to add a slight sweetness and depth. I used beef tenderloin and flattened it with a rolling pin to about one inch thick for melt-in-the-mouth tenderness and a quick sear. However, if your purse strings can't stretch to that luxury, a slightly cheaper cut such as sirloin or rib-eye also works perfectly well. It will just need a few more minutes in the skillet.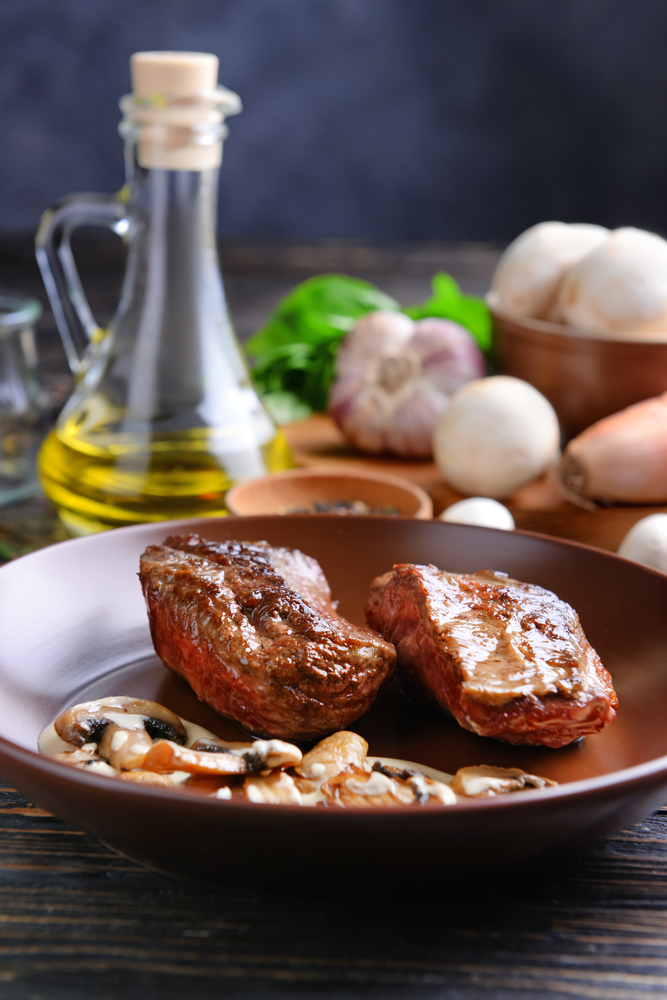 What to Serve With Steak Diane
Classic steakhouse sides are a perfect match for steak Diane. Pick one or two of your favorites to round out dinner: creamed spinach, buttery mashed potatoes, glazed carrots, or wedge salad.
Steak Diane
Serves 4
4 (6-ounce) beef tenderloin steaks
6 ounces cremini mushrooms
1 large shallot
1 large clove garlic
1/3 cup fresh parsley leaves
2 teaspoons kosher salt, divided
2 teaspoons freshly ground black pepper, divided
2 tablespoons olive oil, divided
2 tablespoons unsalted butter, divided
1/3 cup cognac or brandy
1/2 cup beef broth or stock
1 tablespoon Dijon mustard
1 tablespoon Worcestershire sauce
2 teaspoons tomato paste
1/3 cup heavy cream
Place the tenderloin steaks on a cutting board, remove any twine holding them together if needed, and let them sit at room temperature. Meanwhile, prepare the following: Trim and slice the mushrooms about 1/4-inch thick (about 2 cups). Halve and thinly slice the shallot. Mince the garlic clove. Finely chop the parsley leaves.
Pat the steaks dry on both sides with paper towels. Using a rolling pin or the smooth side of a meat mallet, pound the steaks until about 1 inch thick (for easier cleanup, pound between two sheets of plastic wrap if desired). Season both sides with 1 1/2 teaspoons of the kosher salt and 1 1/2 teaspoons of the black pepper.
Heat 1 tablespoon of the olive oil in a large frying pan or cast-iron skillet over high heat until shimmering. Add the steaks and 1 tablespoon of the unsalted butter. Sear until browned on the outside, about 2 minutes per side for medium-rare. Transfer to a plate and tent with aluminum foil.
Reduce the heat to medium-high and add the remaining 1 tablespoon of olive oil to the pan. Add the shallot and garlic and cook, scraping up any browned bits from the pan with a wooden spoon, until the shallots are slightly translucent, about 2 minutes. Add the remaining 1 tablespoon unsalted butter and mushrooms and sauté until the mushrooms are browned, 3 to 4 minutes.
Remove the pan from the heat. Carefully add the cognac. Return to medium-high heat and cook until reduced by half, about 1 minute.
Add the beef stock, Dijon mustard, Worcestershire sauce, tomato paste, kosher salt, and black pepper and whisk to combine. Cook until slightly reduced, 2 to 3 minutes.
Add the cream and whisk to combine. Bring to a boil, then reduce the heat to low. Pour in any accumulated juices from the plate of steak and simmer until slightly thickened, about 3 minutes.
Return the steaks to the pan and warm through in the sauce, about 2 minutes. Garnish with the parsley.
Recipe Notes
Leftovers can be stored in a covered container in the refrigerator for up to three days.
If you have any leftover steak, reheating steak is best done with the sous-vide method to avoid overcooking.