BILLINGS, Mont.—"I don't even have the words to describe how incredibly extravagant and beautiful it was," said Kara Olsen, a ballerina. "It was very professional."
Olsen was attending Shen Yun Performing Arts, a company reviving authentic traditional Chinese culture through classical, folk, and ethnic dance and music. The performance took place at the Albert Bair Theater in Billings, Montana on Oct. 14.
Olsen is very involved in the creative arts. "I am an artist and a pianist. I am also learning violin, "she said. "I do a lot of things. I do textiles. I like to knit, crochet, spin. I sew dresses as well."
"It is absolutely breathtaking. The [musicians] make your feelings come alive. And the traditionalism is just wonderful," she said.
Shen Yun has a live orchestra that is unique in that it blends traditional Chinese instruments with classical Western instruments.
"I love how they join [the two styles of music] together so that it will create just beautiful colors of music. I can see it and feel it," said Olsen, who plays the works of Chopin, Mozart, and Beethoven.
Shen Yun was also inspirational for Olsen. "I just loved all the music, all the dancing. I believe that [performances such as Shen Yun] bring out inspiration in people …  they bring out feelings that people … themselves don't even understand. And I believe that when people perform, you're just overcome with feelings and emotions, and you can't get that in movies, or just listening to it on your headphones."
Olsen further learned that traditional Chinese dance comprised "different moves and beautiful styles of dancing" and acrobatic skills that are traditionally Chinese.
In fact, acrobatics evolved from traditional Chinese dance.
"And [the dancers'] skills … their control [being able to lift] themselves up into the air and landing, that is insanely impressive, and it's incredible," enthused Olsen.
Shen Yun 'Spoke to me beyond measure'
Kaitlin Murdy, an aerial silk circus dancer from Bozeman, Montana, was likewise amazed by what she had seen.
"I've gone to so many dance performances and ballet performances in my lifetime and this one just spoke to me beyond measure," Murdy said.
"And the amount of emotion within the movements, and [as] a ballet dancer, seeing everyone in soft shoes or bare feet and seeing that measure of movement and showing how beautiful it can be—was just incredible," she added.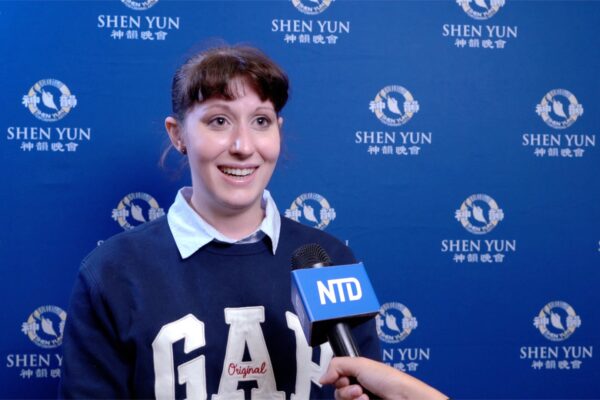 Murdy is a master's graduate student in art history and was a ballet dancer for over 17 years.
"With my art history I look at so many different types of art and so much of it is involved in religion and faith and it is so heart wrenching when it gets taken away from people," she said referring to the Chinese Communist Party's destruction of traditional Chinese culture over the last 70 years.
"It is such an erasure of culture and it erases the people [who] are involved in it. I just find it incredibly disheartening and sad to see something like [the persecution of Falun Gong] happening, not even in the past but now. It is so incredibly wrong," said Murdy.
While Shen Yun portrays vignettes from China's 5,000 years of ancient history, its dances also depict today's persecution of Falun Gong, a spiritual group whose teachings of Truthfulness, Compassion, and Tolerance have their origins in the Buddha school.
I think everything that we are seeing, and this idea of just erasing those traditions and kind of being blinded by modern technology … it removes a part of ourselves; in a way, it removes part of our soul.
"I think everything that we are seeing, and this idea of just erasing those traditions and kind of being blinded by modern technology … it removes a part of ourselves; in a way, it removes part of our soul," said Murdy.
"I think it is important in not only showing dance as an art form but in [Shen Yun] showing what is going on [in China today.] Showing it in this way I think brings together the ideas of the meditation faith as well as making people aware [of] something they may not seek out themselves otherwise," said Murdy.
"I just want to thank you guys for doing this and all the dancers, all the amazing hard work they do. I know how it goes, and it was just exceptional".
Reporting by Sherry Dong and Diane Cordemans.
The Epoch Times considers Shen Yun Performing Arts the significant cultural event of our time. We have proudly covered audience reactions since Shen Yun's inception in 2006.