ATLANTA, Ga.—Anne Marie and Greg Esslinger have been talking about Shen Yun Performing Arts for five years and we're excited to finally get the opportunity of seeing the world's premier classical Chinese dance and music production while it was playing at the Cobb Energy Performing Arts Centre in Atlanta.
It was as if a new world had opened up as the couple expressed amazement at seeing authentic traditional Chinese culture. It was an educational experience, they said.
Shen Yun's mission is to bring back traditional Chinese culture which was all but destroyed under the Chinese communist regime.
"[Shen Yun displayed] an element of Chinese culture I had not been exposed to and I've been to China several times," said Greg. "And I think what also resonated with me is how ancient it is, and that it's really at the core of Chinese culture … thousands of years ago."
"I do think because of communism, we don't get to see a lot of Chinese cultures," said Anne Marie. "This is fabulous."
The dancers' movements were fluid and beautiful, said Greg. Chinese classical dance brought to mind the movements of Tai Chi, Martial Arts, and ballet, he said. In effect, these disciplines evolved from Chinese dance.
The erhu, a traditional two-stringed Chinese violin, was spectacular, said Anne Marie, an independent owner of a travel agency, but now works for a national company.
"Both the singers were spectacular," said Greg, a corporate risk consultant. Shen Yun's singers are trained to use the bel canto technique, a traditional style of singing in the upper register which has been lost in both the East and West.
Greg appreciated the messages of peace, love, and the "basics of humanity" which were very appropriate at the present time in history, he said.
Greg saw a divinely inspired Chinese civilization in Shen Yun's presentation.
Shen Yun reminds one to stay "focused on what's important, to remember that someone is looking after us and having faith in that," he said.
One of the problems with the pandemic has been that we've all been so isolated from each other, and the ability to come to a production like this and sit with each other and enjoy it together in a setting.
"One of the problems with the pandemic has been that we've all been so isolated from each other, and the ability to come to a production like this and sit with each other and enjoy it together in a setting, where we haven't been able to be in so long, is important," said Greg.
Greg noted a wide range of nationalities and ethnic groups in Shen Yun's audience.
"There's just a lot of appeal across a wide, wide range of people."
Greg said he had been surprised when he saw that Shen Yun had been awarded a patent on its digital screen technology.
"We didn't expect it. And I think that it was captured in the program …  it expands infinitely the size of the stage. There's no limit to the size of the stage," Greg said.
Shen Yun 'Gives Me Tranquility'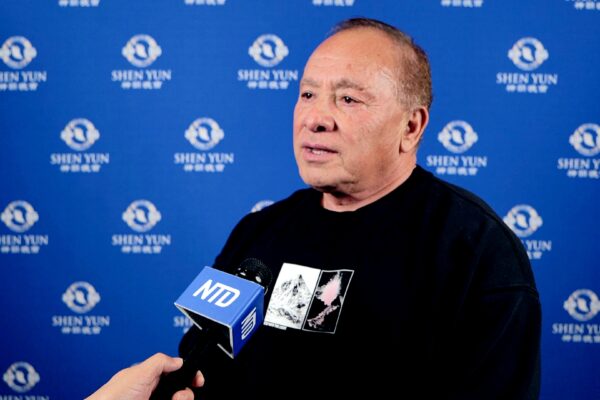 Ed Cota, a medical worker in a hospital obstetrics and gynecology department, buys a ticket to Shen Yun every year because it is always amazing, he says.
"I think that to me it's all about coming to peace with yourself and your surroundings. And it's always best to do the right thing—help each other."
"At the end of the day, what's the point of being here [if] you can't connect to the divine world, you can't connect to the spirits that surround you."
"That's why I come. [Shen Yun] gives me tranquility, it gives me peace. It allows me to … reconnect. It … slows me down makes me like, take a deep breath and go—'there's more to life than working,'" Coda said.
Shen Yun 'Will Leave You Spiritually Fed'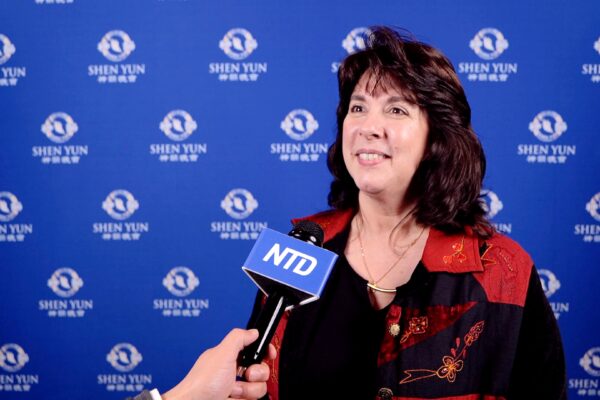 It was an inspirational experience and an opportunity to learn about a group of people and their beliefs, said Clay Thomas, a physical therapist who had come to see Shen Yun with his wife, Karen, who is a nurse.
And you could see that the performers enjoyed entertaining the audience, he said.
"I was surprised, but also very much pleased, to see similarities in my own beliefs, in the belief in a Creator, that we all come from divine heritage and that we have a time coming when it will all be restored."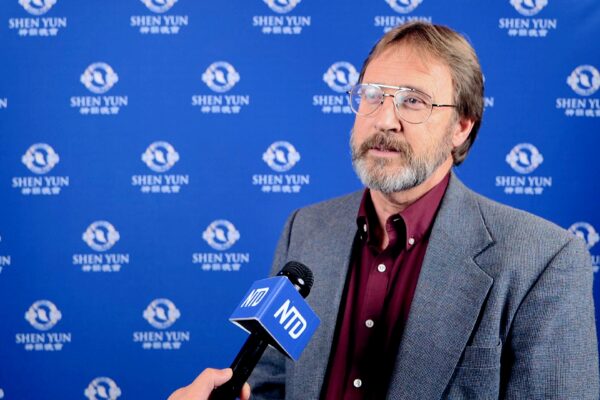 "That [a Creator] will come when times, like they are now are in turmoil and will redeem us all from that chaos," Clay explained.
"Spectacular—it was a lot of fun to watch and be in the crowd," Karen said.
It was the color displayed in Shen Yun that impressed Karen. "[I love] that they were not afraid to use so much different color."
"Also the aspect of the Divinity …  focusing on our inner cells and our outer cells, to the compassion, the kindness towards others, not just in oneself, but in all things around us. And I think that was very inspiring. "
"And the fact that we are connected both heavenly and here on earth, and you felt that through the dancers' impressions and also the vocalists and even the orchestra. The music was amazing."
"The whole [performance] in itself is uplifting and it will leave you spiritually fed as emotionally fed," Karen said.
Reporting by Roland Ree, Frank Xie and Diane Cordemans.
The Epoch Times is a proud sponsor of Shen Yun Performing Arts. We have covered audience reactions since Shen Yun's inception in 2006.