Shen Yun Nearing Sellout at Lincoln Center
April 19, 2013 12:29 pm Last Updated: December 24, 2013 7:52 pm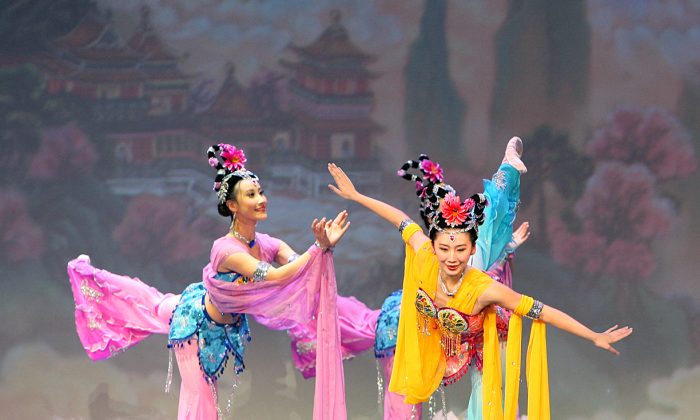 Global phenomenon Shen Yun Performing Arts is returning to Lincoln Center in New York April 20–28 for 11 shows and tickets are becoming hard to find.
Tickets for opening night in New York are already sold out, and based on last year's experience, we expect Shen Yun to be sold out again this year, said Pia-Maria Norris, Shen Yun Promotions International spokeswoman. "Shen Yun was a sold-out success everywhere it went this year," she added.
The New York-based Shen Yun has won international acclaim for its program that brings the wonders of ancient Chinese culture breathtakingly to life through dance, vocals, and orchestral music. Three equally large companies totaling some 300 artists tour the globe simultaneously throughout Europe, Asia, and North America—visiting around 20 countries and 100 cities.
In seven years, Shen Yun went from a local performance to a global touring sensation. "That speaks to the power Shen Yun has to touch people's hearts with its unique beauty," said Norris.
Donna Karan, creator of DKNY, said after seeing Shen Yen in New York: "What I loved about the show was the authenticity of it … from a spiritual level. It was so beautiful to see."
Although Shen Yun is quintessentially Chinese, it is actually based in New York. Shen Yun is a nonprofit that differentiates itself from most other Chinese performing arts groups through its independence from the Chinese regime. Shen Yun says it enjoys the artistic freedom New York affords.
"Shen Yun represents the best that China's ancient culture has to offer, so it is something that every New Yorker can and should be proud of," said Norris.
Shen Yun draws on top talent from around the world—many of its artists are international award-winners in the fields of dance, choreography, and music.
Chinese dance is a complete system embodying traditional aesthetic principles, and employing unique dance movements, rhythms, and inner meanings, according to the Shen Yun website. It includes both Chinese classical dance, and Chinese ethnic and folk dance forms, which have been passed down among the majority Han ethnicity, like the Yang Ge, ribbon, and handkerchief dances.
Shen Yun dance performances are accompanied by the Shen Yun Performing Arts Orchestra, which is uniquely comprised of both Western, and Chinese instruments such as the pipa. Also known as a lute, a pipa is often found in the hands of Chinese heavenly maidens depicted in traditional paintings.
Brilliant costumes from the Tang Dynasty, such as imperial dragon robes, phoenix coronets, cloud capes, and Han couture, adorn Shen Yun dancers and vocalists on stage.
When the curtain rises at Shen Yun, a beautiful scene is sure to unfold—brought to life by state-of-the-art graphics-technology backdrops. Ancient Chinese gardens, beacon towers, sacred halls, and Mongolian grasslands fill the eye with luminous color.
With such a long history, China naturally has so many legends, myths, and literary classics for Shen Yun to draw inspiration from. These stories come vividly to life through Shen Yun's amazing dancers, said Norris.
Watching Shen Yun is like being taken on an extraordinary journey that spans the entirety of China's history and its landscape.
New York-based Shen Yun Performing Arts has three touring companies that perform simultaneously around the world. For more information, visit ShenYunPerformingArts.org.
Shen Yun Performing Arts is performing at the David H. Koch Theater at Lincoln Center through April 28.
The Epoch Times considers Shen Yun Performing Arts the significant cultural event of our time. We have proudly covered audience reactions since Shen Yun's inception in 2006.