Shen Yun is 'Absolutely Unbelievable'
April 9, 2014 12:39 am Last Updated: April 9, 2014 7:55 pm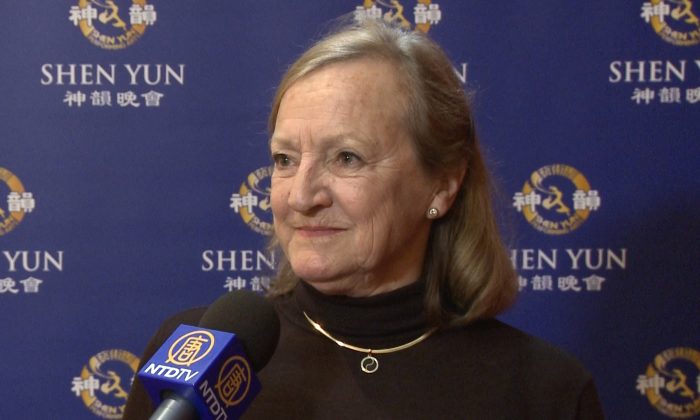 WELLINGTON, New Zealand—"I think it is absolutely unbelievable," said Brigid Pollock, at the final performance for Shen Yun Performing Arts at St James Theatre, on April 9.
Ms. Pollock is now retired but at seventy she has lived an interesting life as a model in London, a helicopter pilot and most recently a farmer.
She said she was very interested when she received a brochure at a shopping centre ad immediately wanted to see Shen Yun with her husband and two friends.
Shen Yun is based in up-state New York and according to their website "For 5,000 years divine culture flourished in the land of China. Humanity's treasure was nearly lost, but through breathtaking music and dance, Shen Yun is bringing back this glorious culture."
Mrs. Pollock appreciated this history lesson.
"I think it's the history and how you have kept the history going."
Classical Chinese dance is at the heart on Shen Yun but it also includes folk and ethnic dance and well as mini-dramas depicting snippets from history.
Mrs. Pollock thought the dancers were so good in portraying their message.
"I think what they are doing it very good, its quick, but it's not too quick," she said.
"The dancers themselves tell the story."
Mrs. Pollock loved the state-of-the-art digital backdrop and how the performers on stage interacted with it. She said it was "hilarious" adding that she would love to have a go herself.
An orchestra mixing traditional Chinese and classical Western instruments playing original scores adds an extra dimension to the performance.
"It's always lovely to have live music, I think," Mrs. Pollock said.
"I think the show is absolutely fantastic. "
Mrs. Pollock loved Shen Yun so much she wants to share it with those she loves.
"The history is well presented and the dancing is so good so I think everybody should see it so I would like to share it with my family."
She added, "I'm going to ring everyone in the morning."
When asked if she would like to see Shen Yun next year Mrs. Pollock replied, "Oh yes! You bet!"
Reporting by NTD Television and Leigh Smith
New York-based Shen Yun Performing Arts has four touring companies that perform simultaneously around the world. For more information, visit Shen Yun Performing Arts.
The Epoch Times considers Shen Yun Performing Arts the significant cultural event of our time. We have proudly covered audience reactions since Shen Yun's inception in 2006.