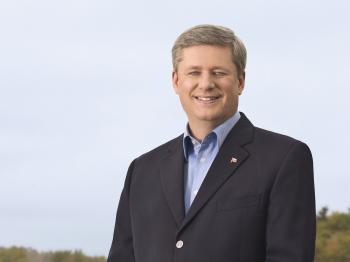 OTTAWA—To mark Shen Yun Performing Arts' Canadian debut on Dec. 23 as part of its 2011 World Tour, Prime Minister Stephen Harper sent a message of good wishes recognizing the significant achievements of the renowned classical Chinese dance and music company.
"Inspired by more than 5,000 years of Chinese culture, tonight's event offers patrons the opportunity to enjoy a wonderful spectacle, combining brilliant choreography, ornate costumes, and outstanding musical compositions that bring to life traditional Chinese myths and legends," Mr. Harper said.
"I am certain that everyone in attendance will enjoy this splendid celebration of Chinese heritage and culture," he added, sending "best wishes for a most memorable experience."
This year the New York-based Shen Yun will grace the stage of Southam Hall at the National Arts Centre in Ottawa, the nation's capital, for four shows on Dec. 23, 24, and 26.
It will then play in Hamilton, Kitchener, Montreal, and Toronto, completing the Eastern Canadian leg of its world tour next Jan. 16. It will return in the spring to perform in Saskatoon, Edmonton, Calgary, and Vancouver, finishing the Western Canadian shows on April 3.
Jason Kenney, Minister of Citizenship, Immigration and Multiculturalism, extended warm greetings to those attending the Shen Yun production and also expressed appreciation to the performers, presenters, and the Chinese Canadian community.
"I thank the artists of this inspiring performance for delighting Canadians with their impressive talent and I am grateful to the Falun Dafa Association of Canada and NTDTV Canada for their work in bringing Shen Yun Performing Arts to us," he noted.
He also took the opportunity to "commend the entire Chinese Canadian community for their remarkable contributions to the success of Canadian pluralism."
Shen Yun was founded in 2006 with a mission to revive the true spirit of traditional Chinese culture. Since then it has grown from 100 people in one company to 300 artists today, boasting three dance ensembles and three orchestras that tour the globe simultaneously presenting an all-new world-class program every year.
The three companies will travel until May 2011 performing in cities across North America, Europe, Oceania, and Asia. Among the performing artists are winners of top international competitions in dance and music, and accomplished choreographers and composers.

"On behalf of Members of Ottawa City Council, representing 900,000 residents, it is my distinct pleasure to extend a very warm welcome to the Chinese-Canadian communities of our nation's capital, Montréal, Toronto, Hamilton, Kitchener-Waterloo, Edmonton, Calgary, Vancouver, and others worldwide on the occasion of the 2011 Shen Yun Performing Arts World Tour," said Ottawa Mayor Jim Watson in his greeting letter to the show.
"This world-class production … is a unique opportunity as well for Canada's citizens of Chinese ancestry and the broader population to come together via satellite with other Chinese communities in the Americas, Europe, Asia, and Oceania to be entertained by internationally acclaimed Chinese performers including talented artists from the West," Mr. Watson added.
Shen Yun will play four shows at the National Arts Centre in Ottawa: 7:30 p.m. on Thursday, Dec. 23; 2 p.m. on Friday, Dec. 24; and 2 p.m. and 7:30 p.m. on Sunday, Dec. 26. The show will then play at Hamilton Place in Hamilton on Dec. 29 and 30.
For more information, please visit ShenYunPerformingArts.org