Shen Yun Backdrops Bring Chinese History to Life
April 9, 2014 12:54 am Last Updated: April 9, 2014 7:20 am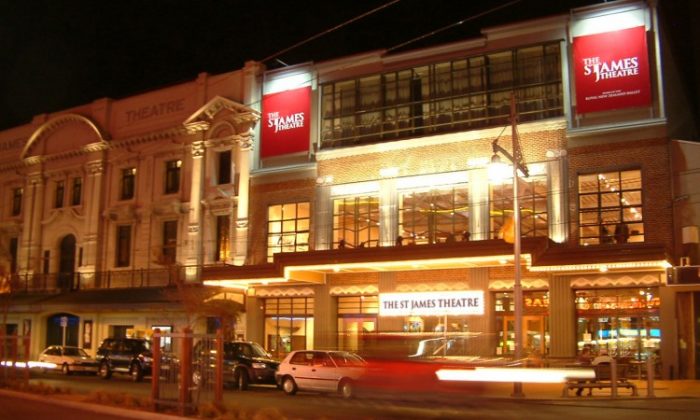 WELLINGTON, New Zealand—The owner-director of commercial and residential property companies, Alan Eastergaard, braved rough weather during the long drive from Carterton to see Shen Yun Performing Arts opening night at St. James Theatre, April 8. He is very glad he did.
"I think it's beautiful actually! The mix is good, and the fact that it's done in a timeframe going back because there is a huge history there," Mr. Eastergaard said.
The Shen Yun website states, "A unique feature of Chinese civilization is that its history has been documented and passed down uninterrupted for 5,000 years, sometimes in vivid detail. This provides Shen Yun with vast source material, making it possible to revive this ancient culture on a present-day stage."
Mr. Eastergaard singled out the effect of the backdrops to the performance. He said "especially the correlation between the backdrop moving and the people on the stage. That is just phenomenal, and it's lovely to see."
Shen Yun's company website explains, "The backdrops are magical windows to completely different realms. From vast open grasslands in one dance to the stately elegance of Tang Dynasty pavilions in another; from dusty yellow battlegrounds to tropical beaches to Himalayan peaks to picturesque scenery of the Yellow River Delta—the digital projection infinitely expands and transforms the stage."
Mr. Eastergaard felt Shen Yun is a lesson in Chinese history and culture.
"It is time that people got to know more about Chinese history and background. In New Zealand we don't have a huge history, it's a couple of hundred years, we all come from different places, but we do have a large Chinese population [now]."
Shen Yun Performing Arts has one more show in Wellington on Wed April 9.
Mr. Eastergaard is also a member of the Institute of Diagnostic Engineers Institute and an Associated Member of the Institute of Professional Engineers NZ. He ran a Specialist Electrical Business in Lower Hutt for 35 years.
Reporting by Li Ying Chen and Judy Shakespear
New York-based Shen Yun Performing Arts has four touring companies that perform simultaneously around the world. For more information, visit Shen Yun Performing Arts.
The Epoch Times considers Shen Yun Performing Arts the significant cultural event of our time. We have proudly covered audience reactions since Shen Yun's inception in 2006.