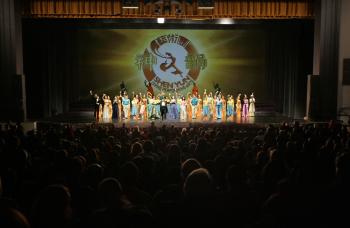 AUGUSTA, Ga.—Friday the 13 was a most fortunate day for Augusta, Ga. Mayor Deke Copenhaver proclaimed it "The Divine Performing Arts Day." On that day overcast skies intensified the purple pink flowers of the Redbud trees. White Yoshino Cherry petals fluttered to the ground like snowflakes outside the William B. Bell Auditorium.
Shen Yun Performing Arts visited Augusta for the first time on this day.
The audience rose to their feet and gave a roaring standing ovation at the end. Often they burst into applause during an extraordinary dance. During Dragon Springs Drummers, the audience burst into applause seven times. That dance is an exuberant, masculine one. A group of young men seem to urge each other to greater and greater feats of athleticism. As they danced, they beat octagonal drums.
Mr. Copenhaver wrote that he was grateful that "this magical event" was visiting his city. He wrote, " The city of Augusta is honored to have been included in such a world-wide spectacle of Chinese culture."
U.S. Rep. John Barrow of Georgia's 12th district, wrote in a letter supporting the show that he was opposed to the forces that cause culture to "evaporate." He said the "ancient, yet timeless traditions of China defy such a fate.
"This defiance is the result of commitment, vision, and passion invested by the performers and artists, such as those of the Divine Performing Arts, who carry this torch throughout their lifetimes and pass it on to future generations. I would like to thank the Divine Performing Arts for serving as both an ambassador of the ancient Chinese arts and cultures to my own community as well as to the world.
"It is my distinct pleasure to congratulate you on this extraordinary accomplishment. I find this to be a great source of pride to know a community I have the privilege of representing has embraced the virtues of such an event."
He said that while technology and communication make our world smaller, we must move towards greater tolerance and appreciation of our global community "while exalting that which makes each culture a unique and priceless part of our history. I cannot imagine a better way to achieve this goal than through the language and beauty of art."
The Epoch Times is a proud sponsor of the Shen Yun Performing Arts 2009 World Tour. For more information please visit ShenYunPerformingArts.org