September at the Society of Illustrators
September 3, 2013 5:50 pm Last Updated: September 17, 2013 4:23 pm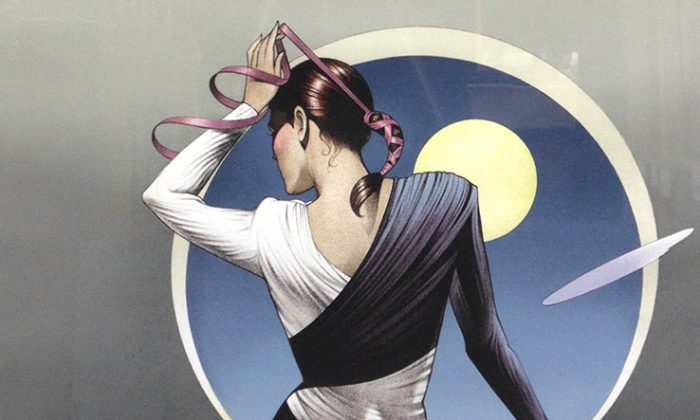 NEW YORK—According to its mission statement, the Society of Illustrators was founded in 1901 to "promote generally the art of illustration and to hold exhibitions from time to time." 
This month, the Society is outdoing itself with three concurrent exhibits featuring the work of three well-published illustrators, each as different from the other as he is talented.
All three shows opened on Sept. 3 and will close on various dates in October. This is the first month that the Society is charging admission to its museum. 

George Stavrinos: Fashion Pioneer
The largest of the three exhibits, "The Vision of George Stavrinos" features over 100 illustrations highlighting Stavrinos's career as a fashion illustrator and draftsman. 
Stavrino (1948–1990) rendered gorgeously dressed men and women with strong, tidy lines and sumptuous shading. Amazingly, his works in graphite were accomplished using only F grade lead pencils (F being the midpoint between the softest and hardest lead, therefore, of medium darkness.)
Over the course of his career, Stavrinos's drawings were featured in New York Magazine, Psychology Today, and for Columbia Records, as well as Gentlemen's Quarterly. Highly sought after, he produced fashion illustrations for Barneys and Bergdorf Goodman, made character drawings for the New York City Opera, and also taught at the Fashion Institute of Technology.
A short film documenting Stavrinos's life and legacy accompanies the exhibit. "The Vision of George Stavrinos" closes Oct. 19.
Gregory Manchess: Imaginative Worlds 
Gregory Manchess's work firmly bridges the line (if there still is one) between fine art and illustration. His powerfully executed oils depict imagined worlds in which astronauts duke it out for lunar territory and Arctic explorers saddle and ride polar bears. 
The confluences of fine art and science fiction present in Manchess's work began with his freelance work for the now-shuttered OMNI, a science and science fiction magazine. He has since produced covers for Time, Atlantic Monthly, and National Geographic, as well as spreads for Newsweek and Rolling Stone.
The artist will give a talk about his working methods on the evening of Sept. 27 at the Society. 
"Gregory Manchess: A Life in Paint" closes Oct. 26.
Peter Kuper: Odes to New York 
Filled with grit, the drawings and comics by Peter Kuper fill a hallway on the Society museum's second floor. The theme of this exhibition is Kuper's exploration of New York City, his adopted home since he moved from Cleveland as a young adult.
This exhibit houses a variety of Kuper's work, including a painting on glass, three-dimensional objects, comics, posters, and pages from his sketchbook.
Kuper's work appears regularly in Time, Newsweek, The New York Times, and MAD, where he illustrates a wordless comic called Spy vs. Spy. 
"Peter Kuper: Drawn to New York" closes on Oct. 5. 
The Society of Illustrators 
128 East 63rd Street
New York, NY 10065
(212) 838-2560
http://www.societyillustrators.org/
The museum recently began charging admission, which is $5 for students and seniors, and $10 for the general public. Tuesdays from 5 to 8 p.m. are free.