In this series, we ask chefs about the secret ingredients they love—and how you can use them at home. Here, Jackson Stamper, executive chef at The Kitchen at Atomic in Las Vegas, shares his love for dukkah, a crunchy, aromatic, and versatile Egyptian spice blend.
Secret Ingredient: My secret ingredient is dukkah. It's a traditional nut, seed, and spice mixture from Egypt that has a rich history, typically used as a dip with pita or various other breads for snacking. It comes from an Egyptian word that means "to pound" or "to crush," because it's typically made by grinding all the ingredients with a mortar and pestle. The ingredients require being toasted beforehand, giving the mix a unique texture somewhere between dry spices and paste once ground.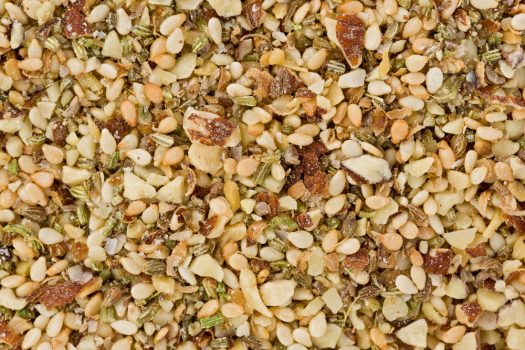 How to Use It: You can use dukkah almost like a seasoning ingredient, sprinkling it into a salad or any grilled or sautéed vegetable to give it texture and more depth of flavor. I particularly like it with sweet vegetables. It goes wonderfully with grilled corn or fennel, roasted sunchoke or parsnip. Sprinkling the mixture over roasted beets immediately takes the simple vegetable into another realm of flavor. It can also add a texture to a creamy soup, like butternut squash.
How to Make It: Dukkah is extremely versatile, with as many recipes to make it as there are grandmothers in all of Egypt, each one varying ever so slightly. With the plethora of ingredients to choose from (peanuts, walnuts, almonds, pistachios, sesame seeds, nigella seeds, cumin, coriander, sumac, citrus zest, the list goes on and on), you can really adapt it to whatever dish you're making.
My favorite version is very simple: roasted pistachios, toasted sesame seeds, toasted coriander, sumac, and orange zest. I prefer to chop the pistachios so that the nuts keep a crunch to them while crushing the other ingredients in a mortar and pestle.
Dukkah allows you to be as creative as you want, letting the culinary artist in you play. I recommend trying a new way of making it as often as possible and recording which ones really stand out to you. It truly has endless potential.
Pistachio Dukkah
1/4 cup pistachios
2 tablespoons sesame seeds
1 tablespoon coriander seeds
1 teaspoon sumac
Zest of 1 orange
Roast the pistachios in an oven at 350 degrees F, with a sprinkle of olive oil and salt, approximately 5 to 10 minutes or until golden.
Separately toast the sesame and coriander seeds in a sauté pan on medium heat. The sesame seeds should turn golden, while the coriander should only darken slightly, but they should both give off a more fragrant aroma when ready.
Allow all ingredients to cool back to room temperature.
Roughly chop the pistachios. Use a mortar and pestle to grind the sesame seeds until they're broken apart, but stop before they become a paste; it should be somewhat powdery. Grind the coriander until the pods are just coming apart and turning into flakes. (If you don't have a mortar and pestle, I would recommend using a rolling pin. Place the seeds on a large cutting board or flat hard surface, like a marble countertop, and gently crush them.)
Combine all the ingredients into a small bowl and stir using a spoon until mixed. Salt to taste.
Recipe courtesy of Jackson Stamper