Health officials said that a salmonella outbreak linked to pig-ear dog treats has now expanded to 27 states.
Potentially deadly for people with a compromised immune system, the multidrug-resistant strain of the salmonella bacteria has now caused 93 people to fall ill in the affected states, according to a Centers for Disease Control and Prevention (CDC) investigation notice.
So far 20 people have been hospitalized, but there have been no reports of any deaths.
The spread of the outbreak follows an earlier pig-ear dog treat recall.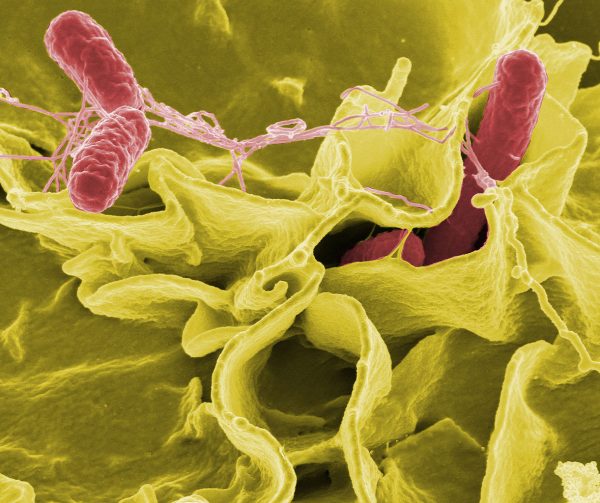 Pig-Ear Treat Recall
Since Pet Supplies Plus recalled bulk pig ears sold at more than 400 stores in 33 states in early July, another 48 illnesses have been reported.
"Pet Supplies Plus is advising consumers it is recalling bulk pig-ear product supplied to all locations by several different vendors due to the potential of Salmonella contamination," the company said in a July 3 announcement published by the Food and Drug Administration (FDA).
"Salmonella can affect animals eating the products and there is risk to humans from handling contaminated pet products, especially if they have not thoroughly washed their hands after having contact with the products or any surfaces exposed to these products," the company said.
When the retail chain posted its recall, there had been reports of 45 in 13 states falling ill. The largest number of people affected by the salmonella outbreak is in the state of Idaho, where 18 people have become sick.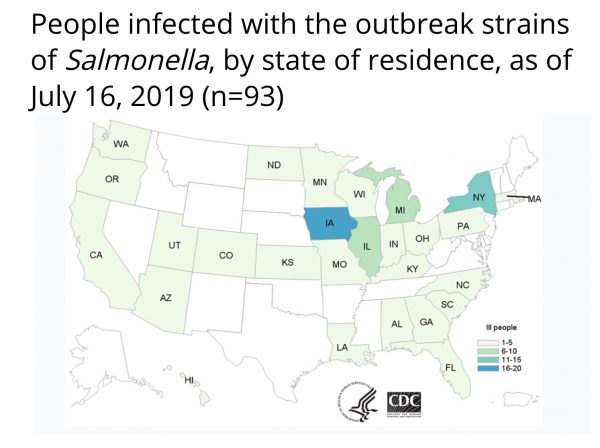 Health officials have urged people not to feed potentially contaminated pig ears to their dogs but rather throw them away in a secure container so that the pets and other animals can't eat them.
People have been advised to wash containers, shelves, and areas that were in contact with the recalled pig-ear treats using hot, soapy water.
Pet owners should also wash their hands thoroughly after touching pet food, and not allow pets that have consumed potentially contaminated pig ears to lick their owners' faces or mouths.
The CDC also advises pet owners to use dedicated scoops and containers for pet food, and not use their pet's feeding bowl for their own food.
Salmonella
Salmonella can cause salmonellosis, a common bacterial foodborne illness, the CDC notes.
"CDC estimates Salmonella causes about 1.2 million illnesses, 23,000 hospitalizations, and 450 deaths in the United States every year. Food is the source for about 1 million of these illnesses," the agency stated.
Symptoms include diarrhea, abdominal cramps, and fever within 12 to 72 hours after consuming a contaminated product.
Most people recover without treatment; most of those hospitalized suffer from severe diarrhea.
The illness typically lasts four to seven days.

Salmonella outbreaks regularly occur in the United States, leaving dozens sick across multiple states in some instances.
In December 2018, for instance, millions of pounds of ground beef were recalled and some 250 people fell ill from the tainted meat.
Other recent outbreaks have been linked to raw turkey products, raw chicken products, and tahini. The latter case was announced in November and stemmed from tahini products produced in Israel.
Symptoms in Humans
People infected with salmonella should monitor for some or all of the following symptoms: nausea, vomiting, diarrhea or bloody diarrhea, abdominal cramping, and fever.
In rare cases, salmonella can result in more serious ailments, including arterial infections, endocarditis, arthritis, muscle pain, eye irritation, and urinary tract symptoms.
The FDA says that people with the above symptoms should contact a medical professional.
Symptoms in Pets
According to the FDA, pets with salmonella infections may be lethargic and have diarrhea or bloody diarrhea, fever, and vomiting.
In some cases, pets will only have decreased appetite, fever, and abdominal pain.
Pets that show no symptoms at all but are nonetheless infected with the salmonella bacteria can be carriers and infect other animals or humans.
People whose pets have the above symptoms are advised to contact a veterinarian.