R | 1h 29min | Comedy | 19 February 1999 (USA)
Office spaces have come in various configurations throughout the 20th century. Open layouts have been most predominant, at least until the 1960s. They were originally designed so that there would be more teamwork and spontaneous communication between office workers. However, open layouts also brought along a multitude of detriments, with issues such as heightened anxiety, noise, and a general lack of privacy.
In the 1960s, as a reaction to the open-office layout, the cubicle-office plan was developed and quickly became popular. It allowed for more privacy, less noise, and a little more personalization as workers could decorate their spaces since they were ensconced by three walls. This afforded folks some individuality.
Director Mike Judge's 1999 film "Office Space" delves into some of the sociopolitical hijinks that arose when the cubicle craze was at its peak. Much of the impetus behind this hilarious comedy came from Judge's animated series of shorts, titled "Milton," which he created in 1991. In fact, the live-action version of Milton is even included in this film (played by character actor Stephen Root).
The film is set in the drab "Initech" building—the type of ubiquitous corporate building found in typical business parks across North America. The film centers on the monotonous office lives of the main protagonist Peter (Ron Livingston) and his fellow brohams and cubicle neighbors in misery, Michael Bolton (David Herman) and Samir Nagheenanajar (Ajay Naidu). Michael is particularly embittered since he shares his name with a certain smarmy romantic lyricist, which is a running joke around the office.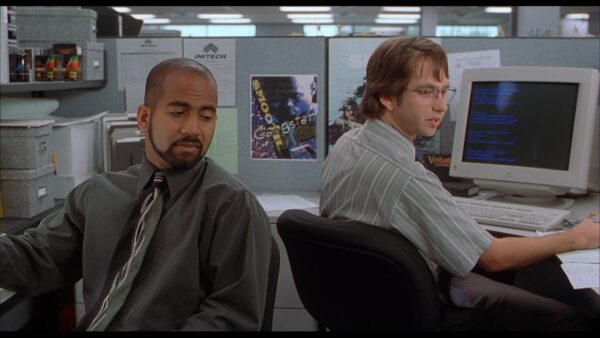 Peter's girlfriend, Joanna (Jennifer Aniston), is a server at a casual dining establishment (think: Chili's, Applebee's, or TGI Fridays). She routinely gets chastised for not having enough "flair," meaning she doesn't wear enough of the goofy pins that the company hands out to its employees.
One day, while hanging out with Joanna, Peter reveals that he isn't particularly motivated to keep working at his white-collar job. Soon after, he seeks out a therapist to sort out his motivational issues. Unfortunately, the therapist drops dead right in the middle of one of their sessions, leaving Peter in a state of zero inhibitions.
Upper management soon notices Peter's new, laissez-faire attitude (he shows up later for work, if at all, and plays games when he's at the office), and instead of disciplining him, they hand him a promotion.
Ironically, one of the bigwigs comments: "That's just a straight shooter with upper-management written all over him." Meanwhile, Joanna has finally had enough of her job, and she quits and storms out of the restaurant.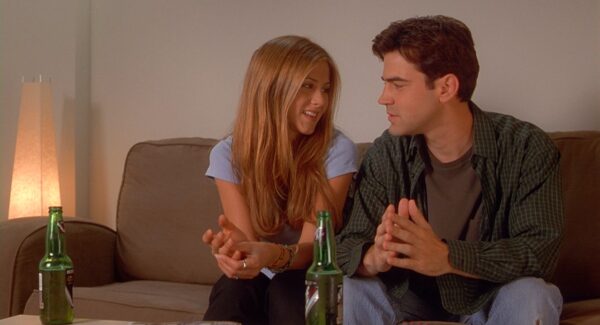 Eventually, Peter, Michael, and Samir concoct a scheme to release a computer virus that will conveniently siphon off pennies from Initech's accounts. They justify this plan by saying that the company won't even miss the small change that they'll extract regularly. Of course, the plan goes haywire and things suddenly get serious for the thieving trio.
The film, with stellar performances by Livingston, Aniston, Herman, and Naidu, as well as Gary Cole as the three men's boss Bill Lumbergh, is filled with humorous scenes that just about anyone who has ever worked an office job can relate to. In a particularly funny scene, the three men take their finicky office printer out into a field and give it a savage baseball bat beatdown, reminiscent of the brutal mafia beating featured in Martin Scorsese's 1995 mob film "Casino."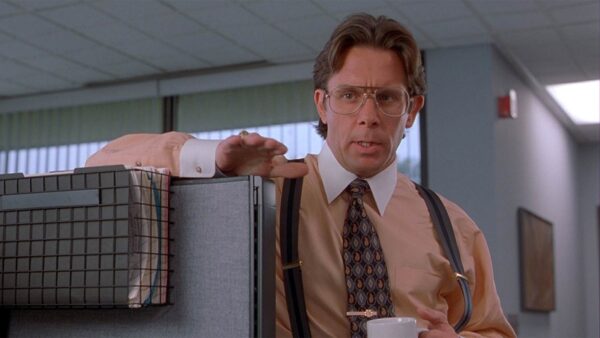 In all, "Office Space" is a lighthearted, charming, and good-natured comedy that is consistently funny due to Judge's wicked sense of humor (he also wrote the script). Watch with loved ones for lots of shared laughs.
'Office Space'
Director: Mike Judge
Starring: Ron Livingston, Jennifer Aniston, David Herman
Rated: R
Running Time: 1 hour, 29 minutes
Release Date: Feb. 19, 1999 (USA)
Rated: 3.5 stars out of 5

Ian Kane is a filmmaker and author based out of Los Angeles. To see more, visit DreamFlightEnt.com or contact him at Twitter.com/ImIanKane