We tend to think of rainbows as phenomena that appear in the light of day, when sunlight catches water particles still lingering in the air after a recent rainfall.
But an Italian photographer recently caught the surreal image of a rainbow at night, forming perfect circles of iridescent color around a spectacular shot of the Moon.
This rainbow is caused by the halo of light, luna corona, surrounding the lunar sphere, and the result of light passing through ice particles hanging in the air, causing refraction, which modulates the wavelengths that are emitted.
This rare effect, combined with the photographer's skill, made the unique image possible.
"I have seen this phenomenon several times, but I had never been able to photograph it," photographer Alberto Ghizzi Panizza, 45, told Daily Mail.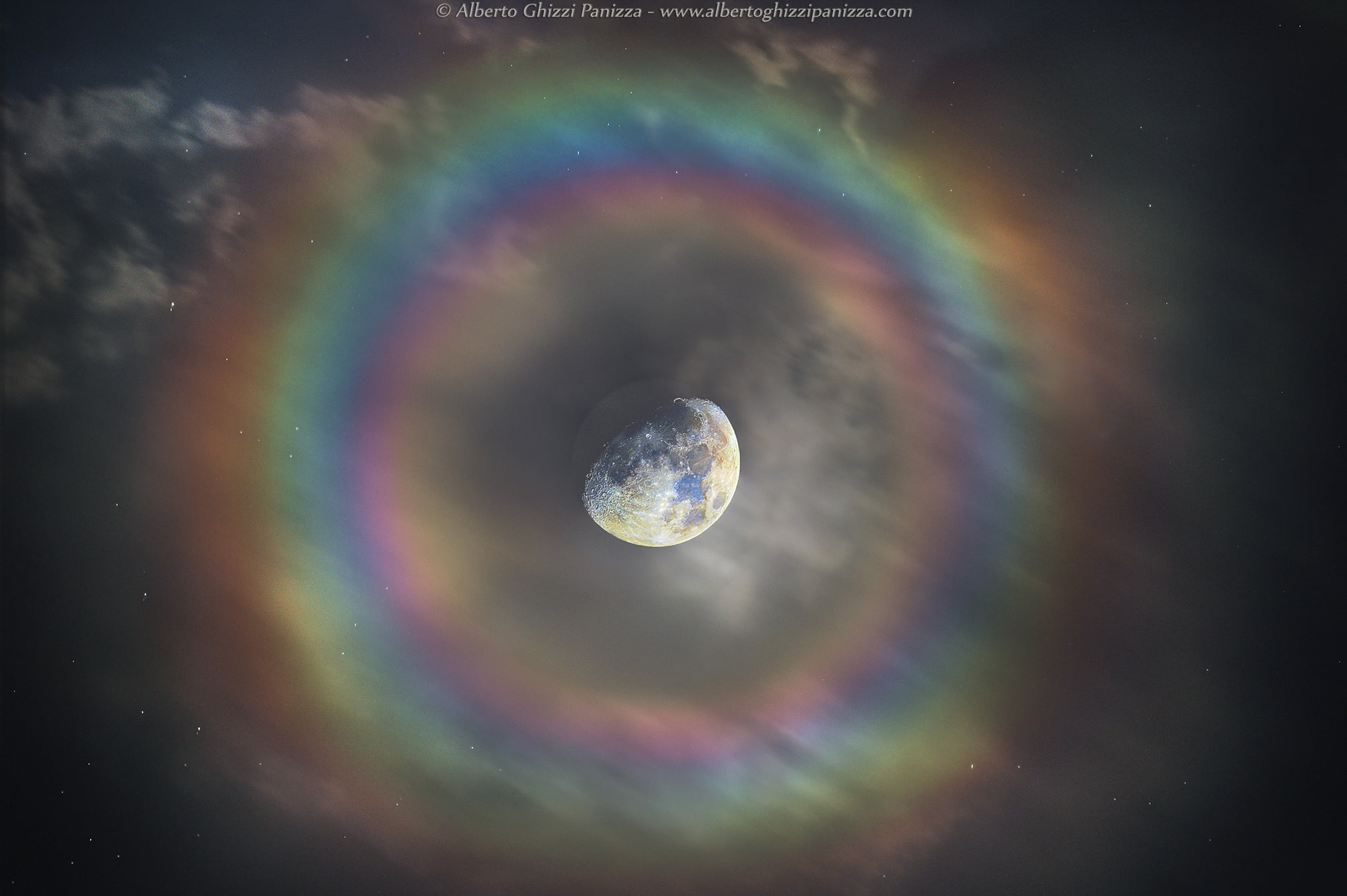 The Parma native is known for his unique, award-winning nature photographs. Among his famous photos are optical illusion and macro images that put a true artistic twist to nature photography.
Panizza has been featured by the Discovery Channel and National Geographic, and recently became an instructor on macro photography with Nikon.
So it's no wonder that he was able to capture such a breathtaking image of the almost-full Moon.
The photographer revealed to Daily Mail that being home during the pandemic lockdowns gave him plenty of time to set the stage for the shot.
"This time," he explained, "seeing [the phenomenon] from home for the lockdown, I had with me all the necessary equipment to best capture this moment."
He added that it took two hours to take in the luminescent effect.
"Between 10 PM and 12 AM I took a few hundred photos of the moon that created halos, iridescences and crowns among clouds and veils," the photographer wrote on Facebook on Jan. 24. "This is the blending of a good portion of these shots to emphasize the colors of both the corona and the lunar minerals."
The result was well worth it; Panizza was finally able to capture the image he'd dreamed of, a fantastic rainbow halo surrounding the nearly full Moon in a perfect circle.
The Moon's surface is incredibly crisp in the image, and features purple craters and yellow peaks on the lunar landscape.
Surreally, clouds and stars transposed over the colorful halo create a gorgeous galaxy effect.
Fans were amazed by the photograph, leaving comments like "Very beautiful," and "Amazing!" on his post.
There's no question that Panizza has wowed the world with his most recent work.
Now, the world is waiting to see what he comes up with next.
This story was last updated in February 2021.
Share your stories with us at emg.inspired@epochtimes.com, and continue to get your daily dose of inspiration by signing up for the Epoch Inspired newsletter at TheEpochTimes.com/newsletter