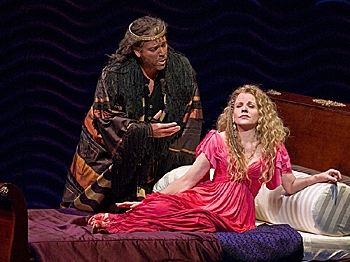 A simple girl from a rural background meets a young noble man, who easily convinces her to escape from her life in a convent to lead a life of luxury and pleasure. In the end, it doesn't quite work out, and she dies tragically.
That was the plot of Jules Massenet's breakthrough opera Manon in 1884. Ten years later he created the opera Thaïs, now staged at the Met, in which a star-courtesan meets a monk hailing from the desert, who convinces her to give up her life of comfort and luxury. She becomes a nun and eventually goes to heaven.
Maybe it was this plot, which defies common expectations, that made "Thaïs" a rarely staged opera in stark comparison to Manon. This is compounded by the extreme difficulty of the title role. Massenet (1842-1912) tailored it for the voice of his muse, the great American diva Sybil Sanderson. He composed nasty laughter, abysmal ranges, and transcendent heights for the character. Thaïs' baritone partner must be equally outstanding as both actor and singer, to make the resolute preacher credible. In the end, he stumbles over his human desires.
Massenet's genius was to depict the slightest shiver of the human soul with elaborate orchestration and abundant melodies. A wrongly underappreciated composer, most of his 30 operas disappeared from the repertoire after his death in 1912, a time where melodious music was regarded as "old-fashioned." From "Thaïs" to the "Meditation," the theme of the heroine's spiritual awakening survived as a somewhat sentimental violin hit. The opera itself, set in 4th century Alexandria, was regarded as a morally ambitious fin de siècle curiosity, featuring appealing oriental scenery and a whiff of scandal.
This longstanding potential for a magic moment of opera finally became reality with Renée Fleming and Thomas Hampson, starring as the unusual lovers in Thaïs, now staged at the Metropolitan Opera, playing again this Saturday, Dec. 20. Accompanied by an excellent cast and sensitive directing, Massenet's Thaïs turns out as one of the most intelligent operas about love in all its shades.
Renée Fleming enters the stage as the blonde bombshell in gorgeous Christian Lacroix robes, specially designed for the Met production. In the all-dominant scene she wears a delicate pink chiffon dress. "Tell me that I will be beautiful forever," she sings in her aria to her best friend, the mirror. She is irritable and full of self-doubts, falling from high-flying tones down into dark whispers. Her wide-ranging warm soprano is perfectly controlled in every register, allowing her to embody the multi-faceted role of Thaïs.
To her surprise, in comes Thomas Hampson as the determined yet nervous preacher man Athanaël, praying silently that god may protect him from getting bewitched by her female allure.
From the very first moment there is a forbidden attraction, and the tension between the two is marvelous.
Athanaël explains that he loves her with a love higher than earthly desires and that he wants to help her to find a way into eternal life and happiness. Thaïs, who in her heart has tremendous fear of death, begs him to explain more to her. He demands that she must turn around her life. After a night of contemplation, symbolized by the Violins "Meditation," Thaïs begins to trust him. In the early morning they meet to plan her departure.
Thaïs is thankful like a child, as Athanaël is that special someone that guides her out of the mess, a step that she would have never done on her own. And he becomes her guard. When the angry crowd of venerators hears that Thaïs will leave them and finds her palace with all the dresses and jewels burning, they are ready to kill.
Fantastic, how the dramatic scene was staged, not only in this closing scene of Act II, but in all of the excellent choir scenes, the directing hit the dramatic point. Massenet's music perfectly works out the two oppositional realms of thought. The hollow, pleasure-seeking society with its lack of perspective, and the hardship-defying inner strength of the spiritual searchers is characterized in a compelling way. It leaves no doubt, which attitude towards life composer Massenet must have personally preferred.
In Athanaël, Thaïs finds someone that is different from the empty and vulgar men that were around her. She transforms into an innocent girl of sincere faith, free from the role she was forced to play in the superficial society. The unconventional couple is conjoined in the search for a higher meaning of life. Wandering through the desert, in their wonderful, warm, and heartfelt duet they sing about the happiness that they hope to find beyond the earthly realm. The big emotions remain unspoken, making their relationship even more poignant.
In the oasis scene, they enjoy a moment of innocent togetherness, but melancholy sneaks in, as there is no option for a normal life for the two, and on the doorstep of the convent they must say goodbye. Thaïs is welcomed by the nuns wearing white veils and habits in front of sand colored dunes—a peaceful picture that contrasts poetically with the fanciness of the palace in the first act.
Athanaël can't find peace anymore and confesses his yearning for Thaïs to an old monk, (Palémon, fatherly and kindly sung by Alain Vernhes). He gently tells Athanaël the answer—"I warned you not to go back to the ordinary secular society."
When the desperate Athanaël in the last scene finds Thaïs dying in the convent, his once so faithful spirit is broken over a very human pain and he shouts towards her "What I told you was all lies, only earthly love is real." But Thaïs is already out of his reach. She describes a celestial vision of heaven's gate opening and angels greeting her. The celestial D major breaks into minor with her death, the one who became her savior is left behind.
The tragedy of Athanaël is that he could not have saved Thaïs if he had not followed his feelings, and for a human being, the line between one's selfish and selfless intentions will always be blurred. Hampson's rendering of Athanaël exactly captures this struggle, and is especially touching as the spiritual determination and benevolence of the monk, but also contrasted by his hidden jealousy and frustration slowly surface. The end must be unhappy, as there is only the choice between sin or asceticism—the palace or the desert.
Luckily the classical style of John Cox's production with starry sky and desert dunes supported the romantic atmosphere of the opera. Jésus López-Cobos in the pit concentrated on the human drama in the music and conducted the Met-Orchestra without growing too sentimental. He interpreted the oriental colors of the score pastel-soft and brought the singer stars to shine. Ovations were showered on Fleming and Hampson as well as for Concert master David Chan's essential violin solo.