Just like the one-pot meal, the convenience of an all-in-a-bowl meal is appealing, especially when it is balanced and healthy.
Author Christal Sczebel, certified holistic nutritional consultant, runs with the concept in her book "Power Bowls: 100 Perfectly Balanced Meals in a Bowl" ($19.95), starting off with Wake Up Bowls like Huevos Rancheros or a Sweet Potato and Avocado Scramble; Workout Bowls, for before or after exercise; Small Bowls for snacks; Big Bowls like Mojito Shrimp and Zucchini; and Treat Bowls for that sweet tooth.
Chapters on ingredient profiles—with an exploration of their nutritional benefits—and cooking techniques lead to recipes that for the most part, take little time to achieve. Most require well under 30 minutes; some take just 5 minutes to assemble. Nutrition information is included with every recipe.
Sweet Potato & Avocado Scramble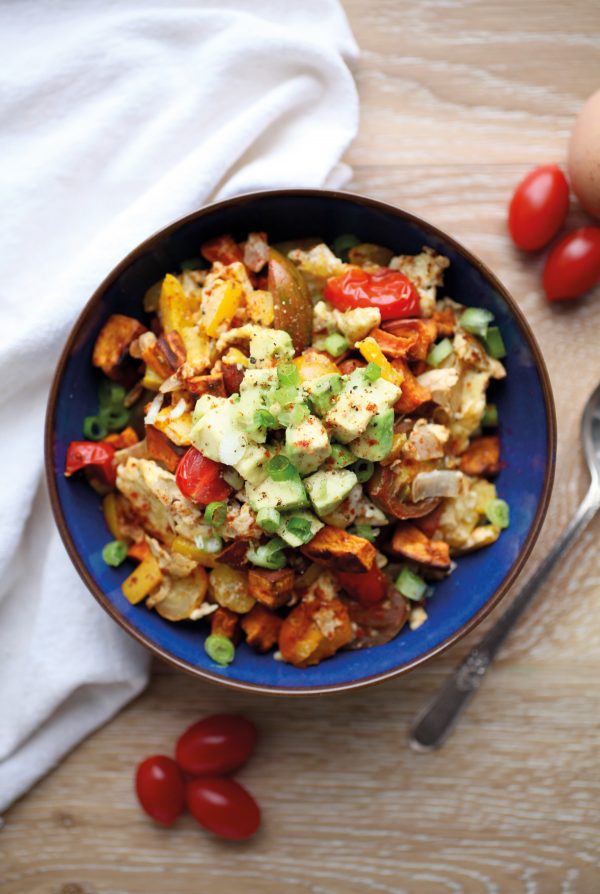 Vegetarian, slow-releasing energy, gluten-free, dairy-free
Serves 2
Preparation time: 10 minutes
Cooking time: 40 minutes
1 large sweet potato, cut into large cubes (about 2 cups)
2 teaspoons olive oil
1 teaspoon salt
1/2 small white onion, diced
1 yellow bell pepper, diced
4 large eggs
4 egg whites
1 teaspoon garlic powder
1/2 teaspoon black pepper
1/2 cup cherry tomatoes, halved
1/2 avocado, diced
1 scallion, chopped
1/2 teaspoon paprika
Per Serving:
Calories – 439
Protein – 25g
Fat – 19g
Carbohydrate – 40g
Sugar – 10g
Dietary fiber – 10g
Vitamins – B6, C
Minerals – copper, magnesium
Sweet potato is loaded with nutrients to get your day started right. It is filling and provides slow-releasing carbohydrates to fuel your body for hours. The flavor blends well with the eggs, avocado, and vegetables. Prepare the sweet potatoes ahead of time and this bowl will be quick to whip up in the morning.
1 Preheat the oven to 400 degrees F. Line a baking pan with parchment paper. Toss the potato cubes with 1 teaspoon olive oil. Distribute them evenly over the baking pan and season with 1/2 teaspoon salt.
2 Roast the potatoes for 15 minutes, then stir them and roast for another 10 minutes, until they are browned all over. Remove from the oven and set aside.
3 Set a nonstick skillet or frying pan over medium heat and add the remaining 1 teaspoon olive oil. When the oil is hot, add the onion and sauté for a few minutes, stirring, until soft and translucent. Add the bell pepper and sauté for 2 minutes, until softened.
4 Add the whole eggs and egg whites and sauté for 5 minutes, mixing them in with the onion and pepper. Stir in the garlic powder, remaining 1/2 teaspoon of salt, and pepper.
5 Stir in the tomatoes to heat them through and soften the skins. Add the browned sweet potatoes to the pan and stir to combine. Remove the skillet from heat and divide the mixture between two bowls.
6 Top the bowls with the diced avocado and chopped scallion, and sprinkle with the paprika. Serve immediately.
Try this: Sweet Potato, Bacon and Apple Scramble
Here, the natural sweetness of apples and sweet potato is balanced by the saltiness of beef or nitrate-free pork bacon. Omit the avocado, cherry tomatoes, and bell pepper and add in strips of chopped, cooked beef or nitrate-free pork bacon with the onion. Add 1 cup of diced apple to the scrambled eggs and sauté for 5 minutes until softened.
Mojito Shrimp & Zucchini

Gluten-free and dairy-free
Serves 2
Preparation time: 35 minutes
Cooking time: 5 minutes
For the Marinade and Dressing:
1 tablespoon canola oil
1 tablespoon honey
Juice of 2 limes
1/4 cup chopped fresh mint
1/4 cup chopped fresh cilantro
1/4 teaspoon salt
1/4 teaspoon pepper
For the Bowls:
14 large sustainable wild-caught shrimp, raw
1 red bell pepper, julienned
1 yellow bell pepper, julienned
1/4 cup sliced red onion
1 avocado, pitted, peeled, and diced
2 large zucchini, spiralized or sliced into pasta strips with a mandoline, or cubed
Salt
Pepper
Per Serving:
Calories – 421
Protein – 31g
Fat – 20g
Carbohydrate – 37g
Sugar – 21g
Dietary fiber – 12g
Vitamins – A, B12, C
Minerals – copper, manganese, phosphorus, selenium
When it comes to vegetable power, this bowl has it all. Strips of zucchini make a nutritious base for wild-caught shrimp, and the refreshing mojito dressing is full of vitamin C. While it doesn't contain whole grains, this bowl does have energy-boosting carbohydrates and is easy on the digestive system.
1 Combine the dressing ingredients in a bowl, and whisk together. Divide between two bowls, and set one bowl aside. Add the shrimp to the dressing in the remaining bowl, toss to coat, and place in the fridge to marinate.
2 Combine the peppers, onion, avocado, and reserved dressing in a bowl, and toss to coat. Chill for 30 minutes to marinate.
3 Meanwhile, divide the zucchini between two bowls, and season lightly with salt and pepper.
4 Grill the shrimp for 2 to 3 minutes, until cooked, or sauté in a hot pan for 4 to 5 minutes.
5 Combine the cooked shrimp with the chilled, marinated vegetables and toss to combine so that everything is coated with the dressing. Divide the vegetable and shrimp mixture between the bowls of zucchini. Serve immediately.
Try this: Mojito Prawn Pasta Salad
Need an even bigger bowl, or more slow-releasing complex carbohydrates for long-lasting energy in your day? Replace the zucchini with chilled, gluten-free, or whole grain pasta noodles, and you'll feel full and energized for hours. Toss 2 cups of cooked and drained pasta with 1 teaspoon of olive oil to prevent it from sticking, then chill with the shrimp and vegetables. When you are ready to cook the shrimp, divide the pasta between two bowls and complete the recipe as directed.
Vegan Blueberry Cheesecake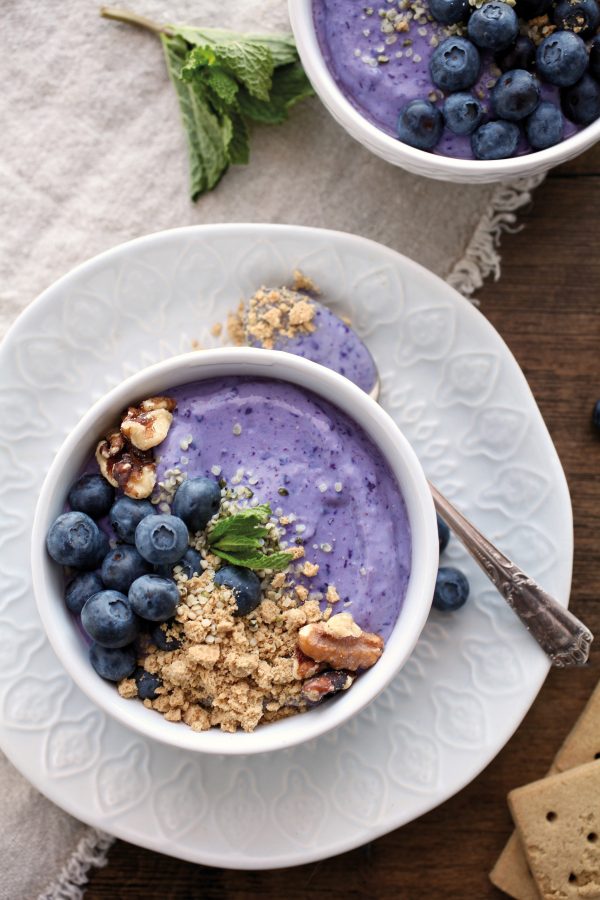 Serves 2
Preparation time: 7 minutes
1 (12-ounce) package organic non-GMO lite silken Tofu
1 cup frozen blueberries
1 1/2 tablespoons pure maple syrup or coconut nectar
1/4 cup fresh blueberries
2 tablespoons crushed gluten-free graham crackers
2 teaspoons hempseeds
2 tablespoons raw walnuts
2 sprigs of fresh mint
Per Serving:
Calories – 290
Protein – 15g
Fat – 10g
Carbohydrate – 35g
Sugar – 23g
Dietary fiber – 3g
Vitamins – C, K
Minerals – calcium, iron
Creamy, rich, and fruity these cheesecake bowls are simple to whip up and just as easy to eat! Silken tofu emulates a rich cheesecake filling without the refined sugars and excess calories while supplying plenty of protein, calcium, and iron. Plus, blueberries aid cardiovascular and cognitive health.
1 Combine the tofu, frozen blueberries, and maple syrup or coconut nectar in a food processor and process until you have a smooth, pudding-like consistency. Divide the mixture between two bowls.
2 Arrange or layer the fresh blueberries, crushed graham crackers, hempseeds, and walnuts on top of the cheesecake mixture in each bowl. Garnish with mint sprigs.
Reprinted from "Power Bowls: 100 Perfectly Balanced Meals in a Bowl" by Christal Sczebel. Published by Sterling Epicure.