South Korean defense minister Song Young-moo said on Thursday that the North Korean communist regime does not yet have the ability to fire a nuclear weapon.
When asked whether the North had developed the technology and ability to launch such a weapon, Song said he believed it had not reached that level yet, The Korea Times reported.
The rapidly closing window of time before North Korea does obtain such a weapon of mass destruction provides the United States with a crucial opportunity to address the North Korean problem.
President Donald Trump has said that a nuclear-armed North Korea is unacceptable, and has vowed to protect America from such a threat.
In announcing his actions on the Iranian nuclear program on Friday, Trump used North Korea as an example of what happens when a problem is not addressed in time.
"As we have seen in North Korea, the longer we ignore a threat, the worse that threat becomes," Trump said.
Over the past decades, the world has been keenly aware of the North's nuclear weapons program. But despite the North's frequent and blatant violations of U.N. Security Council resolutions and agreements with the United States, the world has been unable to stop it.
Notably, since coming to power in 2011, North Korean dictator Kim Jong Un has significantly sped up the country's nuclear program. Kim has conducted an estimated 85 ballistic missile tests since coming to power—far more than his father and grandfather combined.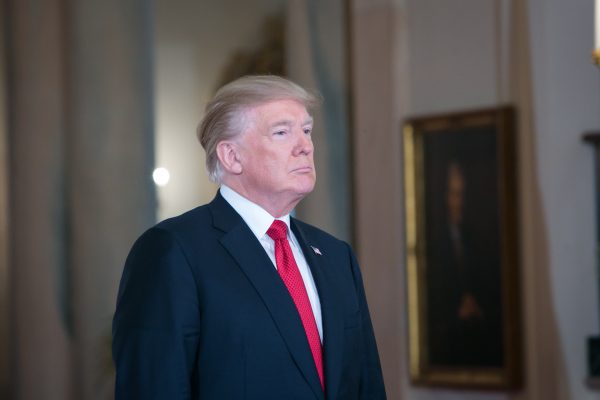 In a statement released by its state media on Friday, the North said that it is "dashing ahead toward the final goal of rounding off the state nuclear force."
"Nothing can break the invincible faith and indomitable will of the army and people of the DPRK to surely achieve the goal of accomplishing the state nuclear force without any vacillation despite manifold hardships and ordeals," the statement said.
In an interview with Fox News' Sean Hannity, Trump said that North Korea's nuclear weapons program is now at "a point where it's very, very far advanced."
"Something has to be done. We can't allow this to happen," he said.
Since coming to office Trump has taken a hard line approach on North Korea. Demanding the denuclearization of the North.
While Trump's cabinet has quietly tried diplomatic and economic channels for a solution to the problem, Trump has ordered his military to draw up plans for potential military options. Earlier this week, Trump met with his highest ranking military officers to discuss military scenarios.
Trump's strategy appears to be working, with North Korea being increasingly cornered and appearing afraid of an actual military confrontation with the United States.
Trump succeeded in getting China, North Korea's closest ally and key lifeline, to agree to implementing its toughest sanctions yet on the regime. In addition to voting last month at the U.N. in favor of imposing new sanctions, China has also cut off funding to the regime and ordered North Korean businesses in the country to close down.
Simultaneously, the Trump administration has been bolstering the defenses of its close allies in the region, Japan and South Korea, providing them with advanced missile defense technology.
Trump is also sparing no effort in rebuilding and increasing U.S. military might. Trump said that the United States is spending $800 billion on defense this year, up from $611 billion in 2016, with much of the money going toward new equipment such as fighter jets and ships.
In a timespan of less than a week, two nuclear-powered U.S. submarines docked in South Korea. While it's not uncommon for submarines to operate in the region, the disclosure of the location of the submarines equipped with Tomahawk cruise missiles is highly unusual and likely intended to send a message to the North.
The United States has also been conducting joint military exercises with its allies. Earlier this week, the United States conducted a 12-hour military drill involving two U.S. Air Force B-1B bombers and Japanese and South Korean fighter jets.
North Korea threatened last month to shoot down U.S. bombers operating over international waters in the Korean Peninsula, but does not possess the advanced missile defense technology capable of doing so.