The USS Michigan, a nuclear-powered submarine armed with Tomahawk cruise missiles, pulled into the Busan Naval Base in South Korea on Oct. 13, just three days ahead of planned military exercises, and amid North Korea's renewed threats of attacks near Guam.
It's not uncommon for the U.S. military to dock its submarines at ports of its allies, but the visits are often not publicized without good reason. The Ohio-class submarine's arrival in South Korea was publicized, however. It also comes just days after the U.S. Navy publicized the arrival of the USS Tucson, a Los Angeles-class attack submarine, in South Korea on Oct. 7.
The United States and South Korea, also known as the Republic of Korea (ROK), are preparing for joint military exercises in the East and West Sea. According to the Navy, the Maritime Counter Special Operations exercise will run from Oct. 16 to Oct. 26. The U.S. Navy Seventh Fleet noted in a statement, "The exercise will provide a visible and coordinated engagement for the U.S. – ROK alliance."
The North Korean regime renewed its threats against the United States ahead of the drills, and is threatening missile attacks into waters near the U.S. territory of Guam.
"We have already warned several times that we will take counteractions for self-defense, including a salvo of missiles into waters near the US territory of Guam," states North Korean state media, KCNA, adding, "The US military action hardens our determination that the US should be tamed with fire."
It does not appear that the USS Michigan's arrival in South Korea is related to the military exercises. The U.S. Navy said in a release that it's part of a "routine visit during a regularly scheduled deployment to the Western Pacific."
Rear Adm. Brad Cooper, commander of U.S. Naval Forces in Korea, said in a release that the United States and ROK navies "have always enjoyed a strong relationship," and that the arrival of the USS Michigan further reinforces their partnership.
"Michigan Sailors were warmly welcomed by the ROK Navy today and I know they'll receive the same wonderful welcome from the local community during their visit to Busan," Cooper said.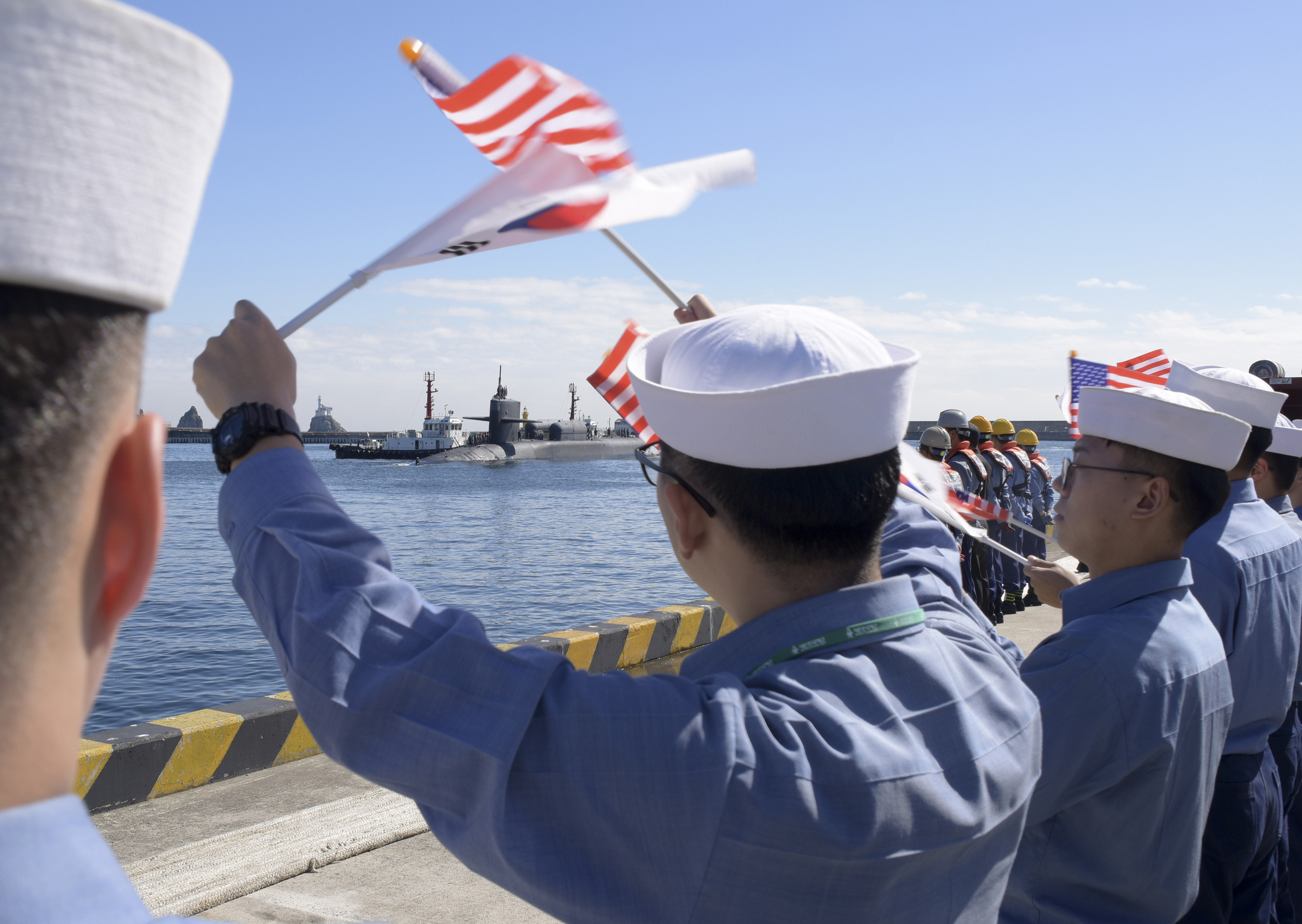 When the USS Tucson docked in South Korea only days before, Naval Today noted that U.S. Navy submarines regularly operate in the region and visit ports in Japan and South Korea, but "their movements and port visits are rarely disclosed."
It adds, "A recent series of publicly announced port visits was interpreted by many as a US message to North Korea which has performed a number of missile tests recently."
While the recent threat from North Korea was hostile, it was scaled back from its previous threats. The North Korean regime was previously threatening to use nuclear weapons on Guam.
North Korea backed down on its threats to attack Guam on Aug. 15, after the Trump administration refused to back down.
President Donald Trump warned North Korea on Aug. 9, stating "North Korea best not make any more threats to the United States. They will be met with fire and fury, like the world has never seen. He has been very threatening, beyond a normal statement. And as I said, they will be met with fire, fury—and frankly, power—the likes of which this world has never seen before."
President Trump vows America will respond to North Korean threats with "fire & fury" in a warning to the rogue nation pic.twitter.com/UaE2rPkZ6f

— FOX & friends (@foxandfriends) August 9, 2017